Andi Scurto's Colorful Imaginings Become a Mural at Destin Commons
Whimsy on the walls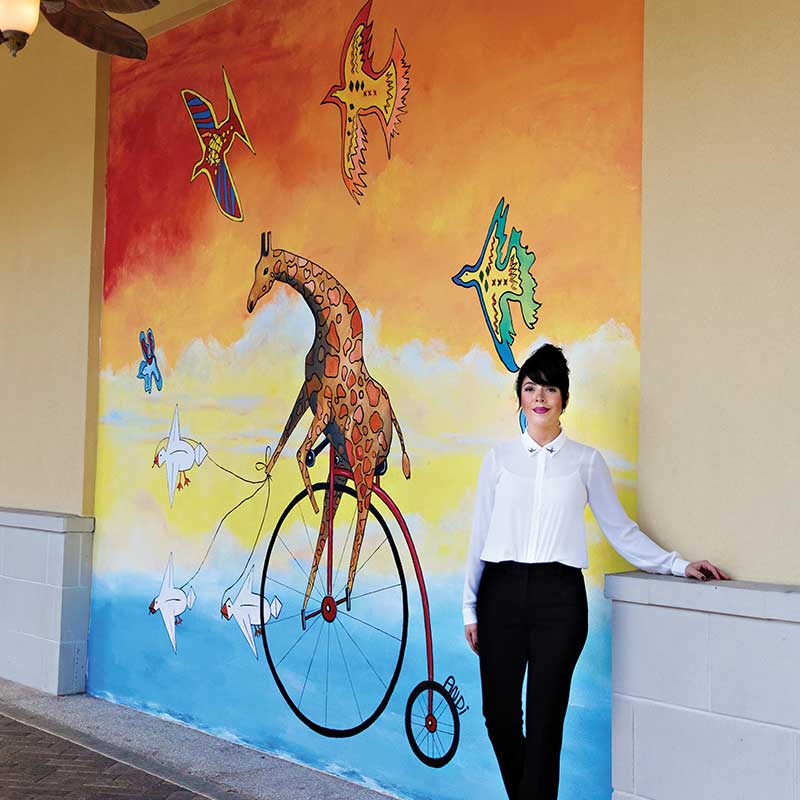 Penny-farthing bicycles — those old-fashioned rigs with an outsized front wheel and a much smaller wheel in the back — should be ridden by men in tailcoats and top hats who mutter things like, "I say, my good fellow."
But in the dream-like, painted world of Destin-based artist Andi Scurto, Mattie the Giraffe rides a penny-farthing quite masterfully.
"Somehow, she translates to 'adventure,'" Scurto says of her lanky creation, who can be seen any day in a mural Scurto painted for Destin Commons. "Or maybe Mattie just makes people laugh. Who knows?"
Scurto, who won the 2015 Mattie Kelly Arts Festival poster contest with an early version of her giraffe, has painted many portraits of Mattie and her high-wheel and hopes to write and illustrate a children's book about the giraffe's adventures in the near future.
As a child, her favorite books featured Amelia Bedelia, the housemaid whose literal understandings of common English phrases led her into one humorous scrape after another.
But Scurto also loved the Reader's Digest that came in the mail each month when she was a child — and not because of the stories it contained.
"Together, my mother and I would copy the back of the Reader's Digest, where they would feature a different artist each month," Scurto says. "Every month was so new and exciting!"
Through this childhood tradition, Scurto learned the value of artistic expression. And it was artistic expression that served as a light that brought her through dark times in her youth when she was bullied by her peers.
"My mother is beautiful and Colombian, and in the small town where I spent my teen years, I was picked on in public school for having tan skin, big lips and freckles," says Scurto. "I often turned to art and poetry because I didn't know how to handle the personal affronts."
Life experience has taught Scurto that art heals and comforts. One of her favorite quotes from Pablo Picasso reads, "The purpose of art is washing the dust of daily lives off our souls."
"Art refreshes us," says Scurto. "But art is also necessary. All humans have an innate desire to create, to build things, to dream. This is not dictated by circumstances. Anyone can find a way to be creative."
As a young teen, Scurto's creativity led her to experiment with as many media as she could, beginning with pencil and charcoal drawing. Mostly self-taught, Scurto then tried oil, acrylic and watercolor painting, and digital art making.
"I have read so many books on art and have watched countless hours of YouTube tutorials," she says. "Through trial and mostly error, I have finally become proficient in several mediums and styles."
While Scurto continually presses beyond her comfort zone and attempts to discover new methods and ideas, she also understands that today's artists often are recognized for having a particular style.
She recently asked her social media followers to vote on the style of art that she should pursue: digital portraits; vibrant, mixed-media portraits; whimsical watercolors; or scenic abstracts. Vibrant portraiture and watercolor illustrations were the most popular.
This doesn't mean that Scurto is going to cease digital art making altogether or abandon her charcoal pencils permanently. She has too many ideas popping into her head at all hours to do that.
"I lie in bed at night and mentally envision how I will accomplish what I need to, whether it's a digital portrait of a toddler or a giant mural of a giraffe," she says. "I have a cornucopia of ideas just waiting to be explored."
Andi Scurto's Artistic Ideals
 Keep the process and product positive. 
"I have a husband and family and friends, and none of them should suffer because I'm not happy with how my portrait of a Pomeranian is going."
Accept criticism graciously.
"In the beginning, I'd think, 'Please say you love what I painted!' Now I say, 'Tell me what you hate about it and why.'"
Continuously pursue artistic excellence.
"I try not to cave to 'this is just how I do things' as an artist. We all have the power to change."
Meet deadlines.
As a small business owner, my reputation is important to me. I guarantee my clients that I will meet their deadline — unless I fall off some scaffolding."
Be grateful for successes and learn from failures. 
"This is my simple mantra."