An Eggs-cellent Way to Spend a Fall Afternoon
Sixth Annual Eggs on the Beach cooking competition raises funds for deserving local charities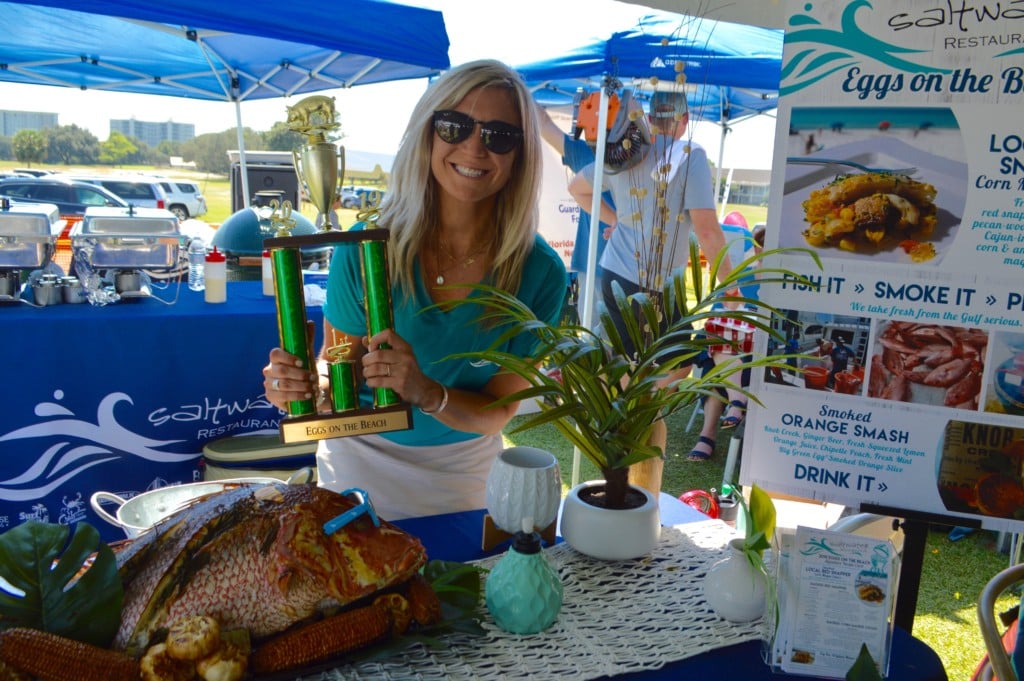 Blue skies, sunshine, a light breeze and the beautiful setting of Seascape Resort in Miramar Beach made it an "eggs-cellent" day for the sixth annual Eggs on the Beach, the Emerald Coast's only Big Green Egg cooking competition.
Presented by Bay Breeze Patio, the annual Eggfest celebrates the delicious results of cooking on the Big Green Egg while benefitting two local charities, the Fisher House of the Emerald Coast and Food for Thought. Nearly 30 cook teams ventured to Seascape resort to smoke, grill and bake their favorite dishes on the Big Green Egg — all while tasters sampled the delicious bites.
The sixth annual Eggs on the Beach featured tastings, live music, the ENCO Sports Zone, Knob Creek craft cocktail seminars, an Abita beer-pairing seminar, a kids zone, plus chances to win a Big Green Egg.
From backyard grillers to local restaurants to area nonprofit organizations, each cook team served delicious bites, ranging from meats and seafood to veggies and desserts. Tasters sampled unlimited bites and voted for their favorites.
In the end, Saltwater Restaurants produced the most celebrated bite of the competition. Their creative Cajun-inspired bite featured fresh-caught red snapper smoked on a Big Green Egg with pecan wood and served over smoked corn and Andouille sausage maque choux. Their bite was paired with a Knob Creek Smoked Orange Smash. The bite earned them first place Taster's Choice as well as first place Best Knob Creek Bourbon Bite, first place Best Booth Display and first place Judges Award.
Honorary judges for 2019 included Jack McGuckin, executive chef at Bijoux, Phil McDonald and Debbie Swenerton of Black Bear Bread Co., and Nikhil Abuvala, chef/owner of Roux 30a.
Judges Award Winners:
1st place: Saltwater Restaurants
2nd place: Setco Services
3rd place: Westonwood Ranch Bacon Nation
Taster's Choice Winners:
1st place: Saltwater Restaurants
2nd place: Scenic Sotheby's
3rd place: Fort Walton Beach Medical Center (Five Wild Blazing Medical Cooks)
Taster's Choice Non-profit Winners:
1st place: South Walton Academy
2nd place: Sinfonia Youth Orchestra in partnership with 30A Destin Ice
3rd place: Rotary Club of Destin
Best Knob Creek Bite
1st place: Saltwater Restaurants
2nd place: Scenic Sotheby's
3rd place: Wine World
Honorable Mention: Setco Services and Henderson Beach Resort
"We are humbled to have so many incredible supporters of Eggs on the Beach and, through the generosity of our sponsors, were able to increase the cash prizes for our nonprofit cook teams this year," said Eggs on the Beach co-founder Susan Kiley.
Back by popular demand and in partnership with Chan's Wine World, Knob Creek presented two smoked cocktail seminars. In addition, Abita Brewing Company unveiled some of their new brews, including Honey Suckle and Hop 99, during their craft beer food-pairing seminar.
For college football fans, the ENCO Sports Zone featured two large-screen televisions featuring the college football games. Kids enjoyed arts and crafts in the Kids Zone, which included a cool zone with water features and sponsored by Forever Lawn of the Emerald Coast.
Clint Hall treated the crowd to live music.
Located on Eglin Air Force Base, the Fisher House provides a "home away from home" for military families, ensuring family members can be together during treatment for serious illness or physical/occupational therapy. Food For Thought aims to end food insecurity by serving students in Okaloosa and Walton County with backpacks filled with healthy meals and snacks for nights and weekends.
"Eggs on the Beach has become one of the best 'foodie events' on the Emerald Coast, and this year was just incredible," said event organizer Tracy Louthain. "We're so grateful for everyone who turned out to both participate and enjoy — we've been able to raise the bar on raising money not only for our nonprofits but our charity partners Food for Thought and Fisher House of the Emerald Coast as well."
For those inspired by the festival, you can order your own Big Green Egg, by calling Bay Breeze Patio at (850) 269-4666.