Amy Coltharp Never Runs Out of Passion
This Citizen of Style is always up for a challenge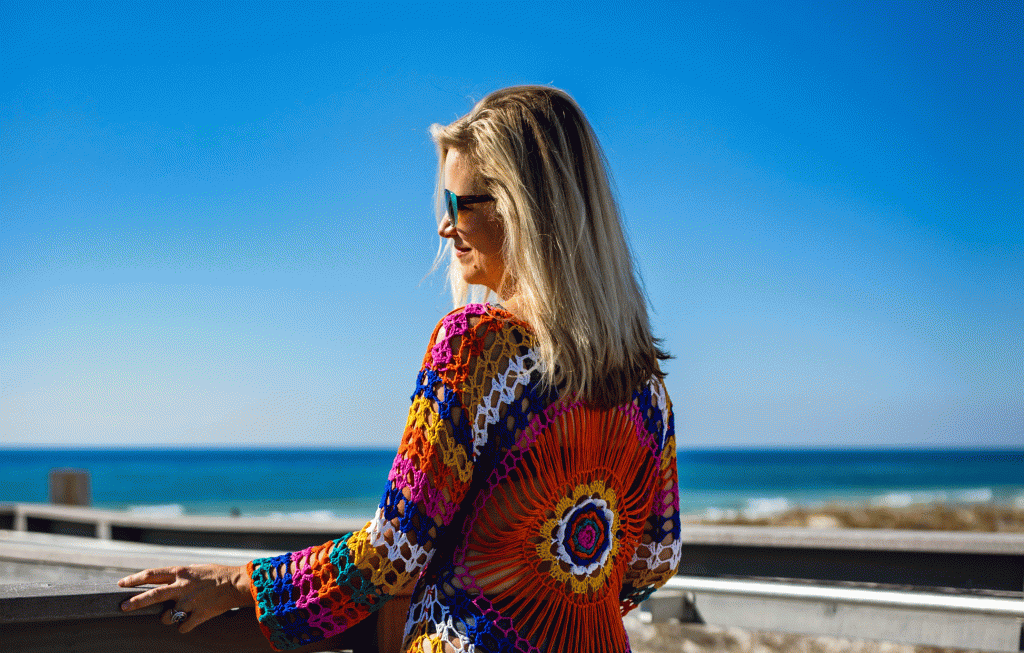 Her father, she tells me, owned a fish market in Jacksonville for many years.
"It was called Discount Seafood."
"I'd venture to guess that with a different name, he could have done better," I suggest. "You hear 'discount,' you think the fish may be three days old."
Amy Coltharp laughs, not charitably, but genuinely. She is the kind of person who makes you feel like you know her well before you do and for whom humor is an important de-stressor, one of three she values. The others are visits to the beach and trail running. She once ran the 50-mile Tallahassee Ultra Distance Classic at Wakulla Springs State Park.
Coltharp is the administrator at the Panama City Developmental Center (PCDC), a residential center that is home to 64 people with intellectual and/or developmental disabilities. Some of the residents are non-verbal. Many may exhibit hostile or otherwise inappropriate behaviors. A resident, upon learning to brush his teeth, may have arrived at a significant, long-hoped-for achievement.
Since April 2017, when she arrived at the center, Coltharp has dealt with Hurricane Michael — the storm heavily damaged the facility and necessitated the relocation of residents for six months — and the continuing pandemic. She has around-the-clock responsibilities. Her phone can — and does — ring at any hour.
"I love the programs we provide, but my main concern is that those 64 residents are safe, and that's a huge weight on my shoulders, but I knew it was going to be that way," Coltharp said. "You never know what you will be called about."
Those de-stressors are essential.
"I like to visit with the residents and see how they are doing," Coltharp said about quiet times, noting that she often takes walks with them along a circular concrete path at the center. "Even if they are non-verbal, they want somebody to be with."
A high school dropout, Coltharp rebounded and earned a mathematics degree at the University of South Florida in Tampa. There, she met her future husband, a physics student, and moved with him to Tallahassee where he enrolled in a doctoral program. She, meanwhile, went to work for the state prison system, at first teaching math to incarcerated men. She then became a special education teacher working with inmates with disabilities before being promoted to administrative responsibility for special education for the overall adult prison system.
Coltharp's marriage was going south when she heard about a job opening in Panama City. Following a lengthy series of interviews, she and her then 4-year-old daughter, Ansley, were on their way to the beach.
Ansley attends the Rising Leaders Academy in Panama City, a private nonprofit school near PCDC that emphasizes instruction in languages. She also takes dance lessons and is dying to go to New York City.
"My biggest dream is providing for my daughter and giving her everything she needs to be a productive citizen," Coltharp said. "I want to make sure that she has the tools to become an independent lady."
Coltharp is herself a woman with well-defined tastes.
"I love teal, I love sea-foam green," she said. "I focus on beachy colors when I decorate."
When not at work, Coltharp favors jumpsuits and rompers. On the job, say when the Agency for Health Care Administration is paying a visit, she favors a crisp black blazer and dress pants. Run into her at the Grand Marlin restaurant, and she is likely to be wearing a form-fitting blouse, skinny jeans and a pair of wedges.
On the beach or at the pool, Coltharp has lots of options.
"I love my cover-ups and, living as close to the beach as I do, I have 50 bikinis," she said. "OK, that's an obsession right there."
She has no regrets about trading red hills for white sands. She departed a familiar place and moved to a town where she knew no one, but she proved resilient.
"I work well with stress," she said. "I left Tallahassee to take a job I didn't even know I would like, and that was a huge risk, but I am glad I did."
Not that she doesn't know how to relax. She has 50 bikinis to prove it.