A Baker with a Sweet Personality
Caress Hudson's recipe for life combines good looks, decadent food and gratitude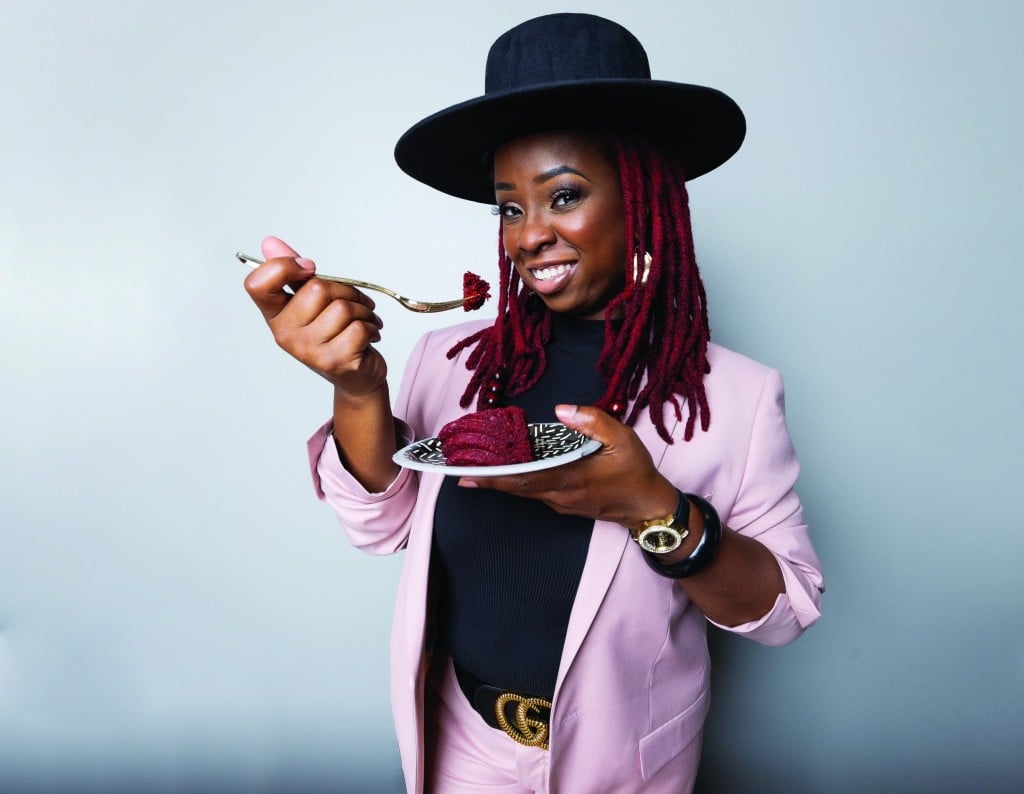 Caress Hudson was just a few courses short of obtaining an associate's degree in baking and pastry arts at Anne Arundel's Community College in Maryland when her professor posed a question to the class:
"If you were to open a store right now, what would you call it?"
There on her flour-dusted workspace, Hudson's fingertip etched "Henny Penny," the pet name of her grandmother and fiery family matriarch, Henry Mae Dews.
"As a Black woman born during times of segregation, she hated the fact that her parents named her Henry in the masculine form," Hudson said. "Growing up, I would always hear her make comments about her name, but names are so important. In African traditions, they're something you're supposed to honor and uphold."
Explaining all this to her professor, Hudson snapped a photo of the table. She never imagined that, years later, the name would grace a Pensacola storefront.
Hudson, you see, never banked on becoming a baker. The Tyler, Texas, native's confounding career path began in Bethesda, Maryland, where she studied genetics and began working for genetic sequencing and technology company Celera Genomics.
After putting in long hours at the lab dealing with DNA samples, Hudson realized the monotony might not be for her.
Life had other plans, anyway.
She soon met a dashing Navy sailor, Keith Hudson, fell in love and, at age 20, was expecting the first of their four daughters. A military brat herself, Hudson knew the drill and decided to take some time off to raise her daughters and support her husband as his career took them around the country.
It wasn't until the introduction of MYCAA, a scholarship program for military spouses, that Hudson got cooking.
"I wanted to take advantage of this opportunity and receive some sort of certification, but didn't know what to do," Hudson said. "I have always loved food, so my sister suggested I take some cooking and baking classes and see where they'd take me."
Hudson completed her associate's degree with such aplomb, a professor encouraged her to take her career a step further and apply to Johnson & Wales University. The private, Providence, Rhode Island, school is revered for its culinary arts program and just so happened to be Hudson's "dream school."
"I didn't think I could get in," Hudson said. "Here I was, age 35, and I only just obtained my certificate and associate's degree. How was that going to work?"
But Hudson applied, was accepted and graduated with a degree in restaurant and food service management in 2017. In another two years, she had achieved an MBA.
Meanwhile, Keith had become a Navy reservist and the couple was looking for a place to settle down. Hudson took one look at Pensacola's beach, turned to Keith and said, "This is it!"
As they settled in the Escambia County community of Myrtle Grove, Hudson began scoping out the local food scene. Her goal as a business owner, she said, was to provide a service (and a little culture) that gave back to the community that welcomed her so graciously.
Since opening three years ago on Jackson Street, Henny Penny's Patisserie has been supplying what Hudson calls "European pastries with a Southern twist."
Today, the business is transitioning to become a bakery large enough to cater to the more than 5,000 followers of its Facebook page.
Look at the drool-inducing shots of pineapple upside-down cakes, fresh fruit tarts and assorted cupcakes, and you'll understand the hype.
In August, Hudson was busy planning fall-inspired flavors for the brownie boxes she would be shipping in September. So far, there's pumpkin, red velvet, espresso and chocolate cream cheese.
"A lot of inspiration for my work plays on color palettes," she explained about her creations that are almost too pretty to eat. "I'll lay out a box of crayons or colored pencils to pull ideas for color pops that make sure the food is bright and modern."
In that respect, she said, "food and fashion go together."
Much like her contemporary take on classic pastries, Hudson experiments with colors and textures in her wardrobe. She is a fan of marrying modern style with traditional pieces, such as the African prints, that make their way onto Hudson's skirts and blouses.
And, she prefers to shop locally. Among her favorites are the vibrant works of Audrey Allen at A+ Curves and chic African designs from Sara De'Lisa Smith's e-store, D&J's Favorite Things. There, she can always find a classy, trendy jumpsuit or dress.
She'll be consulting those ladies soon, she said, as she prepares to speak at EntreCon, a business and leadership conference scheduled to take place in November in Pensacola, COVID permitting. It's an honor stemming from her involvement with the Studer Community Institute, where she mentors aspiring entrepreneurs once a month.
"A lot of success can be attributed to your food's presentation," she said. "That's what pulls you in. I tell other bakers to focus on their food's style and sexiness. Yes, you want a sexy brownie! You want that chocolate to speak to you and evoke emotion."
When Hudson steps out, she said, she wants to make sure her style performs the same way. She'll even borrow inspiration from Henny Penny's era, modifying a classic, Audrey Hepburn-esque ensemble with leopard print or other trending patterns.
Hudson is still blessed to have Henny Penny in her life. At age 93, she's "as sassy as ever," said Hudson. Of course, she's proud of her granddaughter's gumption. But, is she finally proud of her name?
"When she's visiting Pensacola, she'll tell everyone who walks through the door, 'Hi, I'm Henny Penny!'" Hudson laughed. "You can hear the pride in her voice. For her to be able to switch that around and own it is a beautiful thing."