Al McCambry Brings Positivity to Gulf Coast State College
A man that sees the glass not half but three-quarters full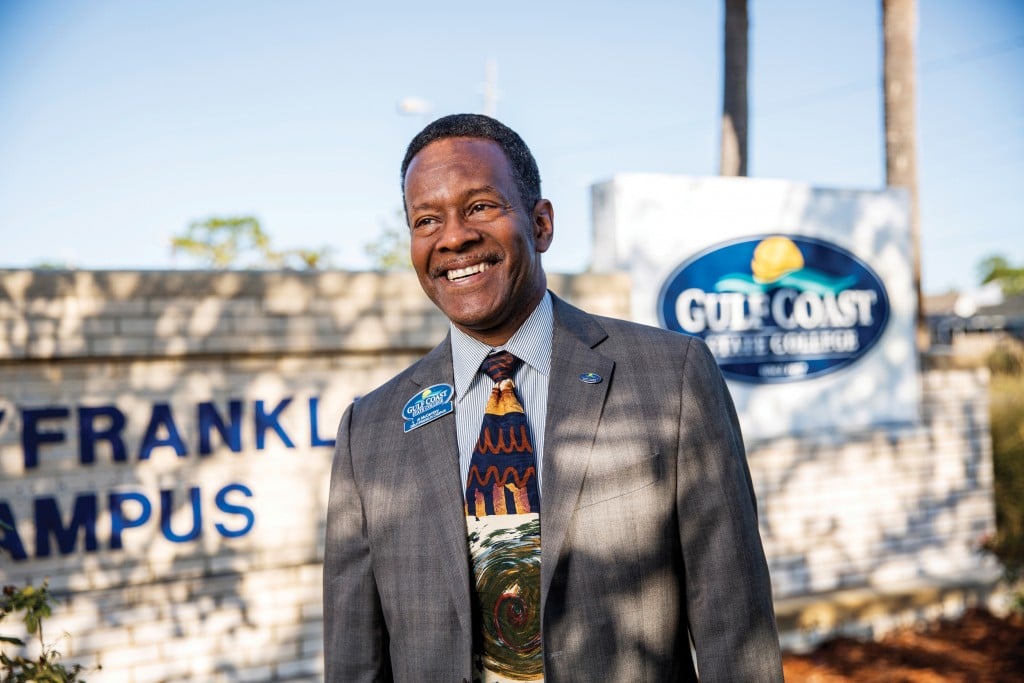 Al McCambry wishes he could be cloned. McCambry, the dean of workforce development at Gulf Coast State College (GCSC) and director of its Gulf/Franklin campus, has just wrapped up a groundbreaking ceremony for the college's new Nursing Simulation Center and Unmanned Aerial Systems (UAS) Bootcamp Facility, made possible by Triumph grants totaling about $18 million.
A day earlier, he attended a meeting of the college's board of trustees. Additionally, McCambry serves on boards at the Bay County Chamber of Commerce, the Bay County Economic Development Alliance and at Gulf Coast Regional Medical Center, where he is board chairman. He is an active part of the American Red Cross, the Bay County Chamber of Commerce's Military Affairs Committee and the Early Learning Coalition of Northwest Florida.
"When I pitched the cloning idea to my staff, they agreed that, while helpful, it would probably be dangerous," McCambry laughed. To be sure, the world could use more McCambrys. He's a man who refuses to believe there's more bad than good in society. He's a man of faith in his god and his fellow man. For every dislikable quality McCambry discovers in a person, he'll find two more reasons to love him. "I truly believe everything happens for a reason," McCambry said. "I like seeing the possibility of what can be afforded to individuals on both sides of the coin. There are those who have had everything and suddenly see there's a newer, more rewarding path before them, and those who may have no idea what paths are available to them."
Growing up an Air Force brat, McCambry discovered a passion for education in high school. He envisioned that he would become a teacher. "My dad advised me that, depending on the lifestyle I wanted, I might want to consider doing something more lucrative in the private sector and also find ways to work with young people," McCambry said. "So, that's the approach I took."
For many years, McCambry was an executive at Comcast in Toledo, Ohio, and Muscle Shoals, Alabama. In 2006, he accepted a general manager position with Knology (now WOW! Internet, Cable and Phone) and moved with his family to Bay County. All the while, McCambry stayed involved in Big Brothers/Big Sisters and Junior Achievement programs and even landed a seat on the board of the National Council for Continuing Education and Training (NCCET). When WOW! merged with Knology and ushered in their own senior management team, McCambry began to search for new opportunities. His wife requested if, at all possible, they stay in Bay County.
As the product of networking, McCambry discovered that GCSC was looking for someone to serve as the director of its Continuing Education Department, a division that bridges the gap between the college's academic programs and specific skills required for career advancement. McCambry accepted the role, and a year later, he was promoted to the job of dean of workforce development. "In 2019, I ended up picking up responsibility for the Gulf/Franklin campus, which gave me a better understanding of what our college was all about," McCambry said. "I was able to really see how the credit programs were run and gain a bigger appreciation for some of the occupational degree programs, like our nursing program, which is a huge success at this campus. It's all worked out well, and I've been very blessed."
McCambry sees GCSC as a "conduit of hope that a lot of people need." The college pledges to deliver life-changing learning opportunities, and it's opportunity that makes him smile. Dr. John Holdnak, GCSC's president, often refers to McCambry as a "champion of the underdog," a title McCambry wears with pride. "This country was built on small businesses," McCambry said, "and if I can help the underdog, maybe they'll end up being one of those small business owners." McCambry's parents taught him when he was young that they were no better than anyone else, but there was nothing wrong with the pursuit of self-betterment. "You just have to do what you need to do to always better yourself and realize that if it wasn't for God's favor, you could be walking in someone else's shoes," McCambry said.
McCambry is a big believer in paying the civic rent. "I strongly believe that if you have an idea of what the needs of your community are and you're actively working to push the community in a direction that will make it better for all of its citizens, you're able to give back," McCambry said. "That's important to me." But no matter how busy, McCambry always has time for his top priority. For 35 years, he has been married to Debbie McCambry, whom he refers to as the "better three-fourths" of the relationship. Together, they have two daughters, a son and a granddaughter. Recently, their family has grown even bigger.
McCambry met a troubled, 21-year-old man at church who always called him "Uncle." These days, he said, it's "Dad." "I love this kid to death, it's like I've had him my whole life," McCambry said. "Most of us make mistakes and are very fortunate we don't have to pay for them. This young man made some mistakes, and he's having to deal with the consequences, but he is going to be all right. He has a heart of gold, and he's very hard-headed! But, he's coming around." Through him, McCambry has gained another grandchild, age 6, who calls McCambry "Pawpaw."
Undoubtedly, Pawpaw is the best title he's earned. "People always tell me I'm a glass half-full kind of guy, but I think my glass is three-quarters full," McCambry said. "It's easy to find something you dislike about someone else, but look a little harder and you're gonna find something you like. The only way we're going to get to where we need to be is if we do it together."