Add Some Spice To Your Home Office
Branch out of the norm when it comes to your workspace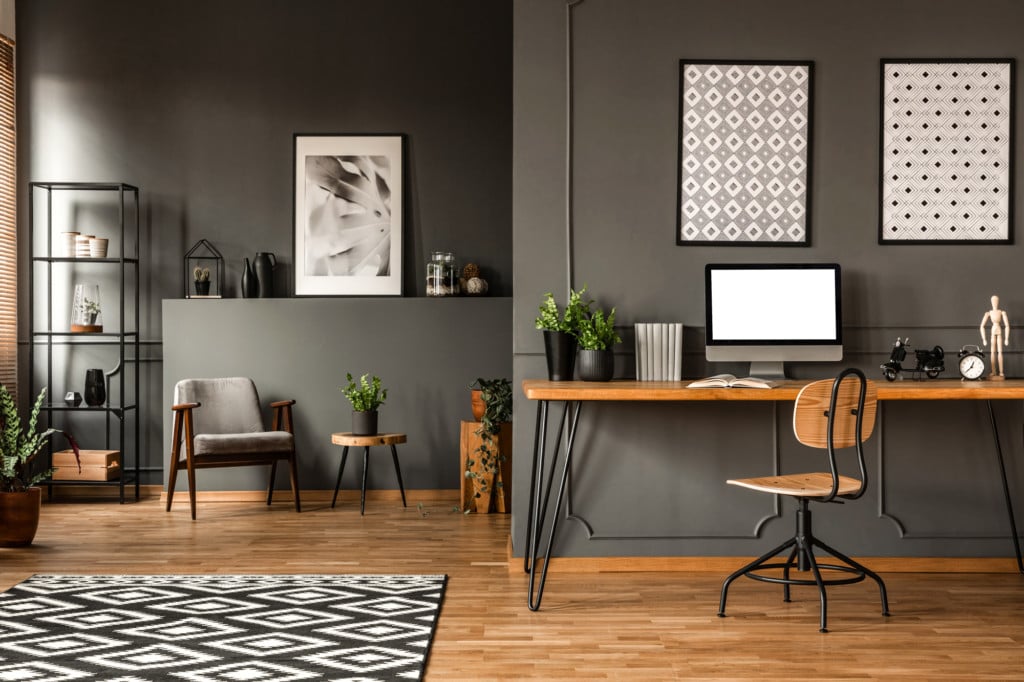 Home offices are usually the most neglected space in the home, often shoved into a living room or bedroom corner. Even some who have an elegant home office say they use the kitchen table instead.
But more and more of us are working from home, where an attractive and organized office can lead to enhanced creativity and productivity.
Design, Function and Costs
For Constance Crosby, owner/designer at Constance Crosby Interiors Inc. in Pensacola, one of the best ways to boost productivity is to create a workspace that accurately reflects your personality.
"Warm up your room with colorful rugs and decorative accents that complement your walls," says Crosby. "There are so many cute wall hangings in the marketplace that express motivational thoughts or inspirational quotes to keep you on track."
When placing a desk, one should always take advantage of natural light and a nice view. No view? Create a picture wall behind the desk.
For visionary types, Crosby recommends chic steel, wooden or plastic pegboards suitable for outlining projects, maintaining your schedule or hanging plants, shelving and other motifs.
Most home offices lack a theme or design, so here is where you can make a difference. Go for Scandinavian (white with blue accents). Modernist or industrial approaches feature glass, metal, white lacquer or stark black and white décor with charcoal or white walls. Go rustic and you could arrive at chicken-wire-in-glass-front bookcases. Traditional styling uses warm woods, brass nail heads and green plants.
Crosby says implementing pale pink and muted greys, be it through drapery, upholstery or statement accents, is ideal for a soft touch of femininity.
As for seating, don't be afraid to invest in comfort. Leather swivel chairs with casters run from $350 to thousands of dollars depending on type, size and brand. Fabric chairs can be less expensive to over $1,000 for a Hooker chair. Top-of-the-line black mesh Herman Miller Aeron chairs start around $500 and go well over $1,000. Desk prices run from garage-sale finds to tens of thousands of dollars.
Put slim shelves (most books fit in shelves eight inches deep) on the walls near the desk. Dress them with art, treasures and photos.
Stylish Mini-Offices
A desk facing out into the center of the home office takes up space. As an alternative, run a desk under a window or across the width of a space. The desk can be built in and shaped to fit the space. It doesn't have to be a rectangle; it can curve where the chair slides in. You can't go wrong with taupe walls and a desk with a white quartz top, or a white painted finish on the desk and credenza.
Small-Scale Library
Books, periodicals and a comfortable reading chair are musts. Add a reading light and side table next to the chair. Another option is a repurposed formal dining room wherein the dining table becomes a library table in the center of the room — sheer heaven for projects.
Creativity Zone
Home offices aren't limited to writing or reading; crafting is an option. This expands placement to the mudroom or the kitchen.
Lighting, Crosby says, will quite literally illuminate your ingenuity. Forego cumbersome floor lamps in favor of modest but efficient task lighting on your desk or an overhead spotlight.
Maximizing your space is essential, so you'll need all sorts of places to sort and stash your supplies. A file drawer or large custom baskets will master the mess, but if your room is equipped with a closet, consider transforming it into your "ante-office" for any storage needs.
Crosby advises you to discover tasteful methods to obscure your various USB strips and power cords, as an exposed tangle of wires tends to scream "shambolic." Slipping some patterned bins beneath your desk offers stylish, functional concealment.
Tax Considerations
According to Stephanie Zottoli, CPA/Partner of Carroll and Company CPAs, taxpayers who qualify for home office deductions can choose a simplified tax-filing method that she says eliminates the need for calculation and record-keeping requirements.
Taxpayers can deduct $5 per square foot for the portion of their home that qualifies as their home office space (capped at 300 square feet), she says.
Under the simplified method, Zottoli says, you still can take their home-related itemized deductions in full on Schedule A of you return with no proration required. Also, upon the sale of your home, you have no depreciation to track and no so-called depreciation recapture.