Achieve Pantry Perfection
Clutter-busters are growing on people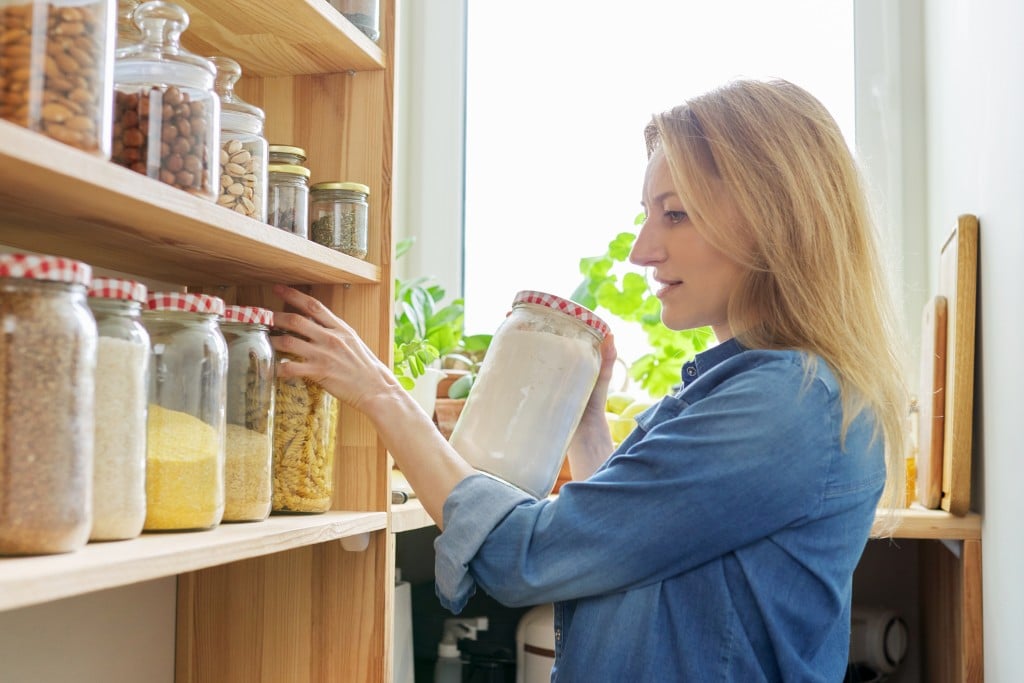 The walk-in pantry has become homeowners' newest passion, but — surprise, surprise — this has nothing to do with COVID. Yes, the pandemic meant lots of home cooking and as few supermarket trips as possible, so well-stocked pantries did become focal points. But the luxury pantry with its Instagram-worthy lineup of cork-topped, calligraphed spice canisters and apothecary jars of dog treats preceded the arrival of "social distancing" in everyone's lexicon.
A 2019 survey by the National Association of Home Builders showed that the walk-in pantry had become the most desirable kitchen feature for homebuyers. At the beginning of 2020, the association found that 85% of new large homes (more than 3,500 square feet) featured walk-in pantries.
The rise of the pantry from modest cabinet to an entire room comes as no surprise to Larry Taulbee, president of Closet Solutions in Miramar Beach.
"It's the modern-age problem of 'so much stuff,' " he remarked. "We saw it with clothes. There, we went from a freestanding closet to built-ins to entire rooms devoted to the wardrobe. A similar evolution of the pantry was inevitable. All those small appliances cluttering countertops and the cabinets bulging with stuff making it hard to find whatever is needed for dinner — that's why the well-designed pantry was born, and families' lives are better for it."
The super pantry
Of course, there are numerous variables from family to family, but specific pantry categories can be described. The super pantry, which can easily qualify as an extra kitchen, is way out in front.
"It usually has an additional refrigerator and freezer, sink, dishwasher, and, naturally, lots of open shelving for an instant view of what's there," explained Cindy Aplanalp of the National Kitchen & Bath Association. "It's a true clutter-buster, a great way to keep the open-concept kitchen neat."
The butler's pantry, usually a galley-type kitchen separating the dining room and the real kitchen, is another option. It acts as a way station, hiding kitchen messes from dinner guests and comes in handy for extra serving pieces and party supplies, plus it makes a great bar.
From there, pantries go all over the place, with one overriding priority: storing kitchen supplies and staples for easy access and overview.
But what if you want to add a pantry to an existing house? Taulbee says that borrowing space from a mudroom or other neighboring space often does the trick, and if everything else fails, the pantry might go into a garage or other room. "Recently, we even put a stand-alone pantry into the living room of a condo," he said.
It isn't just practical concerns that come into play in pantry design. "It needs to be aesthetically pleasing as well," says Taulbee. "That's where all those accessories come in. The jars, bins, baskets, the lazy Susans and corner shelves. Homeowners definitely want their pantries to exude lots of charm and showcase special interests, such as a baking station for breads or cupcakes, or a coffee bar to make the most of the home barista's skills."
Getting organized
Arranging pantry shelves is one of the specialties of Neat Freak Professional Organizing, a Niceville team headed by Keegan Postulka.
"First off, those clear containers you see in Instagram pics aren't there just for good looks. Emptying the content of supermarket bags — such as flour, sugar and pasta — into those jars, canisters and bins makes it easy to see exactly what you have. Plus commercial packaging is really ugly."
After unpacking, it's time to place things, and Postulka recommends working in zones.
"Make it fit your life," she said. "If you have kids, cluster their snacks in one spot, yours in another. Put baking supplies in one grouping and dinner essentials in another. And so on. Once it's done, homeowners invariably find that the walk-in pantry was the best idea they ever had. It makes their lives so much easier and saves them money. What can be better than that?"