A Very Philanthropic Birthday
Hannah Martin Hosts Fourth Annual Birthday Fundraiser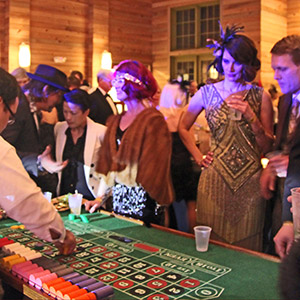 Birthdays are often a day to celebrate and be showered with gifts. Broker associate Hannah Martin of The Premier Property Group has a different perspective. She's still celebrating — but by giving instead of receiving.
Her fourth annual birthday fundraiser will benefit Cultural Arts Alliance of Walton County, Special Olympics Florida — Walton County and Westonwood Ranch. Titled "La Lumière: A Metropolitan Affair," the event will be presented by Destin Plastic Surgery and Duckies Shop of Fun on Saturday, Feb. 10, from 6-10 p.m. at Grand Boulevard in Miramar Beach.
Martin's connection with Special Olympics is long-standing, but the addition of Cultural Arts Alliance and Westonwood Ranch is new this year.
"I'm very excited to announce our beneficiaries to this year's event," says Martin. "When we were introduced to Westonwood Ranch, a new organization in this area, we immediately fell in love with their mission and goals to give back and better our community. Autism is such a prevalent part of the world today that touches so many people. It is very rare that communities are able to provide such a cultural and progressive atmosphere for individuals with special needs. I am also thrilled to announce I am a new board member for the Cultural Arts Alliance of Walton County and am proud to have their support to help create these multifaceted programs. We saw a huge calling to bring these three organizations together to help create a better tomorrow for Walton County and our special needs community."
To date, Martin's "La Lumière" events have raised over $120,000, and with the addition of two new charities, she aims for the event to flourish.
This year, a $200 donation includes dinner, drinks, entertainment provided by Mr. Big and The Rhythm Sisters and a variety of games including blackjack, roulette and craps. To try your luck, you can purchase raffle tickets in exchange for chips. Tastebuds will be satisfied with heavy hors d'oeuvres, oysters on the half shell from 30A Oyster and a variety of libations and local brews. The flashbulbs of Epic Photo Co. will be capturing the night's most memorable moments.
Attendees are encouraged to embrace the metropolitan theme, and personal stylist Amy Giles of Wardrobe Made Simple is offering to assist your style with 20 percent of the styling session proceeds benefiting the cause. Merry Beth Myrick Designs is crafting speciality items for the event with 25 percent going to support the charities. Sponsors include Destin Plastic Surgery, Duckies Shop of Fun, 30AEats, Emerald Coast Magazine, Grand Boulevard, Modus Photography, The Premier Property Group, Proffitt PR, Royal Destinations and Elite Alliance, SoWal.com and VIP Destin Magazine.
Join in to light up the night and the lives impacted by these cherished, local charities.
For tickets, sponsorship or for more information, please visit hannahmartinsparty.com or call Crystal Smith at (850) 714-4271.