A Treasure Hunter's Search for Truth
Eric Chance Stone's mystery novel explores dark arts and the sometimes deadly power of lies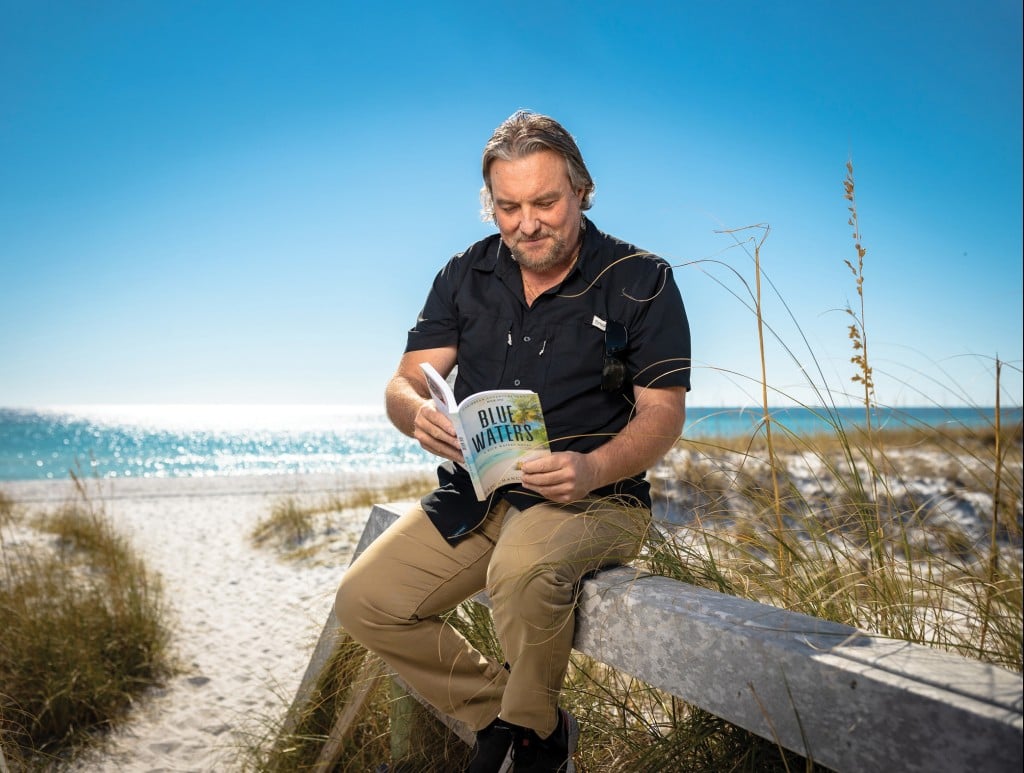 With a central character whose desire to find treasure is balanced by a desire to find truth, Blue Waters is about more than just a drifter who has forsaken a conventional job and a permanent address. At its core, it's about exploration of self, history and mystery.
Rick Waters is a former airline employee who's bounced around some scenic destinations, living and working for a while in the Destin area before abandoning all to hit the road in his old Ford truck. He travels with a metal detector, a cockatiel named Chief and little else.
In Blue Waters, author Eric Chance Stone mirrors much of himself. Like Waters, he worked many years for American Airlines and found himself on the Emerald Coast. Time and various life pursuits took him to exotic locations, including the Virgin Islands. He eventually moved back to Florida — he currently lives in Destin where he shares a home with three exotic birds. Stone writes what he knows.
Protagonist Waters has been in the private investigations game a few years and has been rooting around Texas trying to find treasure that has thus far eluded other pursuers. A promising lead takes him to a site where he finds a piece to the puzzle of missing gold. The search is soon waylaid, however, when Waters stumbles upon a murder victim in the West Texas town where he is camped out.
The manner of Cara Johnson's death suggests ritualistic Voodoo practices and a possible connection to a movie about cults. Johnson's father easily convinces Waters to investigate. Tuning in to his instincts as a PI, Waters is on the hunt for more than just the fortune that has brought him to town.
While juggling theories on what, exactly, could have brought about the murder and who might have done it, Waters focuses on the killing's Voodoo signature. With Chief and a .38-caliber pistol, he travels around Texas pursuing leads.
Stone portrays Waters as a tough customer, a man who doesn't let close calls or dangerous situations rattle him. His bravado serves him well — especially at the pool table where he wins more than he loses and enjoys the adrenaline rush that can come with putting money at risk.
Leads take Waters to the Virgin Islands and then to Haiti and point to a connection to Johnson's own family. He becomes immersed deeper and deeper in the world of Voodoo in which things are not often as they appear.
Waters encounters in his travels a beautiful young woman but postpones a serious relationship. He has a murder to solve. What he finds, in the end, is a sad and sickening truth — secrets can destroy lives and even kill. He brings justice to bear and lies to light.
After hunting for treasure, searching for truth and finding unexpected love, Waters' life is just beginning.
---
FOUR-BOOK SERIES
Blue Waters, a 264-page mystery novel that is the first in author Eric Chance Stone's "Caribbean Adventure Series," is available at Amazon along with the other three books in the collection. All center around Rick Waters, a drifter capable of making a vagabond look like a homebody.