A Smiling Warrior
New FSU PC graduate works to build bridges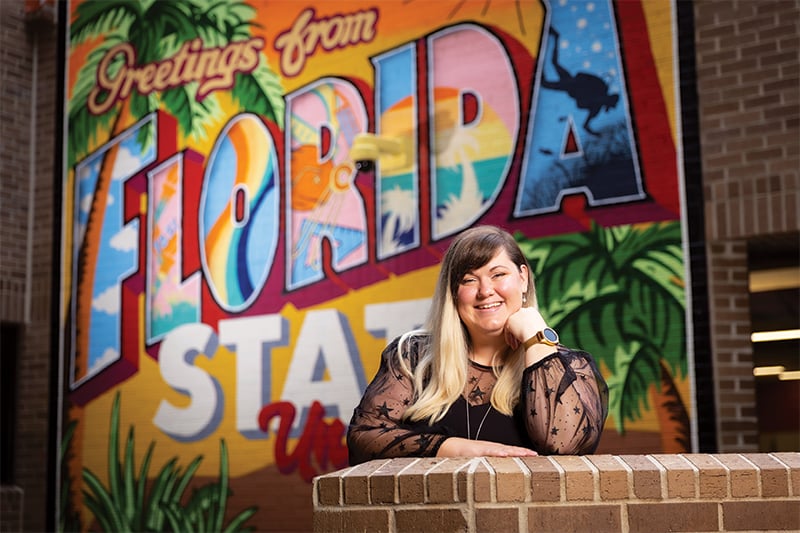 Among the people who have most influenced her, she lists a professor of communication and an associate dean at Florida State University Panama City.
"They are like the devil and angel on my shoulders," said Raemi Creteur, a December 2022 graduate of the campus.
She said her favorite professor, Dr. Abigail Reed, favors replacing altogether systems that do not work. She views the dean, Dr. Irvin Clark, as someone who prefers working within systems to reform them. Neither is complacent, but one is a tsunami to the other's ripples.
Creteur, 30, is somewhere in the middle. She wants to create waves capable of significantly altering the contours of society without undermining it.
As a student, Creteur became familiar with the writings of poet, professor and civil rights activist Audre Lorde. She has pondered and written about Lorde's assertion that, especially for marginalized people, survival …
… is not an academic skill. It is learning how to take our differences and make them strengths. For the master's tools will never dismantle the master's house. They may allow us temporarily to beat him at his own game, but they will never enable us to bring about genuine change.
Creteur's tools are communication and engagement. She tells a story about a man with a Spanish accent whom she encountered on a Halloween night at a Walmart store just outside Langley Air Force Base in Virginia, where she resided for a time.
Creteur lived across the street from an elementary school and had been flooded with trick-or-treaters. She went to Walmart to get more candy. The store's picked-over Halloween supplies were a disheveled mess, boxes had been opened and costumes had become separated from matching masks.
The man with the accent sought to check out with a mismatched werewolf set, but the cashier immediately said she would have to charge him twice the price of one complete costume.
"The cashier just shut down as soon as he started speaking because she didn't want to deal with someone with an accent," Creteur said. "He could have shoved the mask into the costume box, and she wouldn't have known, but he was trying to do the right thing."
Creteur intervened on the man's behalf. That is, she succeeded in engaging the cashier, who wound up charging the man half of what she said she would charge.
When Creteur left the store, the man was waiting to thank her.
"That's not an unusual experience, especially for people of color and people with accents," she said. "It has always been a passion of mine to help people communicate. I thought language were going to be my path." (She studied Spanish and American Sign Language at Gulf Coast State College.) "But then I found the communication program at FSU PC and realized that it's not just about languages — even within the same language, people have difficulty communicating."
Creteur dissolves divides.
Employing a model similar to that of the United Way, she is working to establish a "grassroots organization" called BRIDGE — Building Relationships for Inclusion, Diversity and Global Equity — that would work to strengthen nonprofits.
"Nonprofits struggle with access to resources and with their structure," Creteur said. "They tend to experience high turnover or unmotivated staff after 'X' years. I want to equip them with the tools they need to succeed long term and not lose momentum when events like hurricanes occur."
In so doing, Creteur would seek to bring nonprofits together and lead them to share resources.
Speaking from experience — she was an events coordinator at FSU PC — Creteur said that it may cost $5,000 a day to book a conference center in Panama City Beach for an event lasting a couple of hours. But if multiple nonprofits were to coordinate their efforts and each conduct an event within that $5,000 day, costs could be greatly reduced.
Creteur appreciates how difficult it is for nonprofits to raise funds, particularly in an unstable economy in a storm-battered community. And, in a small town, the usual contributors soon experience donor fatigue.
But, for Creteur, a "no" is an opportunity to create a "yes." She wants to help organizations creatively propose avenues that will benefit both nonprofits and their donors.
At FSU PC, Creteur emerged as a campus leader, planning events including an Out in the South Festival, which aims to affirm and educate people about the experiences of LGBTQ+ communities; the campus's annual fundraising dinner; and the 2021 Nole Fest, a homecoming week activity.
She was an intern in the Office of Advancement when the writing media specialist resigned, a role that she would then fill.
Creteur began her studies at FSU PC in the summer of 2020, shortly after the campus shut down due to the COVID-19 pandemic. All of her classes were delivered online for two semesters. She minored in public administration by taking main campus classes remotely.
Even learning at a distance, she so impressed professors in Tallahassee that they are encouraging her to enroll in their master's program.
Encounter Creteur today and one finds little evidence of her former self, a young woman so averse to contact with people that she was always grateful for the pay-at-the-pump option at gas stations.
She lives with her son, Eliren, who is autistic, and a partner, Chris Frias, a student at Gulf Coast who is employed by the City of Lynn Haven.
Wait a minute, another couple of mentors have come to Creteur's mind.
Becky Kelly, the longtime director of the Office of Advancement at FSU PC, she said, "has been a trellis for me to grow on."
Her late father, David Creteur, was the "smartest man I have ever known" and taught her always to make things, including relationships, better than they are when you first encounter them.
She greatly admires Cindy Wilker, a U.S. Marine Corps veteran who founded the LGBTQ Center of Bay County, where Creteur completed an internship.
"She has the biggest heart out of everyone I know, but she can be a little rough around the edges," Creteur said. "But we need people with her fighter mentality. She is a warrior."
Creteur is a warrior, too, a smiling one who is ready to unleash herself upon the world.
Among her other pursuits, Raemi Creteur joined Rowland Publishing as its editorial department coordinator in December.
---