Band Leader Rick Ford is Back in Bay
Versatile musician tailors performances to his customers' most special occasions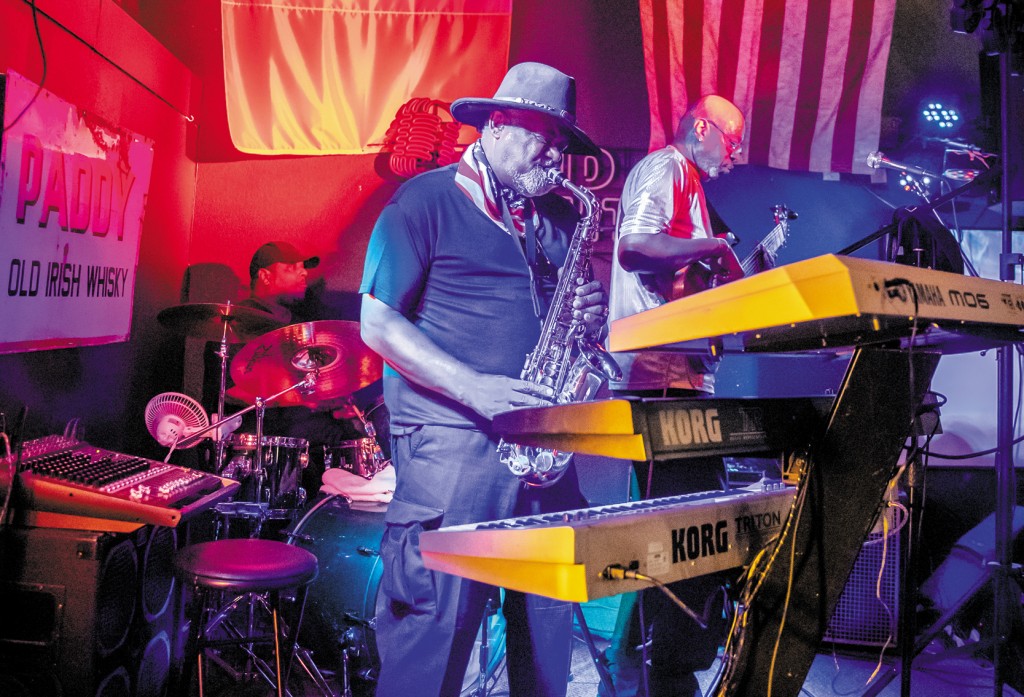 For almost 37 years, Rick Ford worked for the State of New York as the facilities manager at the SUNY Downstate Medical Center, a teaching hospital and medical school.
Throughout those years, he maintained a Florida driver's license. A colleague once asked him why.
"I'm just visiting," Ford replied.
He is back in Bay County now, having returned following his retirement to help look after his ailing father during his final months and to pick up pieces left behind by Hurricane Michael.
"People ask me if I miss New York and the truth is that I don't," Ford said. "Back in the day, I went to all the clubs — Studio 54, Limelight, Leviticus — and after three or four years of that, I was ready to come home."
These days, he said, "It's my business to make Panama City a happier place. I came back to a town whose psyche was badly damaged."
Ford calls himself a "live entertainment coordinator." He has a business, Konkoction, which he launched in New York and which provides music tailored to special events and occasions — baby showers, weddings, birthdays, retirement parties, even divorce parties.
His customers describe the types of music they prefer to hear — disco, funk, jazz, pop, reggae and rock are all on the menu — choose the number of musicians they want to hire and may even influence what band members will wear. The contacts list in Ford's phone includes numbers for dozens of players he may call upon to fit a bill locally. Most of them, he said, lost their homes to Michael.
From age 12 forward, Ford was a member of the house band at the Safari Lounge, a one-time Black music venue on 11th Street in Panama City where he also worked as a DJ.
He played sax in the Rutherford High School Band directed by Ray Smith, graduating in 1976. He moved on to Florida A&M and was a member of the Marching 100 there. Upon graduation, he played with a band, CC and the Soulful Three, which included the younger brothers of CC Carter, well known for his weekend soul and blues programs on Panama City radio stations.
After moving to Atlanta, the band adopted a new name, Panama Gold. Two years later, Ford was on his way to New York and an extended hiatus from playing music.
He got Konkoction going around the turn of the century with the assistance of a friend, Guya Patterson, who was an associate director for CBS News and who managed and branded jazz bands as a "side hustle."
"Musicians may think they are good business people, but that's not often true," said Patterson, reached at her home in Forest Hills, New York. "They need to concentrate on what they do best, playing music.
"The devil is in the details, and my job was to see to it that everything was tight."
Patterson said about Ford that he was a good student, a good listener. They worked first on establishing an identity for Konkoction and then ensuring that everything about the business was consistent with that identity.
They determined that they wanted Konkoction to be upscale, chic, sophisticated and consistently professional in all that they did from rehearsals to breaking down equipment following a performance.
"Rick exemplifies responsibility," Patterson said. "People would call him the mayor of Brooklyn. He had that timber about him."
Indeed, Ford was elected a chapter president with the Civil Service Employees Association in New York.
"It was like being the mayor of a small city," he said. "I'll never run for office again. Saving the world? Not for me. My cape is in the closet."
In important ways, Ford resembles his father Walter, an educator who rose to positions as the assistant director at the Haney Vocational-Technical Center and principal of Rosenwald High School in Panama City. While in the Navy, Walter Ford became the first Black man ever to serve on the deck of a U.S. aircraft carrier. When desegregation of schools began in Bay County, he saw to it that Rick became the first Black boy ever to attend Cove Elementary School.
From his father, Ford learned to be kind, patriotic and composed. Patterson said he often paid musicians in New York to attend rehearsals and bought them clothes. He wears a signature red, white and blue bandana around his neck. He will hold himself to one Absolut and pineapple juice, nursing it until well after the ice has melted.
He learned modesty, too.
"My goal is to get the right musicians and for me to be the least talented musician on the stage," Ford said. "I don't need to take the three-point shot. I like to be the utility player in the background. I'm there ready to get the rebound."
Ford writes music, quietly so.
"I haven't pursued putting it out," he said, adding that he has written music intended for movies, "but the movies haven't been written yet."
He's in the cover-band business.
"Every song I play, people need to know it," he said. "The first three notes in 'My Girl,' when you hear them, they have an effect. Some musicians may like to play their own music, but many times nobody really wants to hear it."
In preparation for an event, Ford prepares not set lists, but lists of songs, any one of which he may play whenever the moment is right in the course of a performance.
"Some bands roll up on a gig, straggling in at different times wearing whatever," Ford said. "They are there to play and go home. We want to make people feel like we are their band."
WALTER'S KID
Among his few regrets, Rick Ford wishes that it had been possible for him to bring about a funeral ceremony for his father, Walter, who died in April 2020. The COVID-19 pandemic prevented that. "Dad was a Renaissance man," Rick said. "He set the pace." Indeed, Walter was the first Black man to serve on the deck of a U.S. aircraft carrier. He majored in industrial arts at Florida A&M and drew up house plans. Later in life, he became the first Black man to sell cars at Cook-Whitehead Ford in Panama City. He retired from Bay District Schools as the associate director at Haney Technical Center. He did his student teaching at Rosenwald High School, prior to integration. Walter was a disciplinarian, but in wielding a paddle, he never took a full swing. "My father would beat my butt," Rick laughed. "My mother would beat my ass."