A Good Skin-vestment
Full-coverage fashion is trending year-round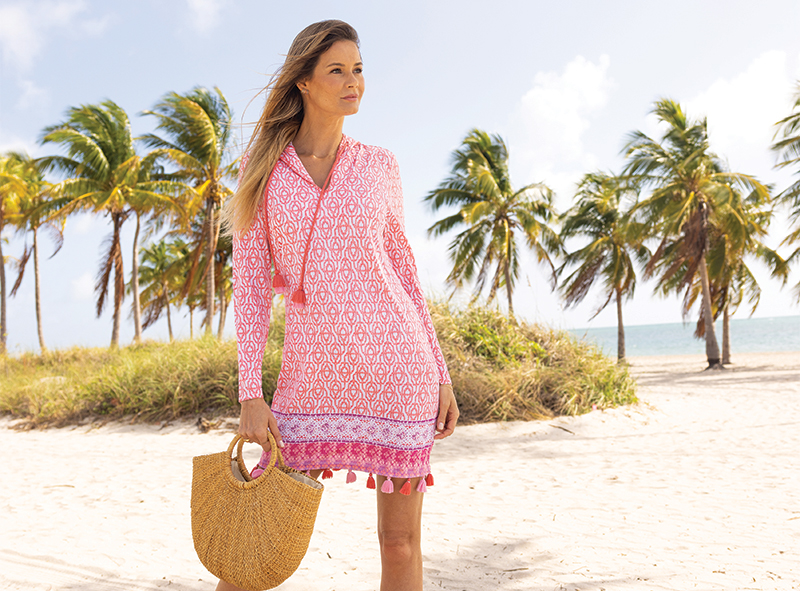 Fashion trends may come and go, but healthy skin is always in vogue. Lathering yourself in sunscreen or wearing sun-protective clothing just might be the most fashion-forward thing you can do.
Outdoor activities are a key feature of life on the Emerald Coast, particularly in the summer months. As we make our way to beaches, boats and barbecues, our shorts get shorter and sleeves disappear, leaving us exposed to the sun's harshest and most damaging rays.
"I know many of my patients live here for a reason, and a big reason is to enjoy being outdoors, going to the beach and playing golf," said Dr. Nick Papajohn of Coastal Skin Surgery & Dermatology in Miramar Beach. "They can still enjoy these things, but they should protect themselves."
Papajohn acknowledges that like wine and chocolate, the sun can be good for you in moderation. Natural vitamin D from sunlight helps to boost your mood, but in excess, sun exposure can cause burns, photoaging and skin cancer.
There are a variety of ways you can protect yourself. Avoiding the sun from its peak hours of 10 a.m. to 2 p.m. or finding cover under an umbrella or tent will reduce direct exposure, but if you plan on soaking up the sun, be sure to invest in a quality sunscreen and sun-protective clothing.
"Wearing sunscreen is the best step you can take for protecting your skin," said Dr. Haley Lewis of Dermatology Specialists of Florida in Panama City Beach. "The issue is, on average, 50% of people don't apply enough sunscreen or apply it properly."
Lewis advises applying an ounce of sunscreen, which equates to about 1/8 cup, from head to toe at least every two hours. Look for sunscreens that are at least 30 SPF and water-resistant for the best protection.
Many doctors advise physical or mineral sunscreens because they are considered safer for the skin and provide broad-spectrum protection. Broad-spectrum sunscreens shield against both UVB rays, which cause skin cancer, and UVA rays, which result in wrinkles and photoaging.
Popular and effective sunscreen brands on the market right now include Neutrogena, La Roche Posey, Elta MD, Sun Bum, Super Goop and Blue Lizard, which can be used on babies 6 months old and older.
"Clothing is often better than sunscreen, as it provides consistent protection, and you do not have to worry about missed areas or reapplication," said Papajohn.
The idea of clothing at the beach may bring back unpleasant childhood memories of an oversized T-shirt clinging to your body as you exit the pool or a long-sleeved shirt turning into your own personal sauna. Fortunately, sun-protective clothing has come a long way.
Any tight-woven, lightweight and loose-fitting clothing article provides an adequate amount of protection, but some garments go the extra mile. Clothing marked with an ultraviolet protection factor (UPF) label is the best investment you can make in your Florida closet.
UPF indicates how much UV radiation, both UVB and UVA, a fabric allows to reach your skin. Sun-protective fabrics should contain at least UPF 30, but the optimal fabric is UPF 50, which blocks out 98% of the sun's rays, reducing your risk almost completely.
Brands such as Coolibar, Solbari, Mott50, Cabana Life, Baleaf and Columbia specialize in UPF clothing that is both fashionable and functional. Many of these brands were conceptualized by dermatologists, outdoorsmen and skin cancer survivors who sought to make protective clothing more appealing to the masses.
Even popularized brands such as Lily Pulitzer and Vineyard Vines are introducing UPF pieces. A trip to any sporting goods store or even a Target can produce quality UPF duds.
Sun protection extends to accessory lovers, as well. Lewis advises grabbing a hat and sunglasses before venturing outdoors.
A baseball hat will protect the head, but wide-brim hats offer superior protection to areas often missed by sunscreen like the ears and neck. No matter if you prefer aviator, sport or cat-eye sunglasses, be sure to select shades with UV protection.
Anglers and boaters are especially susceptible to sun exposure reflecting off of the water. This has led to the popularity of sport-style masks that cover the face and neck. Unique and eye-catching patterns add a personal touch to your angling attire.