A Dream, A Trumpet and A Warehouse
After 50 years, Bob Snow sees more 'Good Times' ahead for Rosie O'Grady's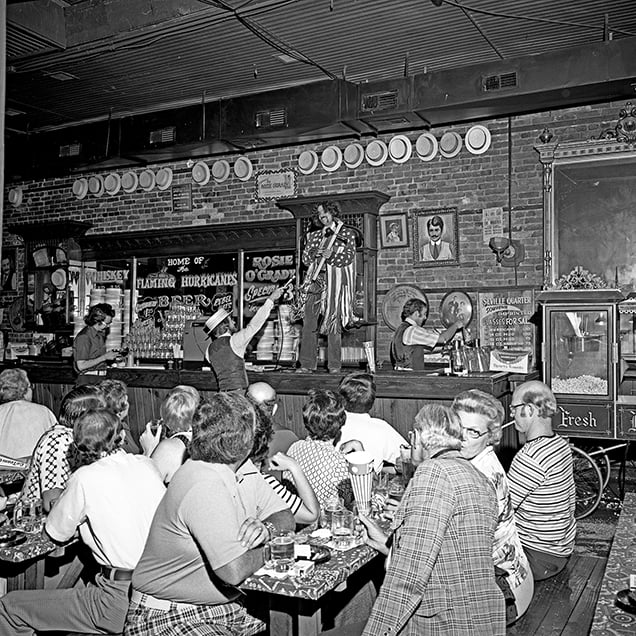 It was the summer of 1967, and Bob Snow was living his own version of a classic story: A young man with a horn wants to be the star of his own nightclub.
Snow's trumpet-led combo, "South Hangar Six," was well known around Pensacola, which was Snow's home while he attended — and expected to graduate from — the flight program at the Naval Air Station. But a severe car wreck just three days before Snow's graduation left him hospitalized for a year.
Still, his love of music remained intact. He had, after all, been playing the trumpet, the coronet and the flugelhorn since he was a seven-year-old growing up in Minneapolis.
"When I was in high school, I bought every Dukes of Dixieland record I could find," Snow recalls. "Then I started playing Dixieland, and it was such fun. I found out you could make more money playing in a saloon on a weekend than you could playing all week in a symphony." So after his accident, he decided to launch Rosie O'Grady's Warehouse, a music venue and saloon located in part of the Pensacola Cigar and Tobacco Co. warehouse, which had been built in 1871.
The Government Street location was far from upscale. Snow needed money, and he needed a lawyer to get his enterprise started. Several blocks from the old warehouse, he found Wilmer Mitchell at the offices of Holsberry, Emmanuel, Shepherd & Mitchell.
"It was about 6:30 in the evening," Mitchell says. "I was going out the front door, and there was this man standing there. And I knew who it was. He said, 'Some people tell me you should be my lawyer.'"
In order to open Rosie's on Snow's target grand-opening date of Aug. 16, 1967, with a license to sell alcohol, Mitchell had to secure a $5,000 loan from Citizens and Peoples Bank.
After the first weekend that Rosie's was open, that loan was repaid in full.
"Wilmer was a great guy," Snow recalls. "He found ways around problems rather than tell you, 'You can't do it.'"
Snow's band, the Dixie Racing & Marching Society Band, played at Rosie's on a regular basis, as did Nelson K. Hamilton, who headlined as "The Singing Suwanee Man From Alabam." Soon, Mitchell moved into his own office above Rosie's.
"Nelson and Wilmer felt like they owned the place, and I let them," Snow says. "They were just as involved as I was."
Over the next dozen years, the 19th century warehouse and adjoining buildings became known as "Seville Quarter." It transformed into six bars and two restaurants and inspired the development of Pensacola's Seville Historic District. But through it all, Rosie's stayed in its original location and maintained its original motto: "Historic Pensacola with a Bourbon Chaser."
Changes do come, of course. In the 1970s, Snow took his skills to Orlando to develop Church Street Station, which became one of Florida's top tourist attractions. He also created Main Street Station and Hotel in Las Vegas before returning to Orlando in the form of Snow & Associates, a consulting firm.
Mitchell's six children all eventually became involved with Seville Quarter, and each one went on to a management position after the family took over ownership and operation in 1988. Those six individuals are: Jack Williams, general manager; Doug Mitchell, assistant general manager (Doug's wife, Leigh, is in charge of human resources); Louise "Weezie" Carlson, comptroller (Louise's husband, Bill Carlson, is in charge of wine sales and purchasing); Buck Mitchell, marketing director; Scott Mitchell, night manager; and Cliff Mitchell, maintenance manager.
"Keeping everyone focused on the moment can be a challenge," Williams says, noting that six grandchildren and "numerous cousins" have also worked at Seville Quarter. "But the best thing is that although we have disagreed on many things, once we made a decision, it was all for one and one for all."
Rosie's 50th anniversary party in August attracted generations of working people who contributed as members of "The Good Times Gang."
"The entertainment and dining business doesn't have a real long shelf life," Snow said. "You've got to care about it, it's got to be good and it's got to be fun. And you've got to have the right people. If you've got the right people, you've got it made. I've got to give the Mitchell family full credit for keeping it going that long. There's no end in sight, and it's a family tradition."
---
Seville Quarter Today
Rosie O'Grady's
saloon
Phineas Phogg's
dance club
Lili Marlene's
WWI aviator pub
Apple Annie's
atrium with open-air courtyard
End O' the Alley
old-fashioned bar with open-air courtyard
Fast Eddie's
billiard parlor
Palace Café
serves lunch and supper
Seville Party Plaza
outdoor concert venue
Heritage Hall
banquet facility