A Bold New Bathroom
Today, the latest in fixtures clean themselves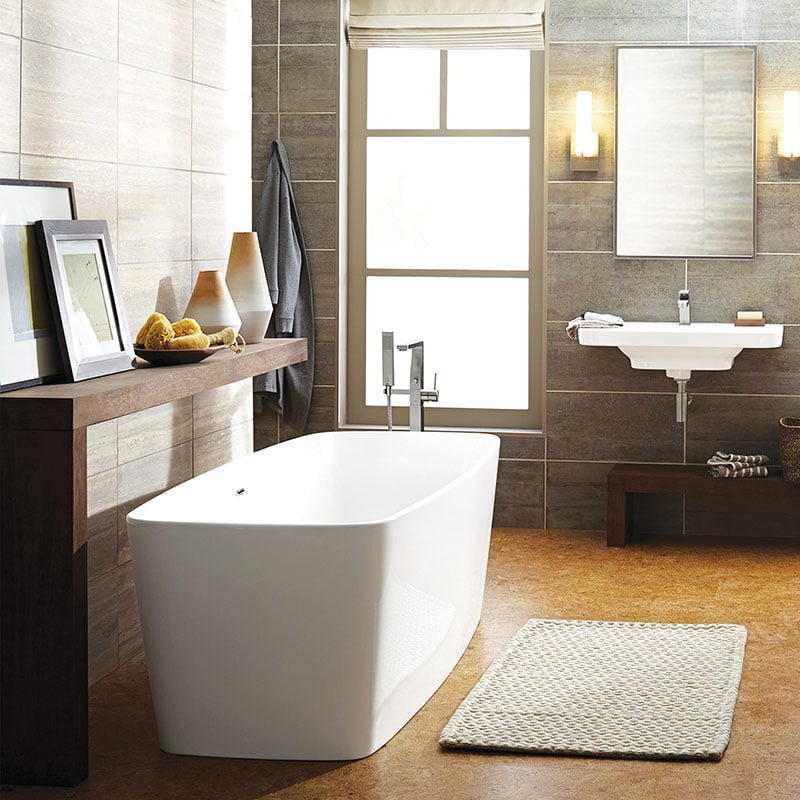 Let your bathroom stand out from the rest. Be on trend with sleek comfort, convenience — and black. Yes, black paint on an accent wall or black frames on mirrors or black marble shower tiles and black-and-white floor tiles. Accent with brass, a light wood vanity, and quartz countertops.
If black is too much, try mixing it with splashes of red or cobalt blue in a predominantly white bathroom. At the 2017 International Builders Show, a slab of swirled, bright blue-and-white quartz was eye-catching — perfect for a small vanity.
The overwhelming fixture favorite is still white, but look for the occasional linen or bone. For a calm appearance, have white or silver walls, driftwood-gray floors in tile or laminate, and wood accents. Finish the look with gleaming chrome, satin nickel or brushed nickel towel bars, double robe hoods and toilet paper holders.
Tech it up with built-in chargers in the sink area. These can be standard outlet configurations with both AC outlets and USB ports or GFCI varieties or docking drawers with special hardware that hides cords.
Hate cleaning the toilet? The ActiClean Self-Cleaning Toilet by American Standard cleans itself with the touch of a button and includes an "easy lift-off," self-close seat at chair height, which is now the standard in new and remodeled homes. The unit requires four AA batteries and a cleaning cartridge available from Lowe's and other home supply stores.
Consider a solid white or stone floor in the shower. For the walls, we've had square and horizontal subway tile for years, but what if you went vertical or herringbone? A visit to a tile store will reveal the options.
Free-standing soaking tub or alcove tub? The answer depends on space and personal preference. Most homes have alcove tubs in the main bathroom or kids' bathroom, but how about a free-standing tub for the master bathroom? These showpieces make a statement with the added benefit of making the room look bigger because of the free space around it. SICIS has a line of bathtubs covered in Vetrite, which is made up of glass plates and polymer composites of metal and fabric. Their Alba tub recalls royal palaces, with mosaic tile and ancient-style details.
Couple the tub with a shower with a large showerhead and jets of water that spray from the walls. Spray settings go from strong to total relaxation. Magnetic docking allows switching between a hand held shower and the shower head.
At the sink or free-standing tub, faucets make a statement if they are arched. A simpler, lower design may go better with a pedestal or under-mount sink. Find cabinets that blend seamlessly or create drama with a strong color.
Deeper sink bowls minimalize splashing. Kohler's Inia Wading Pool sink features a deep basin with a glass surface for easy cleaning. Try rectangular or round sinks rather than conventional ovals.
Don't reserve glamour pieces for the master bathroom, alone. A teenage daughter may appreciate a jewel-box effect or contemporary "wow" as much as her parents.
---
How to add bold to your bathroom
Be creative in unexpected ways:
Showerheads with remote controls
Contemporary design vanities — soft, unobtrusive, fluid
Waterfall-effect faucets or arched faucets
High-tech, self-cleaning toilet
Strong floating shelves for storage and to personalize the space
Hardware that doesn't weigh down design
Contrasting colors: white and black
Large patterned wallpaper (no tiny florals)
Vanity in coral or other bright color
Sinks in exciting shapes and designs
Striking mirrors and lighting
Unusual color combinations and graphic design on towels, art and accessories