A Big Ol' Redneck Party
Pepsi Gulf Coast Jam is pure country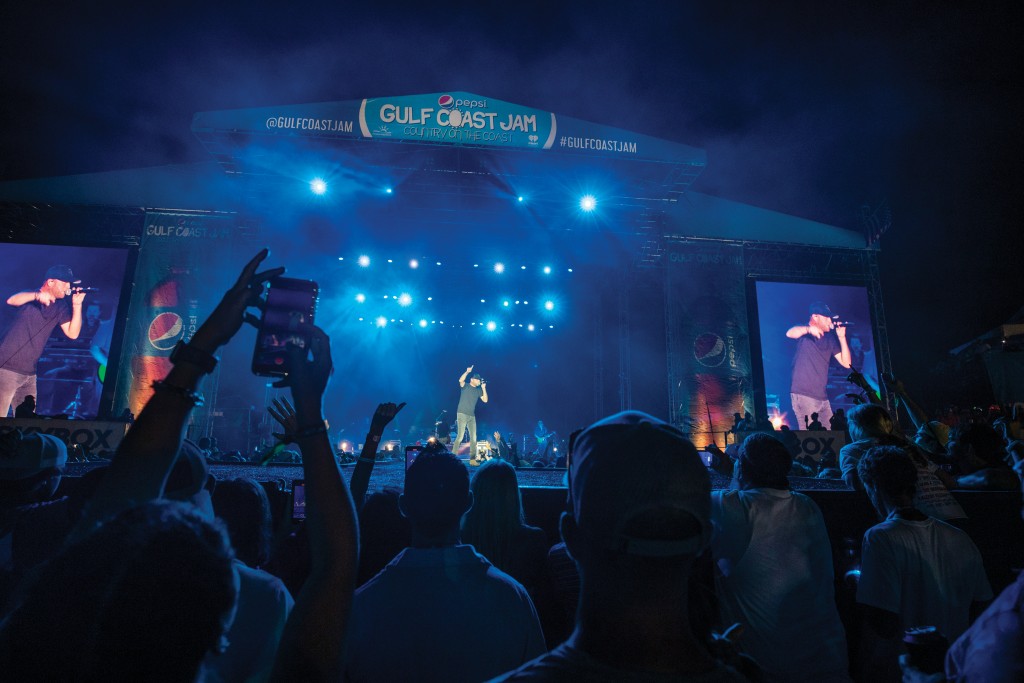 When Rendy Lovelady walks out onto the stage at Pepsi Gulf Coast Jam, he looks past the performers. He's focused on the crowd. "I call them my Jammers," said Lovelady, the executive producer of the festival. "I love to see their faces, how happy they are. It's just a big ol' redneck party. God and country, you know what I mean?" Gulf Coast Jam is tuning up for its 10th anniversary festival, scheduled for June 2–5 at Panama City Beach's Frank Brown Park. This year, it has been extended to include a fourth day and 30 acts, along with barrels of bourbon. Musical giants including Brooks & Dunn, Florida Georgia Line and Old Dominion are set to dominate the main stage alongside a truckload of other talent ranging from up-and-comers to more household names.
Putting on a shindig like Gulf Coast Jam is no small task. A whopping 1,300 staff members and volunteers work to transform Frank Brown Park from "a bunch of ball fields into a small city" and carry out the event, said Gulf Coast Jam publicist Craig Campbell.
Half of that crew spends seven to 10 days prior to the festival setting up staging, sound and lights, erecting fences and seeing to other must-haves. The other half serves as boots on the ground during the festival, working in food and drink stations, and handling ticketing, parking and security. When it's all said and done, it takes roughly three days to tear the whole thing down.
In that two-week span, Gulf Coast Jam requires 63 buses, 68 semi trucks, 55 golf carts, 240 walkie-talkies and more than 200 portable toilets to get the job done. According to Campbell, crew members average just three hours of sleep per night from set-up to tear-down.
"We call it the biggest party on the beach, and we've got a jam-up team that helps us make it a reality," Lovelady said.
Lovelady, who got his start in the music industry as a tour manager for Van Halen, Motley Crue and Bon Jovi in the '80s, is well past the point of getting star-struck. He considers many of the headliners personal friends, but he has a special fondness for the newbies on the scene.
Every year, Lovelady reserves a slot in the Gulf Coast Jam lineup for the winner of his Southern Original Talent Search. Aspiring musicians from all 50 states show up to compete, and the top 10 acts participate in a sort of battle of the bands at Newby's Brew & Booze House.
"I tell them before they go on, 'You're gonna play for 30,000 people. Leave it all on the stage. You have a moment where you can make an impression,'" Lovelady said.
It's not just the stages that heat up when those throngs of Jammers roll into town. Beach businesses from Whiskey's Saloon to Ripley's Believe It or Not! enjoy a spike in business during Gulf Coast Jam. According to a study published in the Journal of Tourism Insights, Gulf Coast Jam's total economic impact on the county totaled $21,254,643 in 2017, alone.
"We encourage festival attendees to hang out at the beach, go to restaurants, shop locally and visit other attractions before they head over to listen to music," Campbell said. "The city helps us spread the word about Gulf Coast Jam all year."
Back Beach Barbecue has hauled its food truck out to the Gulf Coast Jam several times over the years, according to manager Jackson Taylor.
"Not only have we generated a lot of advertisement and business (with the food truck), the entire city is booming when they come into town," Taylor said. "We weren't vendors last year, but we still saw a lot of business in-house. Most of the crowd is very pleasant and respectful when they come into our businesses. It brings a great sense of camaraderie."
As a multi-day festival without a campground, Gulf Coast Jam promotes local lodgings where Jammers can get a bit of shut-eye.
"As a promoter, my whole motto had always been about putting butts in the seats, and now we're saying, 'We've got to put heads in the beds,'" Lovelady said.
Gulf Coast Jam has grown exponentially since its inception in 2013. That year, Lovelady said, roughly 7,000 people came out each day. By 2021, that number had climbed to nearly 25,000. Numbers like that can test security teams.
"I'm not saying we don't have our problems," Lovelady said. "But I tell you this, in 10 years, I can count on two hands how many people have ever been arrested. When people get out of line, we cut the wristbands and send them on their way. We don't play. "
Some problems, no one can be completely prepared for.
Historically, the festival has been the close-out event of the summer concert season, but due to the COVID pandemic infection rates in 2020, Lovelady postponed Gulf Coast Jam several times, eventually settling on June 2021.
Last year's festival made local and national headlines as the first major festival to take place since the start of the pandemic.
"There was a lot of tension because, honestly, nobody really knew what was going on," Lovelady said. "Nobody had had mass events at that point in time. I mean, somebody had to be first. We actually were looking at buying 25,000 COVID tests, but it physically became impossible. Back then, tests were hard to come by. How do you get 25,000 people in the gate three days before the event?"
After extensive discussion with the artists and local officials, Lovelady resolved to rely on a system of mutual trust. Each attendee was required to sign a liability waiver and fill out a form outlining their history of exposure and symptoms. According to Lovelady, there were "zero traceable COVID cases after June."
The next Gulf Coast Jam, scheduled for the following September, was canceled due to another spike in cases and was rescheduled for June 2022. The fates seemed to favor June Jams.
"Over the years, Gulf Coast Jam has grown in size, in quality of talent and I think it's also grown in love," Lovelady said. "I think everybody in the Panhandle loves Gulf Coast Jam. When we had to cancel it because of COVID, I think there were a lot of sad people. So when we finally had it, it was just really exciting. I'm ready to go again."