7th Annual YOLO Board Relay Series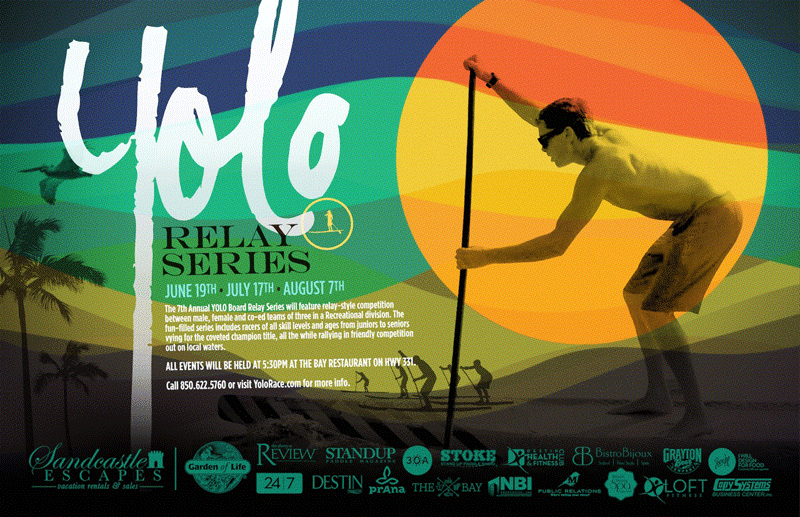 7th Annual YOLO Board Relay Series Kicks Off June 19th at 'The Bay'
YOLO Board announces a revised race schedule for the 7th Annual YOLO Board Relay Series, which kicks off Thursday, June 19th at 4:30PM. The three-part monthly relay series – presented by Sandcastle Escapes Vacation Rentals and Sales – will host all three race events at The Bay, South Walton's newest waterfront dining destination located at the southern the foot of the 331 bridge. Recently opened in February, The Bay is quickly gaining a loyal local's following with its authentic Southern-inspired food, open-air bar and breathtaking view of Choctawhatchee Bay.
"We're looking forward to mixing things up this year with our new location sponsor," said YOLO Board co-founder Jeff Archer. "The Bay restaurant family has been so gracious to welcome our community event. Between its perfect flat water conditions, scenic view, Chef Jim Shirley's killer food and the spacious open-air bar, you really can't ask for a better venue. We can't wait to pay tribute to the last six years of community support with this sweet new neighborhood spot."
The 7th Annual YOLO Board Relay Series will feature relay-style competition between male, female and co-ed teams of three in a recreational division. The fun-filled series includes racers of all skill levels and ages from junior to seniors vying for the coveted champion title, all the while rallying in friendly competition out on local waters. Paddlers will compete on YOLO 12' recreation boards provided for complimentary use to racers by YOLO Board during each event.
This year's event will include giveaways, refreshments (including local craft beer Grayton Beer Company available for purchase), and kids activities, as well as a welcomed new division to the race program dedicated to Special Olympics Florida SUP athletes from Okaloosa and Walton Counties. A strengthened supporter of Special Olympics since 2012, YOLO Board's mission is to make SUP accessible and easy for area athletes.
Additional scheduled races (weather permitting) are set for July 17th and August 7th (the rain date for the May 29th race cancellation).
YOLO Board is currently welcoming race teams for this year's series. For racers, the one-time race entry fee is $180 per three-person relay team ($60 per person). Complimentary 2014 signature event t-shirts will be provided for each participating team at the debut race on May 29th.
To sign up for a race team, please call 850.622.5760. For general details on the event, visit www.YOLOrace.com. The Bay restaurant is located at 24215 Highway 331 South in Santa Rosa Beach, FL.
About Sandcastle Escapes Vacation Rentals and Sales
Sandcastle Escapes offers a variety of upscale rental properties from Panama City Beach/30A to Destin. Established in 2006, Sandcastle Escapes has grown to be one the largest rental management companies in the area with a commitment to quality service. With the company's expansion into real estate sales, Sandcastle Escapes' customers can enjoy greater professional and marketing services when listing or purchasing property. For more information on property management and to list or buy a home, visit www.sandcastleescapesrealty.com or call 855.544.5934.
About YOLO Board
"YOLO Board didn't invent standup paddling or its boards… but its savvy, marketing-driven approach has, despite the sport's West Coast roots, made the Santa Rosa Beach, FL-based company an industry leader," said Entrepreneur magazine. YOLO Board, LLC., is a leading designer, marketer and distributor of standup paddleboards, paddles, equipment, lifestyle apparel and accessories. Since 2007, the community-minded brand (aptly named for the lifestyle mantra "You Only Live Once) has been committed to manufacturing a variety of quality boards suited to fit any paddler, from the recreational novice to the elite pro racer. In 2014, the company expanded its growing YOLO-inspired lifestyle product line with the debut of their classic beach cruiser. Board and bike rentals, lessons, corporate and team building packages and seasonal community race events are available through YOLO Board Adventures Sandestin, YOLO Board Adventures WaterColor, and YOLO Board + Beach – the company's flagship store in Miramar Beach featuring the unique 'try before you buy' lake experience. Additional retail and rental locations include YOLO Board + Bike at Gulf Place Town Center on Scenic Highway 30A, YOLO Board West Coast in San Diego, California, and a growing number of distributors nationwide. For more information, visit www.YOLOBoard.com or call 850.622.5760.