2023 Medical Profile: Jeffrey Dental
Alex Jeffrey, DDS and McKinzie Jeffrey, DDS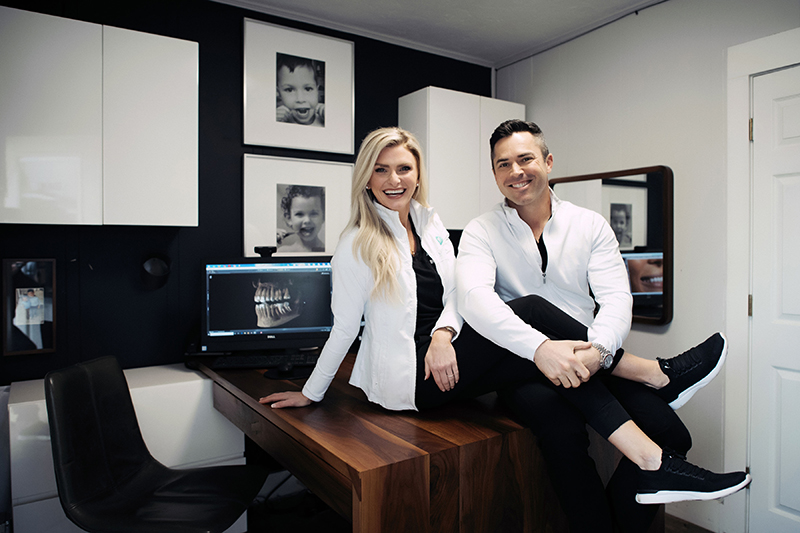 So much can be said with a smile, and Dr. Alex Jeffrey and Dr. McKinzie Jeffrey of Jeffrey Dental want their patients to be able to communicate with confidence. This husband-and-wife team provides general dentistry services and specializes in dental implants and cosmetic dentistry.
Since high school, Dr. Alex knew he wanted to go into a health care profession, thinking he would prefer general surgery. Trips to the dentist led him to realize that dentistry provided all the elements he wished for — surgical procedures, medical expertise, technology and an opportunity to help people.
As Dr. Alex and Dr. McKinzie were graduating from dental school in Kansas City, a friend reached out to them and let them know that a dentist in Niceville was retiring and would
be selling his practice. In 2015, Dr. Alex and Dr. McKinzie purchased the practice. 
It was an easy decision — the couple loved the weather, scenery, schools and communities of the Emerald Coast.
"It feels really good to be able to say we find ourselves in love with the area and the jobs we get to wake up to every day," Dr. Alex said.
Dr. Alex and Dr. McKinzie hope that their patients come to like, if not love, visiting their dentist.
"We make patient comfort a priority because we want them to enjoy their visit," Dr. Alex said. "Our team is well trained to make sure we provide the empathy patients need. We make them feel at home, so it feels more like they've come by to visit and just happen to get some dental work done, too."
Patient trust and comfort were surely factors when Jeffrey Dental won a Best of the Emerald Coast award from Emerald Coast Magazine in 2022.
Dr. Alex and Dr. McKinzie stay up to date on the latest procedures and technology in areas including dental implants. With the latest in imaging technology and 3D printing, they provide the best dental implants in the Emerald Coast area.
"We intend to keep pushing the envelope with high-end solutions for our patients," Dr. Alex said.
---
Jeffrey Dental
JefferyDentalClinic.com
(850) 678-4151 | 304 E. Glen Ave., Valparaiso
---