2016 Top Salon Recap
Cuts, Curls and Camaraderie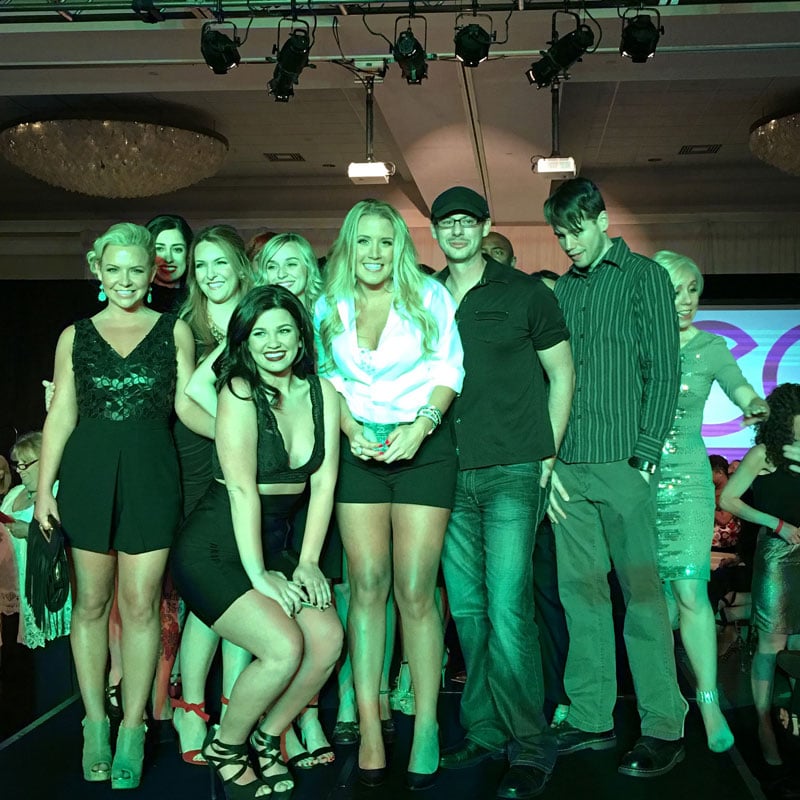 2016 Top Salon Winner – Avantgarde Salon & Spa, Melody Ghostley
Runner Up – Serenity by the Sea, Pamela Hudson
2nd Runner Up – The Posh Daisy Salon & Spa, Lisa St. Aubin
Fan Favorite – Pure & Couture Salon, Charina Perez
As the sun set at the Hilton Sandestin Beach Golf Resort & Spa on April 8, hundreds of guests entered the ballroom filled with a sense of anticipation — the culminating event of the 2016 Emerald Coast Top Salon competition was about to begin. The energy was infectious and stylists arrived looking their most fashion-forward.
Representatives of the nine competing salons chatted and checked out the competition over libations and a scrumptious spread including chicken and waffles. A jazzy family band from Tallahassee by way of New Orleans, Jacob's Ladder, serenaded the room during cocktail hour. Soon, the lights dimmed and video screens pulsated with a welcoming video that captured the crowd's attention.
Each salon and its model were introduced through filmed video interviews, which captured the close interaction that takes place during the makeover process and provided insight to the lives of the models. The screens faded and a backlit screen elegantly silhouetted the models before they made their appearances on stage.
From a teen-age boy to middle-age women, each model exuded charm and confidence that stemmed from their new looks; training from modeling coach Marsha Doll and fashions provided by Destin Commons. Each boasted a brilliant smile, thanks to teeth whitening services provided by the competition's presenting sponsor, the Center for Cosmetic & Family Dentistry. Trainers at the Blueprint Health Studio had seen to it that bodies were toned. ZT Motors displayed a luxurious sports car out front to catch the attention of all who entered the resort.
As part of the evening, a $1,000 shopping spree at Destin Commons and a relaxing vacation at Hilton Sandestin Beach Golf Resort & Spa were auctioned off to top bidders.
The nine models took their final strut down the catwalk adored with flashing lights as ElleBelle photography snapped shots of every graceful step and attendees began voting via text messages. Jacob's Ladder supplied soulful sounds before B-Boy Productions took over with fresh dance tracks. Attendees enjoyed themselves by trying on fun props and funky hats and striking poses at the on-site photo booth.
An excited buzz took over the room as the winners were announced:
The Fan Favorite award went to Pure & Couture and bubbly model, Charina Perez, with her textured, long bob and sleek, stylish pants suit.
The second runner-Up was The Posh Daisy Salon and Spa whose model, Lisa St. Aubin, sported a deep red pixie cut and stunning floral dress.
First runner-up honors went to Serenity by the Sea and model, Pamela Hudson, who wowed the crowd with a blonde bob and mod print dress.
Amid cheers and a parade of excited stylists, the 2016 Top Salon award was presented to Avantgarde Salonspa and gorgeous model, Melody Ghostley, who rocked long blonde locks and a dazzling smile. A portion of event proceeds was reserved for Avantgarde's charity, Sinfonia Gulf Coast.
The night concluded with warm smiles, congratulatory hugs and a sense of pride as each salon left knowing it had made life-changing differences in the looks and the outlooks of their models.
---
Emerald Coast Magazine presented an $848 check and $5,000 media sponsorship on June 15 to Top Salon winner Avantgarde Salon's charity of choice, Sinfonia Gulf Coast. Other Top Salon participants and sponsors surrounded Avantgarde representatives as the presentation was made at Blueprint Health Studio. Emerald Coast Magazine also presented media sponsorships to the National Kidney Foundation of Florida (runner-up); Opportunity Place, Inc. (second runner-up) and Hope House (Fan Favorite).
About Sinfonia Gulf Coast:
Sinfonia Gulf Coast was founded in 2005 with the mission of redefining the symphony experience. Under the guidance of founder and music director Demetrius Fuller and a dedicated board of directors, the nonprofit orchestra is in its 11th season of innovative musical programming, designed to entertain, educate and inspire the community. Notable guest artists have included: Broadway legends Bernadette Peters, Kristin Chenoweth, and Patti LuPone; R&B icon Roberta Flack, Mary Wilson of the Supremes; Chris Brubeck; the Sao Paulo String Quartet; classical-crossover sensation Time for Three; Manhattan Piano Trio; Epic recording artist Morgan James; Tony Award-winning vocalists Cheyenne Jackson, Gary Mauer and Debbie Gravitte; Grammy-nominated violinist Caroline Goulding; Grammy-Award winners John Pizzarelli, Howard Levy, Tracy Silverman, the Parker Quartet, New York Voices, The von Trapps and iconic big band Pink Martini. Since its founding, Sinfonia Gulf Coast has presented more than 450 concerts and events, has collaborated with numerous nonprofits and businesses throughout the community and has reached more than 90,000 children through its Sinfonia Guest Artists in the Schools program/music education outreach initiatives. More than 1,000 families have benefited from Sinfonia's Students4FREE program, which provides complimentary tickets to live orchestral performances and musical events. Committed to music education, Sinfonia supports a 60-member youth orchestra program, led by Music Director Liz Aylor and, for the fourth consecutive season, is one of about 90 orchestras worldwide to partner with Carnegie Hall's Weill Institute of Music in its Link Up program for third- through fifth-graders. Sinfonia Gulf Coast is also a proud collaborator throughout the Northwest Florida community and continues its "Paint the Music" partnership and free orchestra concerts for third- through eighth-graders, partners with the Northwest Florida Ballet and participates with Sacred Heart Hospital on the Emerald Coast in its Arts in Medicine program.
---
The nine competing salons, models and their charities were:
Vivo Salon & Spa/Aden Williams: South Walton Cultural Arts Alliance
Serenity by the Sea/Pamela Hudson: National Kidney Foundation of Florida
RocKurlz/Brittney McCormick: Children's Advocacy Center
Pure & Couture Salon/Charina Perez: Hope House
The Posh Daisy Salon & Spa/Lisa St Aubin: Opportunity Place, Inc.
La Renaissance Salon/Jennifer Warson: Relay 4 Life-Niceville
The Kat House Hair Studio/Jennifer Boyles: Heroes on the Water
The Cutting Room/Rhonda Crawford: Wounded Warrior Project
Avant Garde Salon and Spa/Melody Ghostley: Sinfonia Gulf Coast
Judges:
Dr. Julia Skinner
Dean Faulkenberry
Marsha Doll
Audrey Sweet
Roy Bedard
Emcees:
McKenzie Burleigh Lohbeck
Leigha Inman