What's In Store?
A roundup of retail happenings throughout the Emerald Coast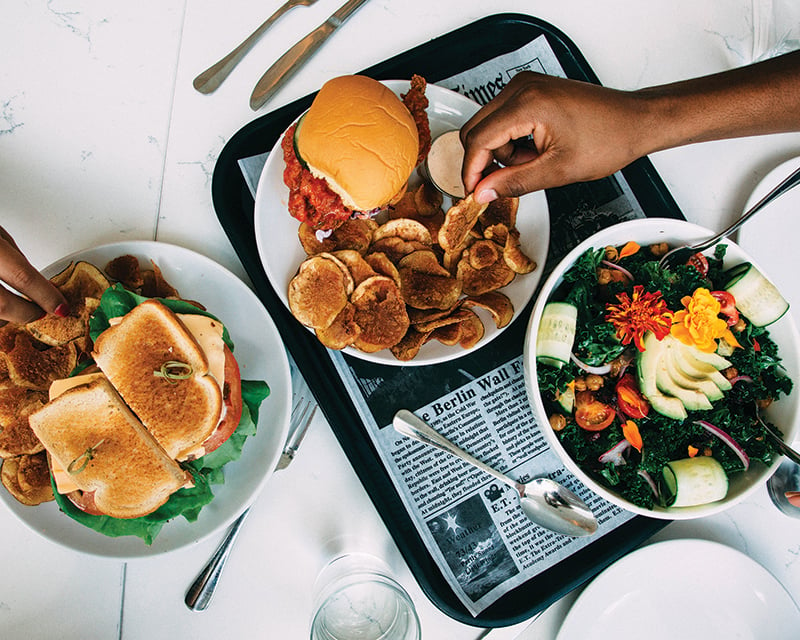 At Destin Commons, you no longer have to shop until you drop. Instead, you can refuel at the newly opened City Food Hall Destin and keep going.
The 14,000-square-foot space features 10 restaurant concepts, a large indoor bar, high-definition TVs, plenty of seating options and two Top Golf Swing Suites with multi-sport games and Full Swing golf simulators. As a dining and nightlife destination, the food hall emphasizes worldwide cuisine options including:
» PB&J Bakery & Café nostalgic classics
»Nanbu Too, Japanese with Southern flare
» Tuk Tuk Thai, Thai street food
» Birdie's Nourished Kitchen by Chef Katie Dixon, a healthy take on Southern fare
» Macho Taco, Mexican-inspired soul food
» Poke Loa, fresh poke bowls
» Pluma Chicken Co., fried chicken and accompaniments
» Likkle Jamdung, Caribbean cuisine

» Zaitoun, traditional Middle Eastern dishes
---
Sandestin Golf and Beach Resort®
» To celebrate and commemorate 50 years, Sandestin® is releasing new products to mark the special occasion. Perfect for year-round sipping whether at the beach or at the office with the beach on your mind, the special edition Sandestin® 50 refillable cup is available at participating Sandestin retailers. Purchase a cup, and you'll be eligible for a complimentary refill on all nonalcoholic beverages at select food and beverage businesses throughout 2023.
» Just in time for summer, Sandestin® is releasing four speciality beers: Sandestin Sunny Day Lager, Sandestin Blonde Ale, Sandestin Sunset Sour Ale and Sandestin Pale Ale. Stop by and pop a tab at Marina Bar & Grill, Fat Tuesdays, Sandestin Beach Tiki's, Ara Rooftop Pool & Lounge, Baytowne, Burnt Pine, Links and The Raven Golf Clubs.
---
Modus Captured Clothing
» Modus Captured Clothing by photographer Chandler Williams is one of the newest stores in Grayton Beach and offers custom apparel and handmade, small-batch products. Customers can choose from a wide range of styles and designs to create their own one-of-a-kind garments. Williams prints, stitches and hand sews each clothing piece. From custom hoodies to denim jackets to upcycled vintage adult and youth T-shirts, there's something for any closet.
» The shop also offers gift items, including hand-forged Damascus steel knives and products from a men's grooming line made with natural ingredients. While shopping, guests can enjoy nitro tea and nitro cold brew samples paired with artisan chocolates.
---
Seaside's Pop-Up District
» From hats to shoes, Seaside's Pop-Up District is booming with artisans and craft curators offering custom-made products. Rustler Hat Co., a Nashville-based company, is arriving just in time for endless sunshine season. Pull up a seat at the hat bar, and customize your own straw or felt derby. Lala Links Jewelry specializes in jewelry that can be customized with charms and stones. At Turkoise, shop shoes, accessories, tableware and gifts, all made by hand in Turkey.