What's In Store?
A roundup of retail happenings throughout the Emerald Coast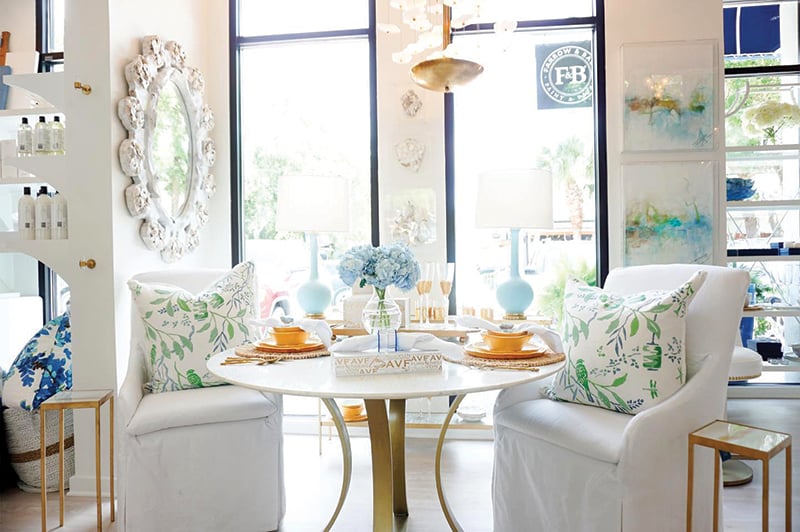 Summer House Lifestyle
Summer House Lifestyle believes that summer is a year-round state of mind. The liveliness, joy and sunshine-nature of the season is present in the boutique's offerings of home decor and accessories that brighten and lighten. Located in uptown Grayton in Santa Rosa Beach, the store welcomes visitors with a smile that's sure to stay while perusing a home decor purchase or gift. The store, owned by Melissa Skowlund, offers interior design services as well.
➾ Summer House Lifestyle Pillows are designed with carefully curated fabrics for beautiful accent pillows that are representative of the simple and timeless Summer House style — an ideal addition to cozy nooks.
➾ The Summer House Lifestyle Candle is a luxurious hand-poured candle that exudes a clean, fresh scent reminiscent of a warm, breezy summer day on the coast.
➾ QLOCKTWO is a clock turned art as it bridges the gap between craftsmanship and modern interior design. On the face, 110 characters light to form the words that display time in a loosely held sentence.
➾ Summer House Lifestyle is a proud retailer of Farrow & Ball paints. Farrow & Ball is a highly pigmented paint offered in a wide range of colors that responds extraordinarily well to all types of light.
---
Pure & Couture Salon
Adrianne Brackett, owner, licensed stylist and educator at Pure & Couture Salon, along with her team, are on standby to guide clients in their hair care journey.
➾ We all have five minutes to spare, especially when it results in softer, frizz-free hair. The Oribe Renewal Remedy is clinically proven to make hair four times smoother and over 70% more manageable in just one five-minute professional treatment.
➾ Discipline products by Kerastase aim to smooth each hair fiber, define texture and guarantee fluidity. Using breakthrough morpho-keratine technology, these products envelop each hair fiber in feather-light coating, adding suppleness and shine while sublimating hair's movement. The result is weightless smoothness, anti-frizz action and anti-humidity protection perfect for combatting Florida's humidity.
---
Ohana Day School at Grand Boulevard
Grand Boulevard has long merged retail with business spaces, yet the Town Center will be offering a new concept by the summer of 2023, Ohana Day School. Recognized as the premier day school in South Walton, Ohana is now accepting applications for their second location. Established in 2020 as a fully licensed and accredited school, Ohana, which means "family" in Hawaiian, equates to a welcoming, safe and inclusive environment for all children.
---