What's In Store
A roundup of retail happenings throughout the Emerald Coast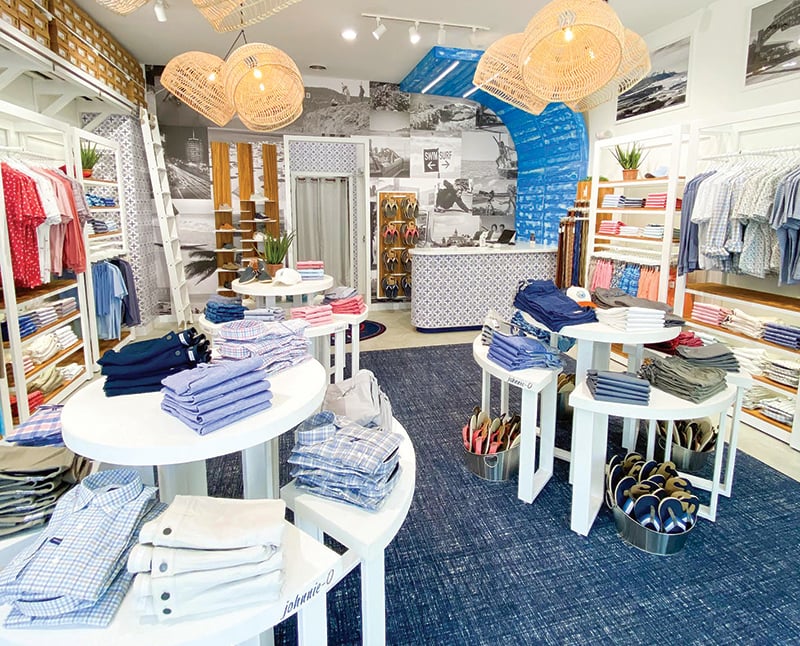 Johnnie-O, one of Grand Boulevard's latest additions, specializes in timeless styles for men, making it the ideal fashion choice for a gift or to step into 2023 with an elevated style. Comfortable and versatile, the brand markets itself as East Coast prep meets West Coast casual. Add your new favorite T-shirt, a clean-line classic polo or fashionable footwear to your closet.
---
BODACIOUS!
The holidays might be when we spend the most time in the kitchen or gathered around food. Whether you're the chef or the taster, you'll enjoy The Bodacious Olive's delectable extra virgin, flavor-infused selection of olive oils and balsamic vinegars. Standout flavors include Persian lime olive oil, cilantro and roasted onion olive oil, blood orange, fig balsamic, dark chocolate balsamic and more. While there, stop next door to So Gourmet for accoutrements, serving ware and gadgets for the kitchen.
---
Whether picking up a bottle for a holiday party, selecting a bottle as a gift or finding the celebratory cork to pop at midnight, Salty Bottle Wine Shop in Carillon Beach is a great source. This family-owned wine, beer and market shop features organic wines, local brews and delicacies ideal for entertaining. A knowledgeable staff awaits to point you in the direction of the perfect pour that you won't find in your average store.
---
Fine jewelry designer, Rebecca Pinto, divides her time between New York City and Santa Rosa Beach, where her main location is housed. Pinto is the artist and designer behind her brand, which is sold in local stores such as Willow Boutique in Alys Beach. Her craftsmanship features precious metals, conflict-free diamonds and South Sea pearls that she hand selects from the South Pacific. Each piece is original, making the wearer feel that same special essence.
---
In Florida, sunglasses never go out of style and are an ever-fashionable gift for both men and women. Don't be fooled by KREWE's tiny house stature in Sandestin at Grand Boulevard; the inside is packed with designer eyewear. Each pair is designed and handcrafted at the brand's headquarters in New Orleans. The brand offers classic optical silhouettes but specializes in whimsical prints, cool colors and a variety of styles to fit each face.
---