What's In Store?
A roundup of retail happenings throughout the Emerald Coast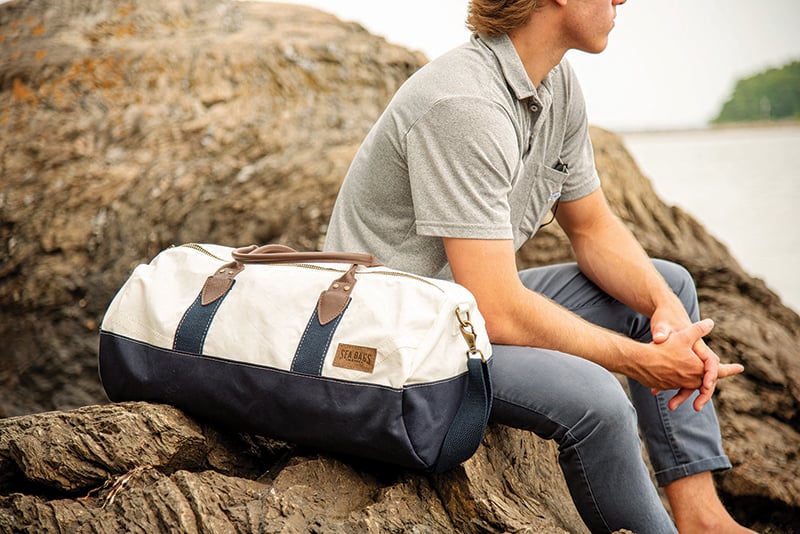 SEA BAGS, a Maine-based producer of handbags, home decor, accessories and apparel, has set up shop at Grand Boulevard at Sandestin. Its specialty, vintage totes made from recovered sails and sail fabric, boast coastal-themed patterns, brand-designed graphics, vintage insignias or may even be customized by you.
The newest boutique for gents at Pier Park in Panama City Beach is MR. SEA'S MENSWEAR. For fellas looking to embody the motifs of the coast, the outfitter offers goodr athletic shades; hand-carved Bali necklaces; Flogrown, Champion and Hook & Tackle ball caps; and myriad tropical apparel and name-brand footwear.
---
Polish and Pamper
Popular in the major metropolitan areas of the country, blow-dry bars have taken long-maned citizens by storm. Now ready to take on the heat and humidity of Northwest Florida is DESTIN BLOWOUT BAR, the town's first dry hair styling salon. Bring on the volume with a classic blowout or treat your tresses to a special updo, deep conditioning treatment and hot heat styles.
Engrossed in cosmetics since an early age, certified permanent and semi-permanent makeup artist and lash and skin care specialist Jay Figueroa has long yearned to empower women through beauty. She is carrying out her mission through her new salon, BEAUTY BY LABELLA, in Panama City. Open now, clients can book an appointment for formal makeup application; eyelash extensions; eyebrow waxing and microblading; scar camouflaging and body sculpting; and more.
A departure from today's hair salons, CHOP BARBERSHOP in Pensacola invites those of all ages and genders to take a step back in time to the vintage experience of barber's poles, hot towels and straight-razor shaves and cuts. It is the vision of the small Southeastern franchise to curate a "pub-like" salon by supplying complimentary beverages, personable employees and an antiquated atmosphere. Whether guests seek a cut and color treatment, luxury shave or just a trim, the new salon promises "Cool Hair, Original People."
---
Trick or Treat
Another sweet stop, BAM! SNOWBALLS, has opened a second Pensacola location on Creighton Road. Twin brothers and local entrepreneurs Jamari and Jamal Sharp attribute their snow cone business's success to their high-quality shaved ice, attention to detail and innovative options, such as a line of ice cream-stuffed "hero" flavors named after comic book characters, and "The Blue Angel," drizzled with blue raspberry and pineapple syrups.
Liqueur-infused Southern pralines, nut brittles, chewy toffees and chocolate-covered pecans are among the collections of confections available at PECAN JACK'S, Santa Rosa Beach's newest candy kitchen. But owners Veronica and Tim Wyatt didn't stop there. The sweet shop is part ice creamery, whose special flavors include banana pudding, peach cobbler and Kahlua espresso.
---
Locally Crafted
HarborWalk Village's latest boutique and gift shop is the Destin Gift Garden, a collective venue showcasing the works of local artists and crafters. Among its ever-rotating stock of special finds are handmade soy novelty candles, striking jewels and accessories, beauty products, home accents and gourmet spice rubs, teas and jellies.
Like many before him, Brian Rabon was so taken by the beauty of Santa Rosa Beach, he wished he could bottle it. After apprenticing under best friend and distiller Dr. Thomas Soltau and seriously studying spirits, he believes he has. Rabon recently traded his software consulting career to found 30A DISTILLING CO., the proud producer of community-themed bourbon, vodka, aged rum, agave spirit and gin.