Top Salon Rocks The Hilton Sandestin Beach Golf Resort and Spa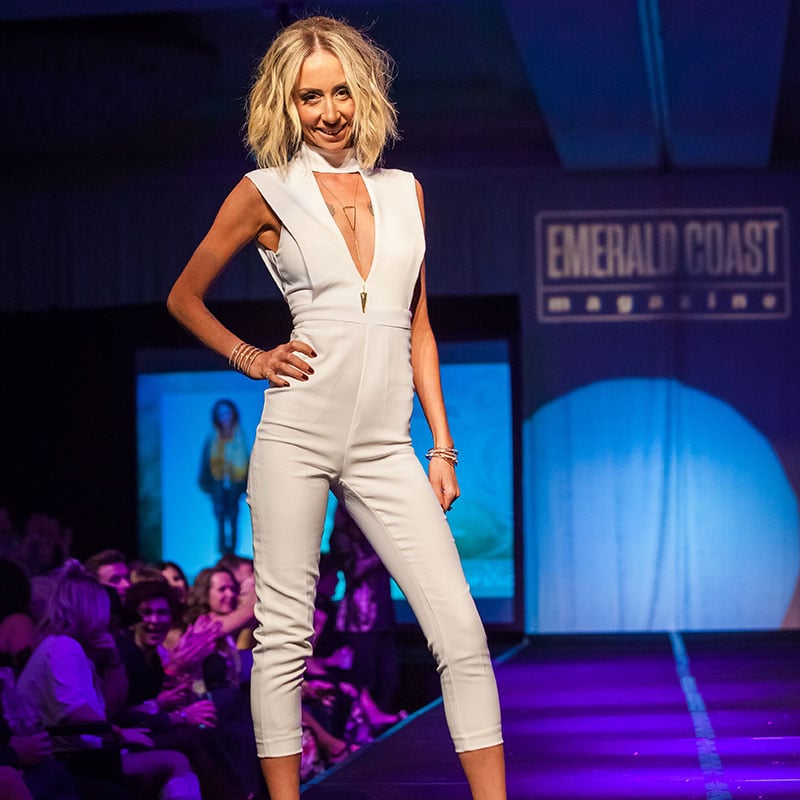 Top Salon Rocks The Hilton Sandestin Beach Golf Resort and Spa
The atmosphere was electric as the 2017 Emerald Coast Top Salon event supercharged the Emerald Ballroom at The Hilton Sandestin Beach Golf Resort and Spa on April 7.
With Brian Bulonassissi from B-Boy Productions spinning the turntables, it wasn't long before the room came alive and the crowd of more than 600 attendees was on its feet, dancing the night away.
The 2017 Top Salon competition, which kicked off Dec. 7 with a pre-event party at 30Avenue, featured 14 salons who transformed their models, representing a variety of walks of life, into show-stopping, runway-walking, confidence-exuding women. Models were introduced to the audience through video interviews, which portrayed the progress they achieved during their Top Salon journeys. The physical transformations unveiled at the event were dramatic, and the models displayed lots of spunkiness and sassiness as they took their runway turns.
"To see these transformations, having seen them before and after, they became new, confident women," said Laurie Olshefski, owner of Shimmering Seas Jewelry & Gifts. "The winner (Holly Garrido) was very timid. We worked with her. She had a strut in her step and she had confidence. She just blossomed. We love being part of it and helping to 'shimmerize' them with our jewelry."
Leading up to the big reveal at the Hilton Sandestin, the models were provided with transformational services, courtesy of generous event sponsors. Renowned model coach Marsha Doll was in charge of giving the women a crash course in runway technique and confidence, while 30A Smiles provided each model with dental evaluations and teeth whitening. Destin Commons and Shimmering Seas supplied fashions and jewelry, and Blueprint Health Studio helped whip the models into shape with fitness programs and training. Not only did the team at the Hilton Sandestin provide a remarkable venue, they provided beverages and delectable eats, as well as a "staycation" package auctioned off for more than $2,000. ZT Motors welcomed Top Salon attendees with stylish luxury vehicles on display, and Epic Photo Co. helped capture the fun through their unique photo booth and props. Hattori Hanzo Shears provided educational classes for each salon and $10,000 worth of cutting shears to the winning salon.  
"I think it's safe to say that the model transformations left the audience speechless," said Heather Ruiz, marketing manager for Destin Commons. "The makeovers made some of the women hard to recognize from their former selves and the new clothing made each of them shine on the runway with self-confidence. The gratitude and overwhelming sense of joy that each of the contestants shared is why Destin Commons is proud to support this event." 
"The women deserved to have a night centered around them and we are honored to have been a major part in it," Ruiz added. 
Supporting sponsors for the 2017 Top Salon event also included Traveling Chic, which provided a glitter lipstick bar, Johnny C, who provided red carpet interviews and live reports on social media, and Sunshine Shuttles, who served as the Ride Home Safe sponsor and offered all attendees transportation from the event coinciding with the launch of their new transportation app.
Among all the fanfare and excitement on display, there were also awards to be presented. The accolades began as Lisa St. Aubin was honored with the 2017 Lifetime Achievement Award. Pure & Couture Salon and model Joanna Riddle took home the award as Fan Favorite. Southern Roots Salon & Spa and model Amber Dobbs were honored with the Judges' Pick award. That left only one award to present, the 2017 Top Salon. Taking home the honor was Avantgarde Salon Spa and model Holly Garrido. Avantgarde is now a four-time winner of the Top Salon competition. 
Adrianne Brackett from Pure & Couture Salon says their model, Joanna Riddle, rocked the competition. 
"We were honored to be a part of such an awesome experience," she said. "All of the transformations were so beautiful. The confidence each woman has after being loved on and pampered is worth everything. We couldn't be more proud to be chosen as Fan Favorite; we are grateful for all of the support. We love and appreciate our salon family of guests and our community for having such a heart for giving back." 
When it came time to pick their model, the team at Avantgarde Salon Spa says they had actually known they wanted to work with Holly prior to the 2016 event.
"After winning the past three years, it's become a competition with ourselves," owner Joseph Rogers said. "We are always wanting to be better, our best. It's a true collaboration for us. We always form a team of stylists to give us the best possible outcome and I think that is clear after our four wins."
Avantgarde's charity of choice is Others of Destin Inc. The non-profit organization aims to "establish collaborative partnerships among churches, businesses, governmental entities and non-profit organizations for the greater purpose of empowering underserved members of the community."
"We are so excited to work with our charity, Others of Destin," Deke Rogers, of Avantgarde Salon Spa said. "They were absolutely incredible and a fantastic partner. We were even more excited when it was announced that fundraising was going to be part of Top Salon, as we were already planning on raising funds for our charity. With it being part of Top Salon, it only added fuel to the fire and we were able to pull in over $25,000."
On behalf of Emerald Coast Magazine and Rowland Publishing Inc., the entire RPI family offers our most sincere thanks to all of the salons, models, sponsors and attendees who supported Top Salon. Events like this are not possible without your commitment and support. We look forward to seeing you all next year. 
This year, fundraising will continue after the event. During Hair That Cares week, people may donate to each of the 14 charities chosen by each participating salon. You can donate by clicking a salon name below.
---
The 14 salons, their charities and models are:
As You Like It Salon and Spa: Children's Home Society of Florida's Emerald Coast, Karen Owens
Avantgarde Salon Spa: Others of Destin Inc., Holly Garrido
La Renaissance Salon: Special Olympics of Florida, Rebecca Steele
Lux Solis Salon & Spa: Santa Rosa Kids' House, Kristan Williamson
project:STYLE salon: Beach Care Services, Angela Olson
Pure & Couture Salon: Mattie Kelly Arts Foundation, Joanna Riddle
Serenity by the sea Spa: Warrior Beach Retreat, Kenesshia Scott
Southern Roots Salon and Spa: Beds4Kids, Amber Dobbs
Spa Lala Day Spa & Salon: Special Operations Wounded Warriors, Layla Korn
The Cutting Room Salon and Spa: Fisher House, Mallory Griffin
The Kat House Hair Studio: Heroes on the Water, Erin Wainwright
The Posh Daisy Salon Spa: Fresh Start for Children and Families, Heather McGee
Traveling Chic: Connecting Kids Inc., Chelsea Barnette
Volume One Salon: The ARC Gateway, Tasha Bronson 
---
Check Presentation
Photo by Mandy Chapman
More than $33,000 presented to local charities
By Hannah Burke
The celebrations continued June 14, when Emerald Coast Magazine presented a large donation to 2017 Top Salon winner Avantgarde Salon on behalf of its selected charity, "Others of Destin."
Photo by Hannah Burke
For the check presentation party, salon staff, sponsors, models and charity representatives were treated to bubbly libations and hors d'oeuvres at Brotula's Seafood House & Steamer of Destin as they mingled and enjoyed the harborfront view.
In their signature, sleek, black attire, Avantgarde team members were all smiles as they greeted the check's beneficiaries and fellow salon teams.
"I'm always excited to win this event because it means a great deal to all of us and brings a ton of energy to my team," said Joseph Rogers, owner of Avantgarde Salon.
Much of the donation of $33,216.55 went to Others of Destin, a non-profit organization providing support services to people in need due to conditions such as poverty, homelessness or job loss. Part of the donation was shared among the 13 other local charities selected by competing salons.
Photo by Hannah Burke
"Others is just a really great charity," Rogers said. "They do a lot of local, small things for people in need that make a huge difference and have great impact on their lives."
Emerald Coast Magazine saluted all who supported the project with a champagne toast,recognizing the enthusiasm and hard work of the stylists, the models, the sponsors, and the non-profits that serve the community year-round.
Participants gathered in front of the restaurant to be photographed as a group, showing that while it had been a fierce competition, there were no losers. The charitable fundraising project was made possible by ticket sales, participation by salons, sponsors and, of course, the models who participated in style transformations.