Three Local Artists Team Up To Fight Child Hunger
Second Annual Art Of Giving Raises Money For Food For Thought Outreach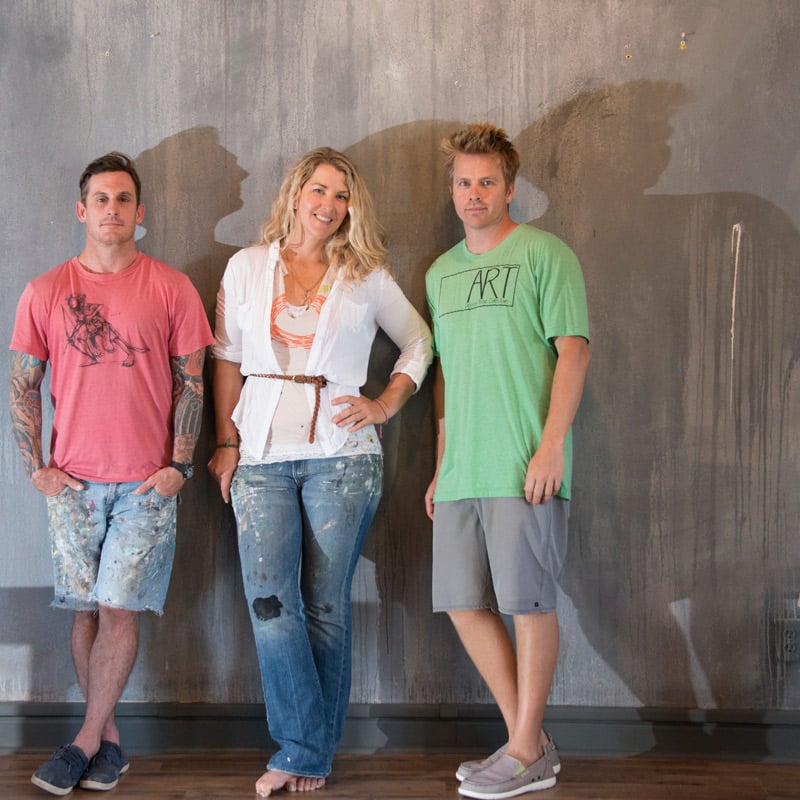 ---
Coming off the success of last year's inaugural event with an auction of Justin Gaffrey paintings, Food For Thought Outreach will have the Second Annual Art Of Giving on Thursday, September 18th at the Churchill Oaks Clubhouse, presented by Southern Fashion House and Summer House Lifestyle. But there's a twist for this year's fundraiser. Instead of one artist, the event will feature the works of three acclaimed local artists. Chandler Williams, Allison Wickey, and Justin Lyons have all donated pieces, including some collaborative items.
"We're beyond thrilled to have this diverse offering of amazing artwork as part of this year's auction," says Food For Thought Founder and Director Tiffanie Shelton. "If you can't attend the event, you'll still be able to bid online. The quality of the items they've donated are going to make this event a sure success."
That success will resonate in the community. Food For Thought is a non-profit organization that fights child hunger in Okaloosa and Walton counties by offering snack and meal programs to local school children and families throughout the year. They operate in 9 schools with over 550 students estimated to benefit from this anonymous service during the 2014-15 school year.
"Our growth has been tremendous over the past four years," Shelton says. "As the word gets out about our programming, we receive more requests for help from students and families. We have fundraisers like Art Of Giving as a way to keep these vital services going while working with local companies and artists."
The event is being held at the beautiful new bay side development, Churchill Oaks. Tanner Peacock did not hesitate in offering the clubhouse as a venue for the event. "We strongly believe in the good that Tiffanie and her organization does for the community. This opportunity was a no-brainer, we're happy to help raise money for this important non-profit."
Along with a variety of artwork and a stunning setting, the event features the food of Roux 30A of Santa Rosa Beach and Jackacudas of Harborwalk in Destin along with beer and wine from McNeese Distributing. "We think this event will continue to grow and we're excited what this year will bring," adds Shelton.
The event takes place on Thursday, September 18th from 6:30-9:00PM at 243 Churchill Oaks Drive in Santa Rosa Beach. Tickets are $50 and are available at foodforthoughtevents.com. The art auction goes live at Noon on August 22nd at biddingforgood.com/artofgivingauction/2014 and will run to 8:30PM on the 18th. For more information, email info@foodforthoughtfl.org or call (850) 290-4056.
---
About Food For Thought Outreach
Food For Thought is a 501(c)(3) non-profit organization based in Santa Rosa Beach, Fla., that provides backpacks filled with healthy, easy-to-prepare food to children dependent on regular school meals. Our goal is to offer a healthy and kid-friendly alternative through fresh fruit, whole grains and proteins that not only feeds each child, but supports their nutrition and overall development. Food for Thought has been helping children since 2010 and currently serves nine schools in Walton and Okaloosa Counties. Food For Thought continues to expand its reach and now supports students by providing access to in-school snacks and provides services during regular school holidays including summer. With community support, the organization plans to help more children each year. For more information, like for donation sites or to volunteer, please visit www.foodforthoughtfl.org or email info@foodforthoughtfl.org.
About Churchill Oaks
Nestled on 40 acres in the bend of Churchill Bayou and Hogtown Bayou in the Choctawhatchee Bay, you'll find Churchill Oaks, a new residential community designed to embrace all the beauty that nature has to offer. With over half a mile of common area access to South Walton's ultimate playground, the Choctawhatchee Bay, Churchill Oaks offers a lifestyle like no other. All homesites feature amazing water views and are large enough to accommodate courtyards, outdoor kitchens, and gardens so each home connects with its natural setting. An environment well suited for the community's Colonial and Low-Country architecture that accentuates the style and grandeur of the south. Churchill Oaks is thoughtfully designed around Southern magnolias, live oaks, and long-leaf pines, leaving 46% of the property untouched, timeless, and awe-inspiring. Contact us today to learn more about South Walton's premier waterfront community!