The Skinny on Skin Care Regimens
Aqua Medical Spa aesthetician, Katie Metzger shares what should be in your bathroom cabinet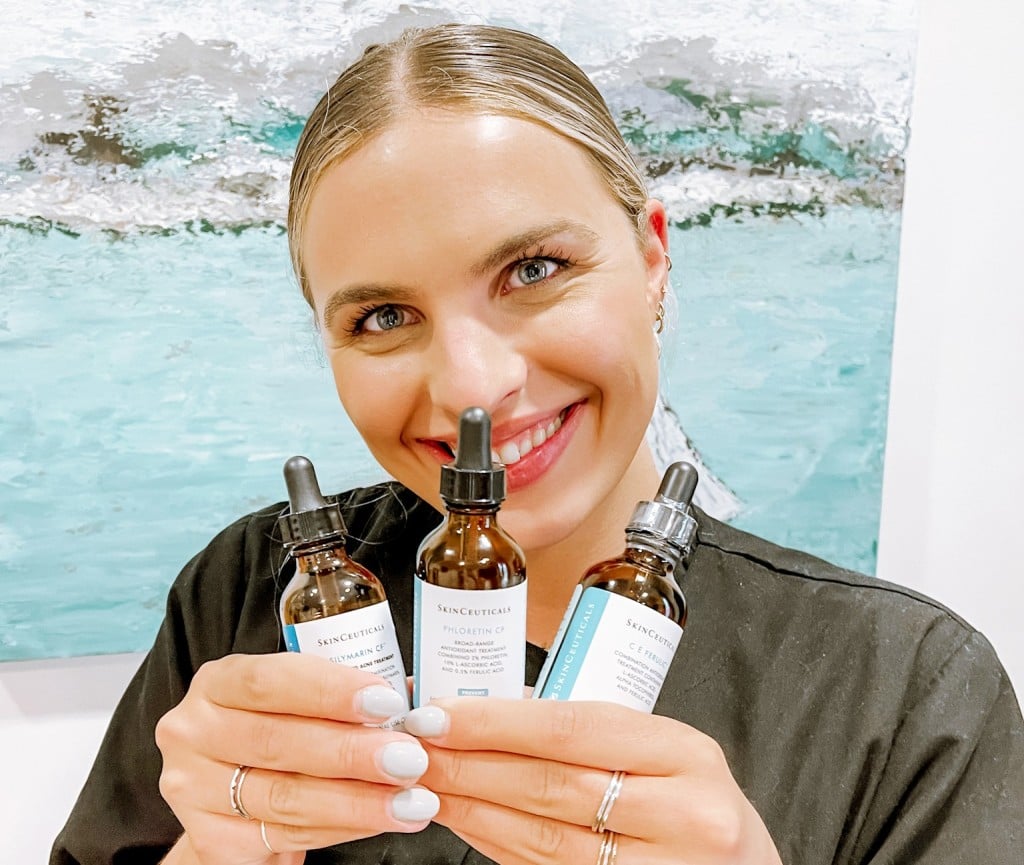 Skin care is everywhere, and rightly so. As the largest organ on your body, it's essential to take care of it. Yet, with an abundance of product promotions coming at consumers from media, social media and word of mouth, the world of skin care can quickly become all-consuming. The team of aestheticians at Aqua Medical Spa seeks to simplify, streamline and stylize your skin care routine.
Day creams, night creams, serums, balms, scrubs, moisturizers and more are familiar terms in the face-centric world. Terms that become a bit more complicated are retinol, vitamin C, hyaluronic, peptides and glycolic acid, just to name a few. In this information and science age, we are grateful for the influx of information, but your most trusted source when it comes to skin care is a licensed aesthetician.
"We love to see patients for skin care consults because we are able to take into account your concerns, current medications, past skin care regimens, skin type, budget, lifestyle and more in order to cocktail and customize the products that are best suited for you," says Katie Metzger, an aesthetician at Aqua Medical Spa in Fort Walton Beach.
Generally, three steps are deemed necessary for nearly every person's skin care routine: a cleanser, a moisturizer and sunscreen. Cleansers contain a multitude of benefits, such as washing away dirt, makeup, oils and dead skin cells to prevent breakouts and irritation. Moisturizers keep the skin's barrier functioning by preventing environmental damage, slowing aging, decreasing acne and irritation and balancing both oily and dry skin.
Metzger states that sunscreen is not only notable for its prevention of skin cancer but is also arguably the No. 1 product for antiaging, working to prevent fine lines and wrinkles.
After the basics, skin care becomes increasingly catered to your skin's needs and your own desires. Aqua Medical Spa focuses on medical-grade, clinically tested skin care lines, such as Obagi, Revision Skincare, AlumierMD and Skinceuticals.
In addition to the trinity of skin care, Metzger suggests most can benefit from topically applying vitamins C and A. Vitamin C is applied in the morning as a means to prevent free radical damage, wrinkles, pigmentation and accelerate the production of collagen and elastin. Vitamin A, retinoic acid, is to be applied at night to smooth and brighten skin, prevent fine lines and wrinkles, and promote the turnover of healthy cells and new blood vessels. Metzger suggests Revision C+ Correcting Complex 30% as a vitamin C product and Suzan Obagi MD Retivance Skin Rejuvenating Complex as a vitamin A product.  
"When used daily and correctly, medical-grade products do exactly what they say they will," said Metzger. "And, you get custom advice for your unique needs from a licensed aesthetician, so you are confident you are using the best products with the best ingredients, in the purest form, at the appropriate strength and in correct combinations."
AQUA MEDICAL SPA & DERMATOLOGY SPECIALISTS OF Florida  |  (850) 659-9393