The NICU at FWB Medical Center
For the tiniest patients, an outstanding facility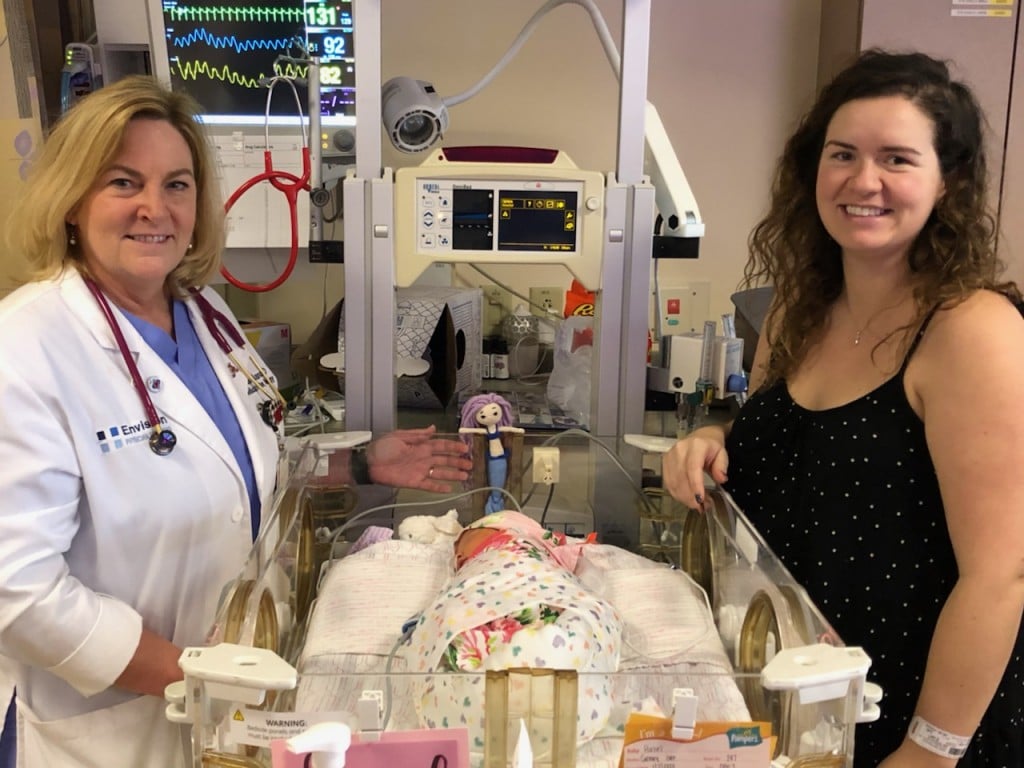 Were it not for the neonatal intensive care unit at Fort Walton Beach Medical Center, Hazel Ort would have spent her first few days of life in Pensacola or Panama City.
Instead, she spent those days in her birth county, enabling her mother to be with her almost constantly while Hazel gathered respiratory strength in preparation for the short trip home to Crestview.
The director of the NICU, neonatologist Lisa Plano, MD, PhD, changed Hazel's first diaper.
Fort Walton Beach Medical Center is home to the only Florida Level II Neonatal Intensive Care Unit (NICU) in Okaloosa and Santa Rosa counties. It is certified to care for babies born after 28 weeks or more of gestation. The NICU staff, including neonatologists, neonatal nurses, therapists and pharmacy staff, combine to provide the highest level of care to babies requiring special needs.
Dr. Plano, a native of north Alabama, earned her medical degree and her doctorate in microbiology at the University of South Alabama in Mobile. She worked as a physician, professor and researcher at the University of Miami for 20-plus years before moving to Fort Walton Beach five years ago.
"I know the people here," Dr. Plano said of Northwest Florida. "These are my people. And the NICU here is the right size and provides the right level of care to make an impact. It's a real community resource. More people need to know about it."
Cortney Ort, Hazel's mother, grew up in Okaloosa County but was unaware of the NICU at Fort Walton Beach Medical Center until she completed nursing school and started looking for work. Today, she is a member of the unit's nursing team.
"We treat late pre-term babies — babies who are not quite at the level of gestation that we consider term," Dr. Plano said. "We may have to deliver feedings with injections or tubes. Babies like Hazel require respiratory assistance."
The NICU uses breast milk from donors because it is tolerated well by delicate newborns and promotes faster growth. Volunteers called "cuddlers" provide babies with the human contact they need.
Hazel was born Jan. 7 of this year with a condition called transient tachypnea, and she required help with breathing and getting nourishment for several days. She was born at 36 weeks, two days and weighed 6 pounds, 6.1 ounces at birth.
"I have a wonderful relationship with Dr. Plano," Cortney said. "She has been amazing. She has worked with me to make sure that I could breastfeed when I wanted to."
Most mothers at the Fort Walton Beach NICU are local or from a radius that includes Crestview, DeFuniak Springs, Eglin Air Force Base and Milton.
"Because transports can be stressful, it is always better to deliver your baby at the facility where you are going to have your care," Dr. Plano said. "It is also beneficial to have your baby where there is a NICU because you never know if something may occur during delivery or your baby needs help after delivery."
Cortney wouldn't have had it any other way.
Asked if Hazel were a family name, Cortney said, "No," but Dr. Plano quickly corrected her.
"Yes, it is," she said. "It was my grandmother's name."
Somehow, that made perfect sense.
Fort Walton Beach Medical Center
1000 Mar-Walt Drive, Fort Walton Beach, FL 32457  |  (850) 862-1111  |  fwbmc.com