The New Guard
The next generation comes to the fore at enduring businesses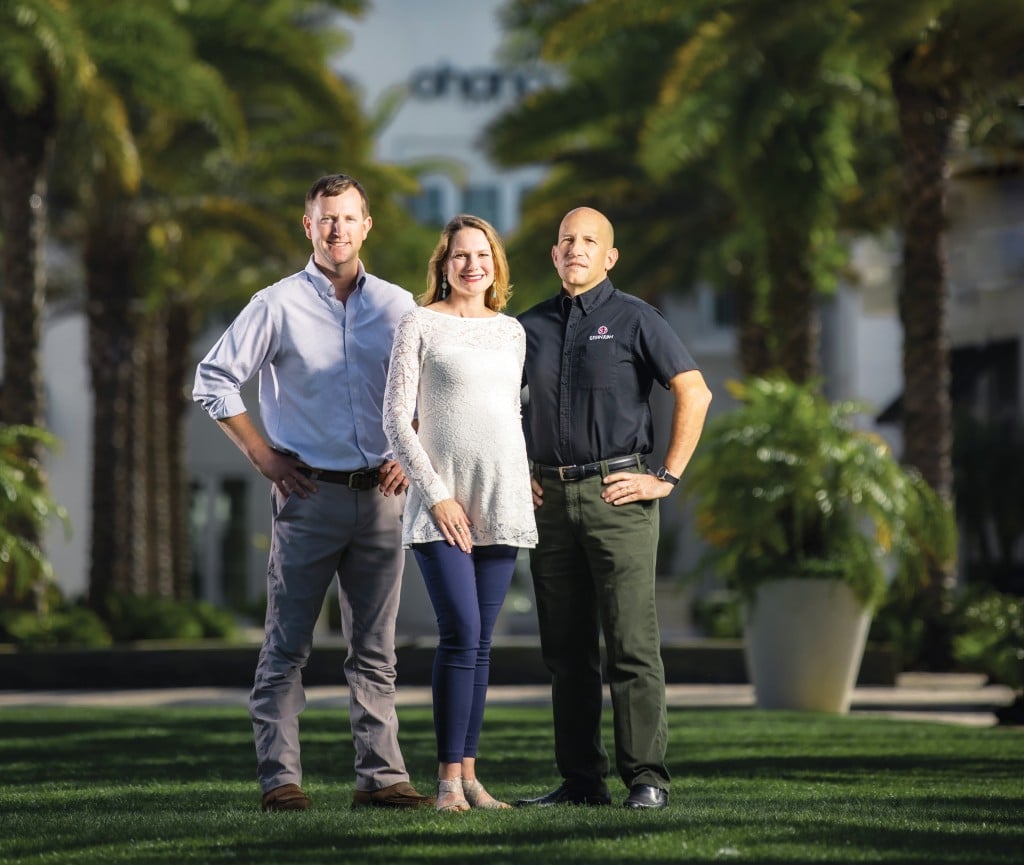 Small businesses come and go, but among their number are some that mature, evolve and succeed through generations. Here, Emerald Coast Magazine puts a spotlight on three business leaders who are prepared to build on the past as they usher enterprises into the future.
---
The Ships Chandler
Pete Wright Jr. is an even-keeled 36-year-old Fort Walton Beach native and a third-generation chandler — a nostalgic name for a supplier of equipment to seagoing vessels. An avid angler, Wright grew up around The Ship's Chandler in Destin and spent summers decking on charter boats when he wasn't working in the store.
"Charter fishing is a tough business, and my dad wanted me to see that," he drawled.
Wright's grandfather, William "Bill" Wright, moved to the area in the 1960s and was stationed at Eglin Air Force Base. After he retired, he spent his time fishing and ran a couple of charter boats. He was frustrated every time he had to run to Mobile or Panama City for gear, so in 1980, he filled an open niche. He started a tackle business in Destin.
Bill's son, Peter (Pete Jr.'s dad) would eventually join the business. In 1999, the Wrights added a 24-slip marina overlooking the Destin Harbor, and the business grew.
"Granddad loved to fish, but he wasn't a fisherman. Dad was," Wright said. "We ran fishing charters around the world — San Francisco, the Virgin Islands and Australia. People came for his expert knowledge on custom tackle."
After he graduated from Auburn University with a marketing degree in 2006, Wright went to work full time at The Ship's Chandler.
Soon thereafter, the Great Recession of 2008 and the Deepwater Horizon oil spill two years later created rough seas. "I was scared as hell," Wright said. "It was a tough time."
But his fears were soon laid to rest when his father assured him, "No matter what, even if we have to work out of a shoebox, we'll make it work." And they did.
The Ships Chandler has long been a waterside gathering spot. "I wouldn't call it a barbershop, but there are always regulars who come to hang out and find out what's new and what's biting," Wright said.
About five years ago, Wright's father began to take time off and increasingly entrusted his son with the business. "It means a lot," Wright said. "I have a passion for the business, and the only pressure is what I put on myself. My granddad gave my dad a shot, and now he's given me one.
"I was taught by a really good fisherman, and I like passing on what I've learned. Selling a boat is easy; to make someone successful is the hardest thing, but I get the most satisfaction out of seeing that happen."
Forty years later, The Ships Chandler continues to supply serious anglers with the tackle they need along with selling and rigging sportfishing vessels.
"If it has anything to do with fishing or boats, we do it," Wright said. Plans are underway to expand the business, but don't expect a lot of changes.
"I guess I feel if it ain't broke, don't fix it," Wright said. "Dad and granddad built a terrific business, and every generation brings something different. I love the whole business. I can't see myself doing anything else."
---
McCaskill & Company
If Carolyn Brigman were a gemstone, she insists she'd be a Paraiba Tourmaline, the rarest of them all. Found only in Brazil, it comes in vivid blues and greens — like the shimmering emerald waters of the Gulf.
Brigman, who grew up in DeFuniak Springs, is a 34-year-old mother of two, with one on the way, and a third-generation fine jeweler. She is vice president of McCaskill & Company, founded by her parents Bill and Elizabeth Campbell and based in Miramar Beach.
"My father is the front of the business, my mother the back — I'm a blend of the two," Brigman said.
As a young boy, Bill enjoyed visiting his grandmother, Gussie McCaskill Campbell (for whom the business is named). She dazzled him with jewels and gems that his globetrotting great-grandfather brought home. Bill never outgrew his fascination for diamonds and precious stones.
"My father has a discerning eye for color and beauty, and he passed that on to me," Brigman said. "You look for gems with intensity that flash. They just speak to you and grab your eye."
From her mother, Brigman learned the importance of branding and how to handle day-to-day operations. With several business owners on her mother's side, she inherited a drive to be an entrepreneur. "It's a lot of fun running a business," she said.
But it's not always easy. McCaskill & Company had humble beginnings. "My father started out of a briefcase with a couple strings of pearls and a catalog," Brigman said.
All that changed when Bill met with Henry Dunay, "the father of designer jewelry." Dunay was so impressed with Bill's energy that he created a collection for him to carry. What's more, he encouraged his designer friends to partner with him. Soon, Seaside's first jeweler, operating out of a kiosk, was selling fine jewelry by Jean Francois Albert, Oscar Hayman, Paul Morelli and other top designers.
"That's how we were able to carry couture so early on," Brigman explained. "It was because of my father's passion." Brigman helped her father pick out jewelry when she was in high school but thought she would go into hospitality and event planning."My parents never pressured me. They always said, 'Do what you love and you'll be happy,'" she recalled.
After graduating from Florida State University in 2008, Brigman's parents invited her to rent space next to McCaskill & Company. "The wheels started to turn," and she opened Sarah Carolyn jewelry, carrying pieces ranging in price from $75 to $400.
"It was a way to have a 'training ground' to learn what it takes and to get a feel for the jewelry business," she said. After the birth of her first son, William, in 2015 — she and her husband Todd are also parents to Alex, who's nearly 2 — she decided to sharpen her focus.
"I realized it was time to simplify my life and head into the direction of my future," she said. Sarah Carolyn gave way to the Bridal Design Gallery, and Brigman joined her parents in running McCaskill
& Company.
Today, McCaskill & Company employs 14 people and carries the creations of 21 designers and 12 bridal lines, including McCaskill Signature Bridal. Prices range from $350 for a David Yurman cuff to $218,000 for a 7.28-carat Signature Collection diamond ring.
There are pieces for gentlemen, too, including Rolex watches. Five years later, Brigman remains crystal clear about her calling. "I love jewelry and the moment it represents in someone's life," she said. "I appreciate its beauty and how when worn it enhances beauty and makes you smile — that's magical. It is a little piece of joy."
---
E.F. San Juan
E.F. San Juan founder and patriarch Eddie San Juan came to Florida at the turn of the century as a cigar maker. He was good with his hands and would trade cigar rolling for cabinetmaking.
During the 1950s, he opened a store in Miami selling cabinets and fixtures for high-end homes, banks and department stores. The Waldorf Astoria in New York was a customer. When portable televisions became popular, salesmen called upon Eddie to craft custom pieces on castors, an activity that grew into a successful business located in Thomasville, Georgia.
In 1976, as Eddie was nearing retirement age, he and his family decided to return to Florida. They acquired a parcel in Youngstown in Bay County, located just off U.S. 231 and next to railroad tracks.
The family established E.F. San Juan. Son Ed, now in his 30s, was ready to lead the family business. His son, Edward, was 13 years old.
From a young age, Edward loved being hands-on — sweeping floors, hauling materials, breathing in everything around him — he said he has sawdust in his veins. He learned to operate all of the wood-sharping machines in the E.F. San Juan shop.
"I love making things, and I love wood, period," he said. Edward joined his father on the ownership team in the 1980s. His wife, Mary Kathryn, joined as the controller; brother-in-law Buddy Czubaj is the general manager. Today, Edward, 56, oversees the business's operations while drawing upon degrees he earned at the University of Florida.
"Other than cutting someone's grass as a kid, I've never worked for anyone else. My wife and I made a decision to sacrifice immediate opportunities knowing we could always go back. It worked, and I've never looked back," Edward said.
The fourth generation of E.F. San Juan is already taking shape. For the past two years, son Eddie, 26, has worked as the production manager. Daughter Lydia, 22, contributes her flair for design in the cabinetry division, while the youngest, Mario, 13, waits his turn.
"I love that my children are working with me. I'm proud and impressed with what they've already learned," Edward said.
"Our family extends to the 80 people who work with us, some for just a few months, but many of them for 30 years. They are also proud of the name E.F. San Juan. They feel that's them, too."
In 2018, Hurricane Michael all but destroyed the business. Edward and his father assessed the damage and resolved to rebuild the business to which they have dedicated their lives.
"We both felt we had work to do," Edward said. "We have an army, and they needed to be led." After rebounding from the storm's devastation, Edward was motivated to build on the business's success.
The family had invested in state-of-the-art technology and equipment to ensure they could consistently deliver quality legacy products. They had embarked on a strategy of hiring fewer, more highly skilled employees and paying them more.
Still, Edward wondered how best to grow and perpetuate the business through the next generation. He found the answer when a business colleague recommended he read Traction: Get a Grip on Your Business, a book by Gino Wickman that describes an "entrepreneurial operating system" designed to help businesses achieve long-term growth.
"The idea that we are creating something that is perpetual, something beyond me and my dad that these 80 families can rely on as time goes on, is what I've most enjoyed," Edward said. "What makes me most proud is we've created something that matters."