The Heart of the Matter
Fort Walton Beach Medical Center provides award-winning advanced cardiovascular care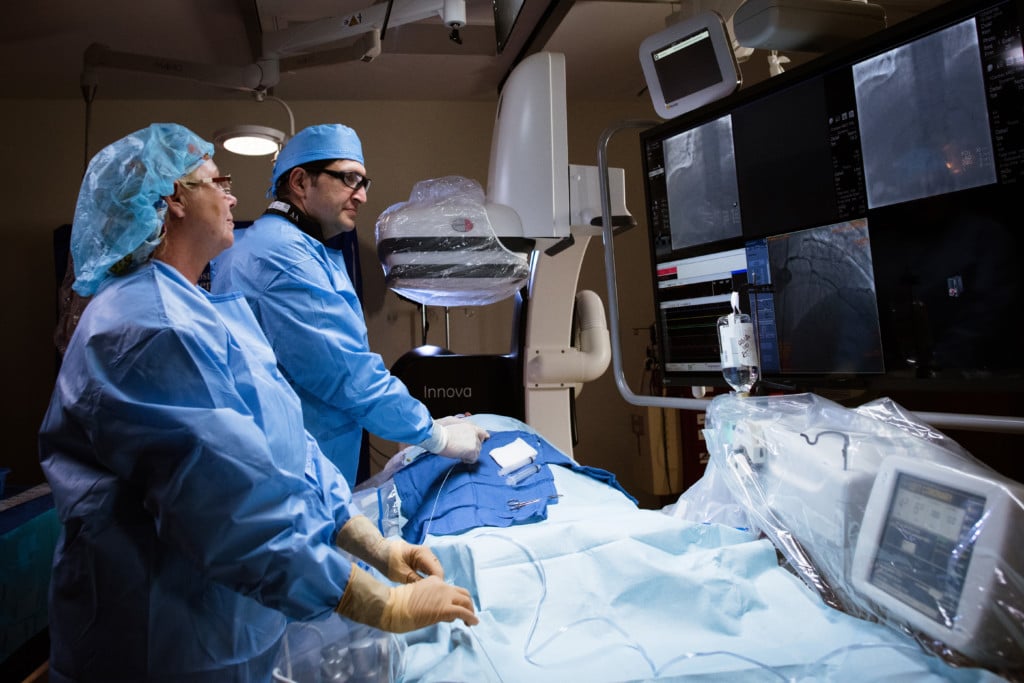 The Heart Center at Fort Walton Beach Medical Center is dedicated to providing exemplary comprehensive medical and surgical care to patients requiring cardiovascular care. It emphasizes the prevention and management of cardiovascular disorders, as well as advancing the use of innovative non-invasive approaches to treating patients without the need for open-heart surgery.
The Heart Center offers patients with heart disorders the broadest and most sophisticated diagnostic and treatment options in Northwest Florida. It was one of the first heart centers in the area to implant stents to open blocked arteries and to use drug-eluting stents to prevent re-obstruction of coronary vessels after stenting. It's the only hospital in the area qualified to perform open heart surgery, having the area's only two cardiothoracic surgeons.
Patients have access to an array of cardiac treatment options, including medication, dietary adjustments, exercise, angioplasty, ablation and heart surgery. Physicians have helped pioneer the use of minimally invasive procedures that enable a growing number of patients to avoid open-heart surgery. This translates into less patient discomfort, fewer medications and earlier discharges from the hospital.
The Heart Center's commitment to excellence has attracted the attention of national organizations committed to combatting heart disease and stroke.
For example, the American Heart Association/American Stroke Association has presented Fort Walton Beach Medical Center with its "Get With The Guidelines Target: Stroke Honor Roll Elite Plus Gold Plus Quality Achievement Award."
The award recognizes the hospital's commitment to ensuring stroke patients receive the most appropriate treatment according to nationally recognized, research-based guidelines based on the latest scientific evidence. To qualify for the distinction, hospitals must meet quality measures developed to reduce the time between the patient's arrival at the hospital and treatment with the clot-buster tissue plasminogen activator, the only drug approved by the U.S. Food and Drug Administration to treat ischemic stroke.
They have also received the highest 3-star quality rating for Coronary Artery Bypass Surgery from the Society of Thoracic Surgeons; three years in a row The Heart Center's programs and services include:
Advanced Heart Failure & Cardiovascular Surgery
Provides cardiac patients with leading-edge medical and surgical options including state-of-the-art heart surgery.
New alternative to long-term warfarin therapy reduces stroke risk in patients with non-valvular atrial fibrillation.
Cardiac Rehabilitation Program (Outpatient)
Helps patients transition back to a normal, active life following a cardiac event or procedure.
Offers comprehensive treatment to patients with atrial fibrillation, and other heart rhythm abnormalities using the latest technology, Cardiac mapping, and both cryo and Radiofrequency ablations.
Interventional Vascular Services
Provides comprehensive patient care for the diagnosis, management, treatment and prevention of vascular diseases and thrombotic disorders, and complex vascular disease.
Administers cardiac catheterization and interventional procedures, and provides service to patients deemed high risk, inoperable or in need of a second opinion.
Support group for patients who underwent bypass surgery offering a range of services including education on heart disease prevention.
Every day, the Heart Center serves to prolong, improve and save lives. The story of Lauren Cooper presents an example.
At age 23, she was the picture of health. Texas born, she had been a scholastic athlete, and moved to Florida with her husband James, who is stationed at Hurlburt Field.
One morning, Lauren awakened with severe pain in her chest and back.
"I knew it wasn't right, so I called my husband and he gave me directions to Fort Walton Beach Medical Center," she recalled events in a harrowing day.
She drove herself to the hospital, underwent a CAT scan that revealed her chest was filling with blood, and was placed in the care of Dr. Eric Sandwith, whose specialties include thoracic and cardiac surgery.
Lauren had suffered an aortic dissection as the result of an aneurysm that produced a tear in the inner layer of the aorta. Prior to the emergency, she had had no history of heart trouble and, given her newness to town, she had no relationship with Fort Walton Beach Medical Center.
Sandwith and his team performed a 12-hour surgery after which Lauren spent two weeks recovering in the hospital.
"Now, I am 100 percent healthy with no limitations," she said. "It's a complete miracle.
"Dr. Sandwith treated me like he would a member of his own family. He was compassionate and confident that he could fix the problem. The CVICU (cardiovascular intensive care unit) nurses were amazing. Everyone was wonderful, absolutely incredible."
Going forward, Lauren will check in with Dr. Sandwith annually, "but everything is looking great," she said.
Fort Walton Beach Medical Center
1000 Mar-Walt Drive, Fort Walton Beach, FL 32457 | (850) 862-1111 | fwbmc.com