The Emerald Coast Theatre Company Presents: A Dickens Christmas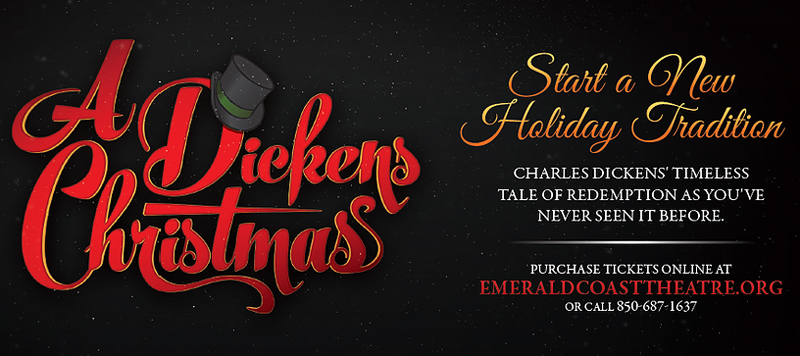 ---
Christmas carols, jingle bells and Charles Dickens' "A Christmas Carol" are a few things that come to mind during the holidays. The Emerald Coast Theatre Company (ECTC) is creating a new holiday tradition with their original adaptation of Dickens' beloved classic called "A Dickens Christmas."
In ECTC's version, three actors play multiple roles as they bring to life the tale of the miserly Ebenezer Scrooge and his night with three ghosts. The cast members are Darla Briganti, Laura Holloway and Allen Walker, all of whom have performed in numerous productions.
The play will be staged in two locations. Five performances will be at the Emerald Grande's Veranda Room at HarborWalk Village in Destin. The shows at the breezy Emerald Grande will be on Dec. 11, 13 and 21 at 7:30 p.m. and Dec. 13 and 20 at 2 p.m. The Dec. 13 matinee is sponsored by Sacred Heart Hospital on the Emerald Coast's Arts in Medicine program and families with special needs are invited to attend.
Additional performances will be held Dec. 18, 19 and 20 at 7:30 p.m. and Dec. 21 at 2 p.m. at Sandestin Golf and Beach Resort in the LeCiel Ballroom.
The performance is directed by Nathanael Fisher, who has been involved in professional theatre for more than 20 years. In addition to enjoying a new holiday tradition, tea and cookies will be served prior to all performances. Purchase your tickets to this festive event here or call (850) 687-1637.
The ECTC is a not-for-profit professional theater company based in Miramar Beach and was founded in 2012 by Nathanael Fisher, MFA, and his wife, Anna Fisher. The company's mission is to enrich and entertain the Emerald Coast community through professional and educational theater. They offer educational outreach programs for children and acting workshops and classes for adults. Visit http://www.emeraldcoasttheatre.org/ to learn more.