The Cool Way to Free Yourself of Fat Cells
Aqua Medical Spa in Tallahassee introduces CoolSculpting® Elite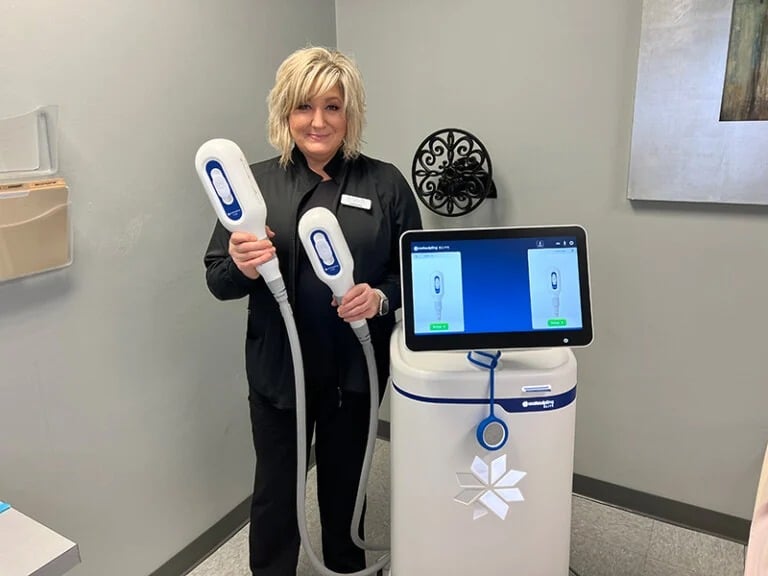 CoolSculpting® Elite, the coolest medical technology on the market, is making waves and generating positive results at Aqua Medical Spa in Tallahassee, Florida.
CoolSculpting® Elite is a new enhancement of CoolSculpting®, a FDA-cleared treatment used to eliminate stubborn fat under the jawline, under the chin, the upper arms, back fat, bra fat, the flank area (love handles), abdomen, thighs, and under the buttocks (banana roll). CoolSculpting® works by cooling your fat to a temperature that destroys fat cells without causing harm to your skin. Fat cells freeze, causing them to metabolize resulting in the permanent reduction of fat.
CoolSculpting® Elite is the most advanced system on the market for freezing fat. The new device has applicators that are C-shaped rather than the U-shape of the previous model, allowing 30 percent more surface area to be treated. The original CoolSculpting® treated 65.7 percent of tissue while CoolSculpt Elite covers 96.6 percent. A dual sculpt option allows two areas to be treated at the same time which reduces appointment time significantly.
CoolSculpting® Elite is is a non-invasive, fat contouring method that could be ideal for patient who want to shape and contour their body without using surgical or liposuction procedures.
The best candidates are those who have at least one inch of pinchable fat but are close to their ideal weight. The best and most accurate way to find out if CoolSculpting will work for you is to schedule a free consultation with one of our aestheticians for a complete evaluation.
"A consultation is the perfect opportunity for clients to learn more about the CoolSculpting treatment process, and get answers to their specific questions," said Julianna Mahieu, aesthetician with Aqua Medical Spa in Tallahassee. "CoolSculpting treatment plans vary depending on the patient and their personal aesthetic needs, goals and aspirations.
Once you complete your consultation and decide to move forward with the treatment, before photos are taken and the area is cleaned and marked. The procedure is non-surgical, involving applicators that hold the skin in place cooling it to below zero, to target the cells in the specified area. A numbing agent is applied beforehand, and only slight discomfort may be felt at first before the skin becomes resistant to the cold.The aesthetician then massages the area for two minutes to begin the breaking down process, which will continue over the next 12 weeks.
Because the treatment is non-invasive, there is no downtime.  Most of our patients return to their normal activity the same day as treatment.
Most patients begin to notice results in four to six weeks. Optimal results occur in six to 12 weeks. Depending on your metabolism, you may see results sooner. For maximum results, Mahieu, advises maintaining a healthy diet, drinking a lot of water and integrating a cardio routine.
After photos are typically taken at the 12-week mark, to evaluate results.
"My clients have had wonderful results – most stating they were satisfied or very satisfied after treatment," said Mahieu. "I love seeing the confidence this procedure gives people. They feel better in their clothes and in their bodies."
Please call Aqua Medical Spa at (850) 254-0244 or visit AquaMedicalSpa.com to schedule an appointment or consultation. Remember, Aqua Medical Spa offers complimentary consultation appointments, allowing you to gain a great deal of insight without having to make a commitment until you are absolutely ready.