The 'Best' Time of the Year
A letter from the Publisher of Emerald Coast Magazine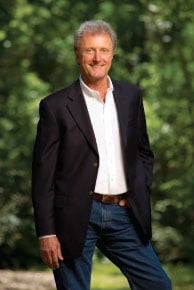 Everyone has a time of year that they like best. For me, it's fall. And it's been a great one.
That's a time when the tourists have gone home and the locals reclaim the roads where for months past they sat for an hour while trying to get from Grand Boulevard to Destin Commons. (And, on a rainy day, the wait was even longer.)
I think few would argue that during this season the beaches of Northwest Florida are also at their best. One can sit out for hours at a time, enjoying the feel of the Gulf breezes while looking out at the true emerald green waters — without feeling the searing heat of months past.
It's a time also when the fishing tends to be the best, when grouper, snapper, cobia and other great-eating species are abundant. Each day, the sun shines on us for fewer hours. When it's darker in the morning, staying in bed is easier and getting up each day is a little more difficult. And when the time changes, especially here in the Central Time Zone, the darkness of evening comes sooner each day until by December it's often dark before 5 p.m.
The excitement of college football permeates the air and the excitement builds among fans of Alabama, Auburn, Florida and Florida State whose cars pass by with their alma mater's flags snapping in the breeze. People proudly wear their school shirts. On Mondays you see them elated or deflated, depending on how their school performed on the field during the weekend. (Although, I must say, some grown adults take a win or a loss a bit too seriously.)
When the first cool breezes from the North arrive, does that feel good or what? Especially after five long months of 90 degree-plus temperatures accompanied by high humidity. Our animals are more frisky, runners and bikers extend their workouts and most everyone has a little more zip in their step.
Festivals abound in the community and the region, children take on new personalities for Halloween, families travel and get together for Thanksgiving and the anticipation of the holiday season begins to build — especially when the first holiday decorations begin showing up in stores as early as September, which I must say is just unnecessary.
Another reason I feel fall is the best season is because we put on our annual party to celebrate our Best of the Emerald Coast event, which this year saw record crowds turn out at Grand Boulevard to mingle, listen to music and meet with our Best of award winners while sharing food and libations.
I want to express my sincere appreciation to the Junior League of the Emerald Coast, which has embraced our Best of event and helped turn it into one of their signature fundraising events of the year. Their passion for excellence and attention to organization and detail has created an event with an unparalleled spirit of magic and class. We are proud that this event has helped raise hundreds of thousands of dollars for the non-profit community over the years.
I would be remiss if I didn't say a few words about the two copycat events that have sprung up over the past couple of years. It is said that imitation is the greatest form of flattery, but in this case, all I can say is … really? Is this the best you an do?
For those of you who have supported EC Magazine's Best of event over the years, we thank you and hope to host you for many more.
Wishing you and your family all the best this holiday season and during 2013!