The Best of the Emerald Coast is Lending A Helping Hand
Don't miss this opportunity to support those affected by Hurricane Michael.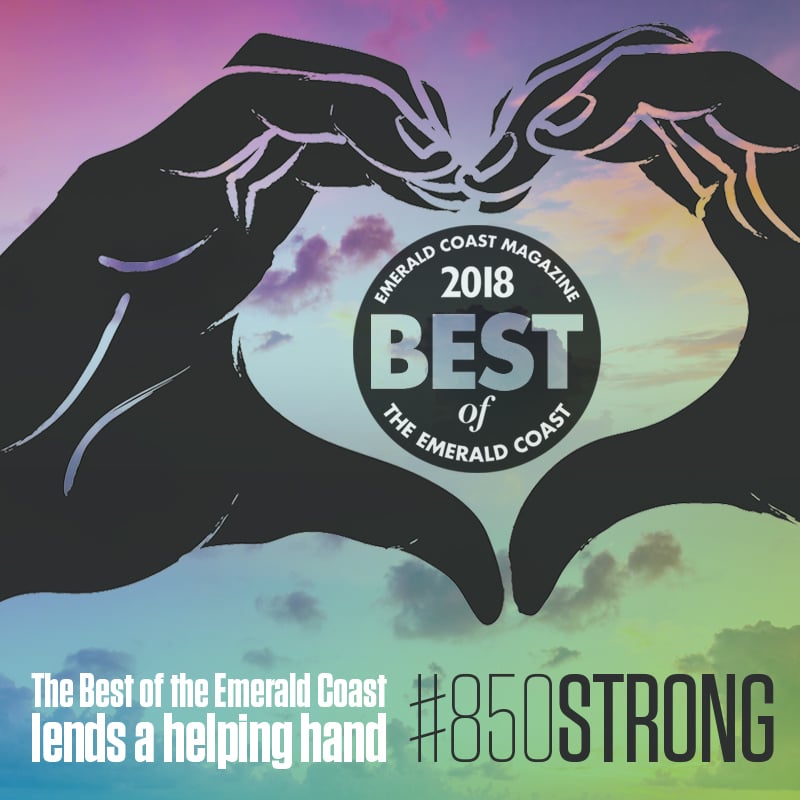 Last week, Hurricane Michael swept through the communities of the Gulf Coast, leaving destruction and a long road to recovery in its wake.
After careful consideration, we have decided to continue as planned with Best of the Emerald Coast, shifting the focus of the event to center on assisting in the relief effort and providing our beloved community with a brief respite as we continue to rebuild.
Proceeds made during this year's Best of the Emerald Coast will also go toward assisting in disaster relief for children in need.
Each fall, The Junior League of the Emerald Coast provides brand-new clothing for over 400 children from Okaloosa and Walton County elementary schools.
The Child Clothing Project is the JLEC's main focus when it comes to fundraising throughout the year.
The JLEC is aware that students in Bay and Gulf County will be displaced to Walton and Okaloosa County starting this week.
JLEC has opened up 30 spots specifically for these students to be included in their 49th Annual Child Clothing Project this year bringing their total to 450 students.
Additionally, donations are welcome and will be accepted at a designated donation repository on-site. All exhibitors are encouraged to bring donation items.
We can't wait to see you at Best of the Emerald Coast this Saturday!
Below you will find donation items requested for the big day:
Hygiene & Health
Bar & Hand Soap
Shampoo & Conditioner
Deodorant
Toothbrushes
Feminine Hygiene Products
Combs/Brushes
Lotion
Towels & Wash Cloths
Razors & Shaving Cream
Bug Spray
Sunscreen
Hydrogen Peroxide
Disinfectant Ointment
Aspirin/Ibuprofen
Pedialyte
Cold Medicine/Drops
Vitamins
Band Aids
Toilet Paper
Food & Water
Can Openers
Non-Perishable Food Items
Water ugs/Bottles
Gatorade
Bedding
Pillows
Blankets
Sheets
Blow-Up Mattress
Home Improvement & Hardware
Batteries
Flashlights
Generators
Chainsaws
Wheelbarrows
Work Gloves
Saws
Plywood
Tarp
Rope
Tools (Hammers, Screwdrivers, Plyers etc.)
Battery Powered Fans
Candles & Matches
Duct Tape
Shovels
Extension Cords
Charcoal
Baby
Diapers
Rash Cream
Pacifiers/ Teething Items
Baby Wipes
Baby Formula
Bottles
Baby Food
Blankets
Clothes
Clothing
Socks
Closed Toe Shoes
Jackets
Undergarments
Cleaning
Sponges
Bleach
Buckets
Heavy Duty Trash Bags
Rubber Gloves
Paper Towels
Brooms & Mops
Dust Pans
Disinfectant Cleaners
Lysol
Dust Masks
Pets
Dog & Cat Food
Cat Litter
Leashes & Collars
Dog Beds
Pet Toys
Food and Water Bowls