The Art of Cartooning
Cartoonist Andy Marlette wields a wicked lampoon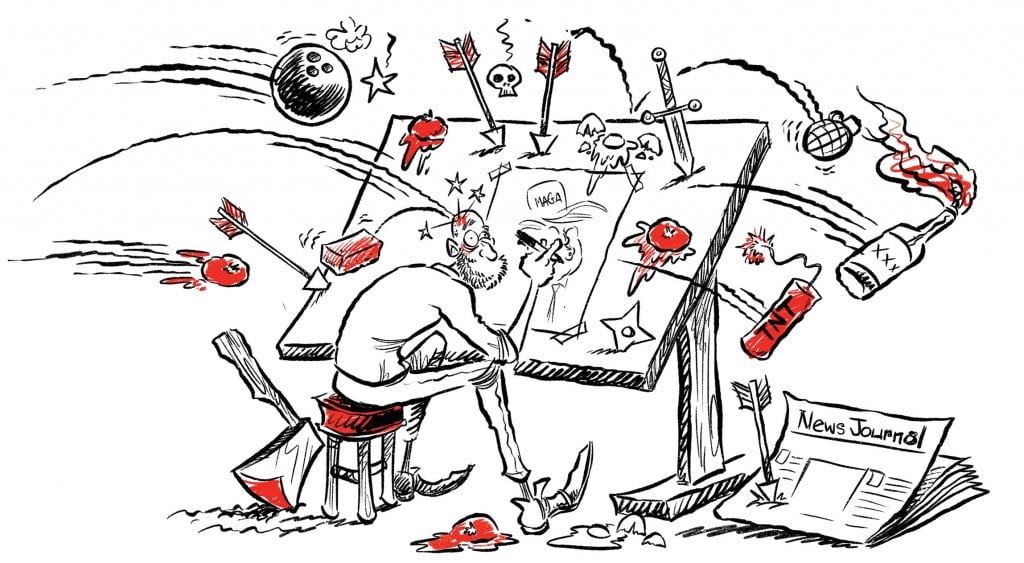 Cartooning is one of those taken-for-granted arts, regarded either affectionately or, at least, with tolerance, as ephemera on a plebian medium. However, few folks can ignore the cartoon on whatever page they're reading.
But they never consider that cartooning's lineage reaches back to humanity's earliest drawings: red clay on sandstone; soot and grease on limestone cave walls; drawings of good hunting; and images to keep bad things from happening.
According to a 2015 PBS interview with Andy Marlette, the Pensacola News Journal's at times errant political cartoonist, there were between 260 and 300 active editorial cartoonists in the country. As of the twenty-teens, only 60 to 70 had survived the effects of electronic media and trends, including the consolidation of newspapers.
It's not a cushy occupation. Not only are editorial cartoonists subjected to the verbal venom of offended readers, but also the withering of their industry. Marlette sums things up, declaring:
"Cartoonists are an endangered species!"
Not to put too fine a point on it. With exceptions like Charles Schultz or Stan Lee, celebrity cartoonists seldom get the adulation the fine arts types do. Cartoonists deserve more! Properly timed, satirical cartooning is a childlike way of pointing out the revolutionary realization that the Emperor has no clothes! That takes a certain giant-killer instinct.
Yet, Marlette's personal approach to those he vets is affable and somewhat reticent. Though he sports a neat, well-trimmed beard at the bottom of his head, it is to his conversely shaved and hair-challenged pate that he more frequently refers, comparing himself ruefully to Sen. Rick Scott who, he jokes, "is not a fan of mine."
To Marlette, cartooning is an act of vigilance. His righteous, passive-aggressive graphics spare none. Though he sometimes does memorial-spirited obituary cartoons, his main mission is to catch up politicians who take themselves too seriously.
"People keep asking me why I always pick on Republicans?" Marlette has said. "I say because they're the only ones who have any power in Florida. I'd pick on Democrats if they had the power."
Andy's a Sanford, Florida, boy, G.T.P. (Gone To Pensacola). His parents were schoolteachers. As a kid, he was the geeky one who drew. As a teen, he spent a lot of time in North Carolina with his uncle Doug Marlette who coached him in cartooning. (That's the Doug Marlette who created the comic strip, "Kudzu," and won a Pulitzer Prize.)
In between Marlette's apprenticeship with his famous uncle and graduation from the University of Florida, Andy cartooned for the Florida Alligator, receiving threats even then for his cartoons on controversial issues.
In 2007, Uncle Doug died in an auto crash, and his nephew was hired at the Pensacola News Journal. Six years later, Marlette won a Florida Society of Newspaper Editors award for the "Best Editorial Cartoons on State Issues."
As that "best editorial cartoonist," Marlette has become an army of one specializing in deadly, journalistic duty, skewing all things pompous, inept, corrupt and contemptible. Someone once quipped that if Andy Marlette were a mirror, he would be the mirror of Dorian Gray reflecting the ugly, twisted state of Dorian's soul rather than his handsome outward suaveness.
While a multitude of Marlette's caricatures lampoon the peccadillos of gate-mouthed Florida politicians, more far-flung outrages and catastrophes around the U.S. and abroad are all fair game. There was his image of a dead terrorist impaled by a giant ink-pin labeled je suis Charlie Hebdo; his depiction of an island-sized Puerto Rican flag; a sun sinking into the western sea with Uncle Sam sweeping under it the crosses and gravestones of unacknowledged Hurricane Maria victims.
Anyone viewing Marlette's 2015 PBS session with hyper-solicitous interviewer Jeff Weeks will find the interviewer hanging on every word while Andy comes across as an agreeable introvert. With pants rolled up, prepubescent boy's style and loosened necktie, he's all arms and legs in the studio easy chair, not the kind of tough guy who goes around knocking people's hats off. Indeed, except for the high ones, hats probably wouldn't be Marlette's first choice anyway. So don't be fooled; Andy Marlette is a syndicated gadfly!
"Some folks like what I do, and others don't," Marlette gives a rueful smile. "I get called some names you couldn't use on air. Cartooning, to me, is a matter of free speech, and that means 'Thou shalt not apologize for opinions.' I look around and whatever seems to me to be too big (for their breeches), and I take a swing at it."
Comictary
Creators Syndicate bills Andy Marlette as "bold, clever and unafraid to hit sensitive topics." He is a member of a dying guild whose cartoons may advocate a position or favor a particular point of view or they may address seemingly intractable realities. For example, a cartoon published June 9 depicted Vice President Kamala Harris "visiting the border." One side, dubbed Outer Leftghanistan, was represented by a donkey. On the other side lay Greater Rightsburg, symbolized by an elephant. Harris is being battered from both sides with tomatoes, toilet paper, litter, bricks and AOC campaign buttons. The cartoon made for a powerful distillation of a problem seemingly without a solution.