Susan Panter Dishes on Designer Digs
Her designs combine Miami and the Emerald Coast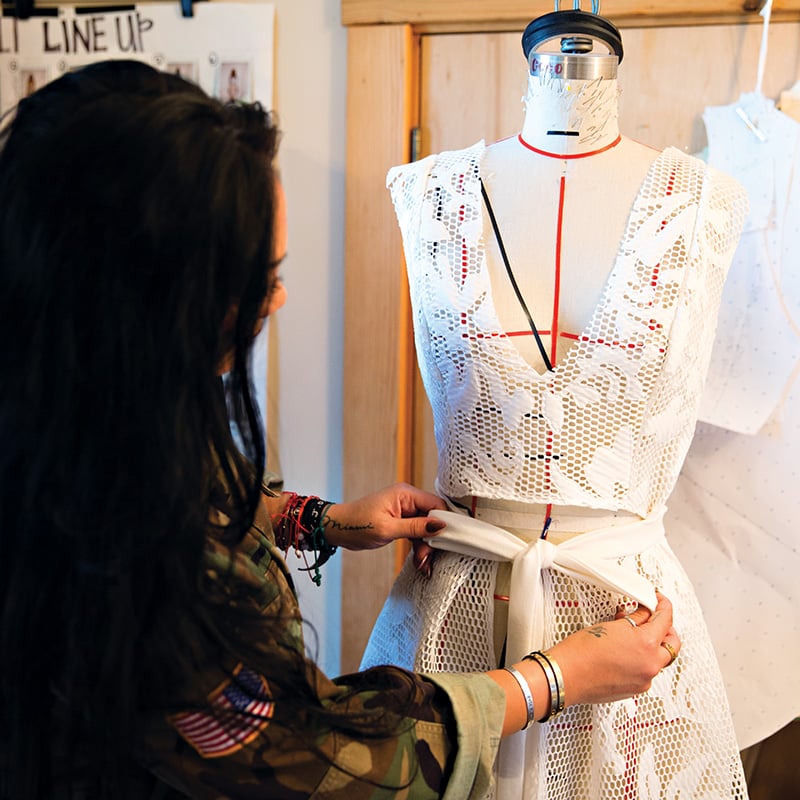 To say fashion stylist Susan Panter "wears her heart on her sleeve" is fitting. So do many American and Latin celebrity A-listers, such as actresses Alexandra Pomales, Isabella Castillo and Kimberly Dos Ramos, who grace red carpet events and make international TV appearances dressed in Panter's original designs under the brand Evelli by Susan Panter. 
Helping successful women evoke a sense of style is part of Panter's  underpinnings. "I have always had an eye for fashion. When I was younger, I made clothes for my dolls, and in high school I loved styling and remaking clothes into what I wanted them to look like," the 35-year-old says.
A passion for fashion led this Tennessee girl to the Art Institute of Miami, where she earned a degree in fashion design and honed her skills as a wardrobe and fashion stylist. Three years ago, she married Thomas Musco, a commercial fisherman based out of Niceville who operates all along the Gulf Coast. This jet-set Florida couple has two homes and commutes between Miami and the Emerald Coast.
In addition to red carpet events, Panter styles for TV shows, music videos, web series and photo shoots and also consults on personal "closet makeovers."
The adage of the peddler with no shoes is definitely not the case with this raven-haired style maven. Though her recent designs are admittedly "girly," Panter describes her personal sense of style as "edgy, dark and urban, with a bit of grunge." She dresses mainly in neutrals but loves mixing unexpected prints for her celebrity clients. "I love a leopard with a floral or a chevron with stripes, which is a little risky," she says. 
What does someone who makes a living out of making over closets suggest you stock in yours? "For me, classic keepers are 'boyfriend' jeans, an oversized watch, a blazer and a simple white tee. These are all easy to style and re-use," she says.
One of this designer's current favorite trends is a flannel shirt worn tied at the waist or draped over the shoulders. "I am obsessed with layering," she says. "The more the better, but mix it up. You don't want to be too sweet or too edgy."
As for shoes, this trendsetter is most likely to step out in black booties, Converse All-Stars or a thigh-high boot … surely to kick some well-heeled fashion faux pas butt.