Spinal Care
Specialists at Fort Walton Beach Medical Center treat the underlying causes of back and neck pain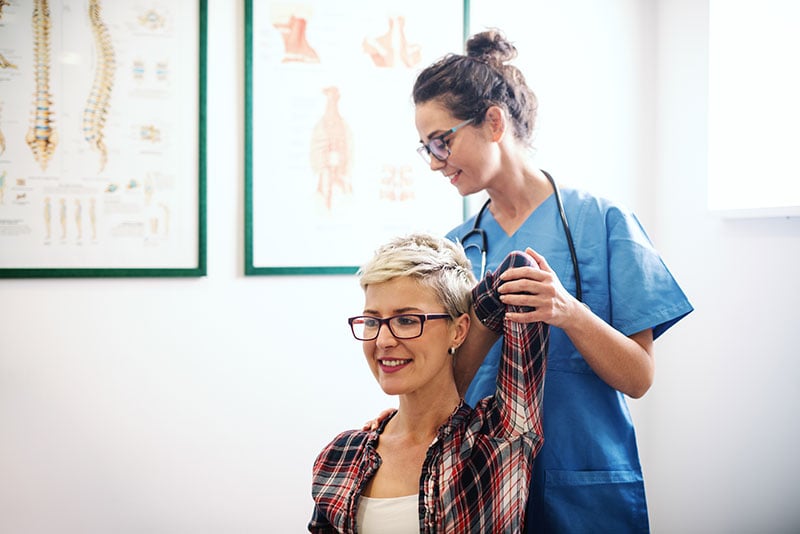 The back is a critically important part of the human body as it plays a role in almost every move we make. It's the hub of our spokes. We should not be surprised to find that back pain is the most common physical condition leading people to visit their doctor.
About four of every five Americans experience low back pain at some point in their lives. Many people with chronic back and neck pain are of working age and, for them, such pain is the most frequent cause of lost productivity. Treatment for back pain costs approximately $100 billion per year in the U.S., according to the American Academy of Orthopedic Surgeons.
Especially because back pain may be a symptom of a more serious underlying medical condition, it should immediately be evaluated by a physician. In addition to severe back pain, people may experience related pain that spreads down the legs; numbness or tingling in arms or legs; and pain in other parts of the body, including the abdomen and bladder.
Medical problems that can cause back pain include mechanical problems, injuries, acquired conditions and disease.
At Fort Walton Beach Medical Center, we are committed to providing quality care via an individualized approach for the treatment of spinal issues. We are home to the leading experts in the diagnosis and treatment for spine disorders in the tri-county area.
Surgery is a last resort, but when it becomes necessary, our surgeons employ the latest technologies and techniques available. We provide the most advanced and minimally invasive spine surgeries, allowing for shorter hospital stays and quicker recoveries. Nurses, therapists and other professionals are dedicated to the individual needs of patients.
One way we individualize treatment is through our Spine Patient Navigator. The navigator prepares patients for surgery and post-surgical care. The navigator also provides patients and their families with information, support and coordination to assist through the process of spine surgery and recovery.
At Fort Walton Beach Medical Center, we provide patients with services related to:
Neck and back pain.
Arm and leg pain, numbness and weakness.
Disc herniation.
Degenerative disc disease.
Minimally invasive surgery for degenerative disease of cervical and lumbar spine.
Spinal trauma and fractures.
Spinal stenosis.
Spinal tumors.
Compression fractures.
Work-related injuries.
Motor vehicle accidents.
Artificial cervical disc replacement.
Many people find relief from back and neck pain upon proper diagnosis and treatment by a physician specializing in this area. For more information or a physician referral, please call (850) 864-0213. We are here to help.
Fort Walton Beach Medical Center
1000 Mar-Walt Drive, Fort Walton Beach, FL 32457  |  (850) 862-1111  |  fwbmc.com