Southern Living Says Churchill Oaks is an 'Inspired' Place to Live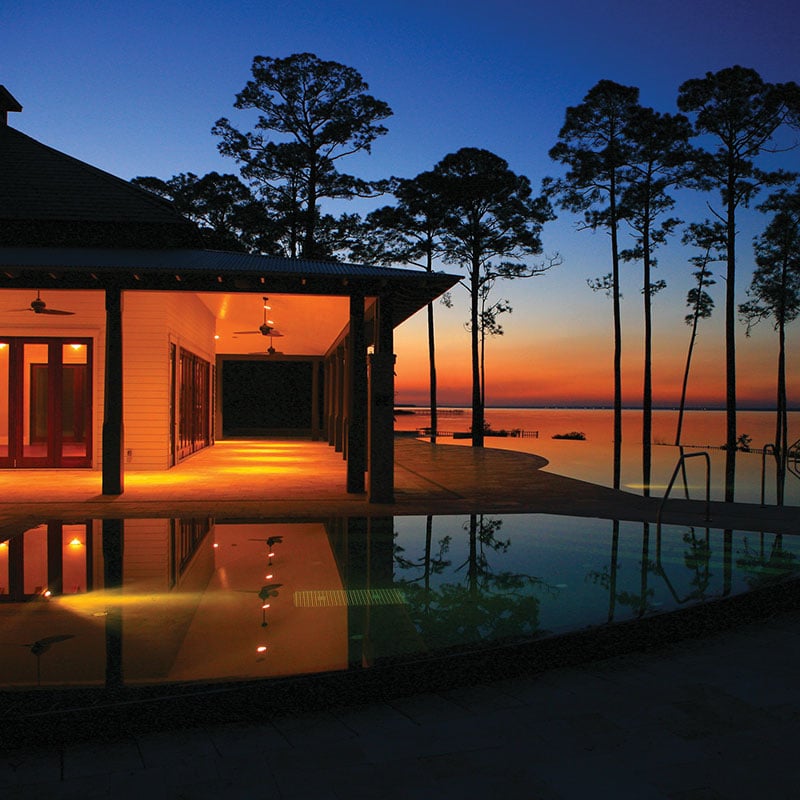 Nestled on 40 acres in the bend of Churchill Bayou and Hogtown Bayou on Choctawhatchee Bay sits Churchill Oaks, a new residential community whose development is led by Roy Sembera, a Louisiana businessman. The land was purchased nine years ago, just as the real estate market crashed. Sembera patiently waited for the right time and is now actively selling residential homes and lots in Churchill Oaks.
Churchill Oaks Realty broker and project manager Tanner Peacock says it was worth the wait.
"We were determined to sell a product, not a promise," he said.
Though you have to be what Peacock calls "a high achiever" to afford an address in Churchill Oaks, he says initial interest from both primary and secondary homeowners is "through the roof."
With more than half a mile of common-area access to South Walton's ultimate playground, Choctawhatchee Bay, Churchill Oaks appeals to homebuyers seeking the natural beauty of a coastal community with the added value of new construction.
For Peacock, in addition to the mileage of waterfront property, the quality of architecture sets it apart.
"It's one of the reasons Southern Living chose us as a Southern Living Inspired Community," he said. "The reality is so many communities in our area are rental communities. I guess when Southern Living learned we were setting out to develop a high-end, rental-restricted neighborhood with fine architecture, they were all over us."
According to aspiring architect Sari Imber, as reported in TheDailySouth.com, an inspired community "embodies timeless design, planning and construction principles that never go out of style."
All home sites in Churchill Oaks feature a minimum of 2,600 square feet, water views and are large enough to accommodate courtyards, outdoor kitchens and gardens so each home connects with its natural setting. It's an environment well suited for the community's Colonial and Low-Country architecture, which accentuates the style and grandeur of the South. Churchill Oaks is thoughtfully designed around Southern magnolias, live oaks and longleaf pines, leaving nearly half of the property as untouched green space.
Churchill Oaks centers around a bayside clubhouse and pool designed by South Walton-based Savoie Architects, which is one of a handful of approved architectural firms and builders. Peacock says the success of the project, which he views as the "finest amenity on the coast," may be that it answered to no budget and no timeline.
"I think the fact that this property was not developed by a professional developer is exactly why it turned out so nicely," he said. Peacock added that Sembera is a stickler who took an "end user approach to every detail" in Churchill Oaks.
The community is about immersing in the good life, and in Florida that includes soaking in the sunshine. The deep, protected waters of Choctawhatchee Bay and Hogtown Bayou provide plenty of opportunities for boating, watersports and fishing. Topsail Hill Preserve State Park puts prime sugar-sand beach access less than five miles away. For golfers, there are no less than a dozen championship courses within 15 miles. Name-brand designer shopping and a range of casual to upscale dining options are nearby as well.
Churchill Oaks currently has fewer than 95 home sites divided into four enclave neighborhood communities: Bay Front, Bayou Front, Lake Front and Parkside.
Lots in Parkside have sold for as low as $215,000, while Bayfront and Bayou-front lots are listed at $800,000.
A newly constructed home in Parkside is listed for $1.25 million. It is a 3,325-square-foot, four-bedroom French Colonial home built by Davis Dunn Construction featuring an open floor plan, downstairs master suite and functional outdoor living space. The custom home has a double-hip roof and a second-floor balcony that cantilevers over the brick veranda with beautiful wood brackets, stately brick columns and French doors.
A model home located next to the clubhouse, which will likely be a Southern Living Idea House when completed, is listed at $3.2 million.
Inspired indeed.