Sixth Annual Pensacola Dragon Boat Festival Set For Oct. 12
Pensacola? Dragon? Boat? Festival? … Yes, yes, yes and yes, please!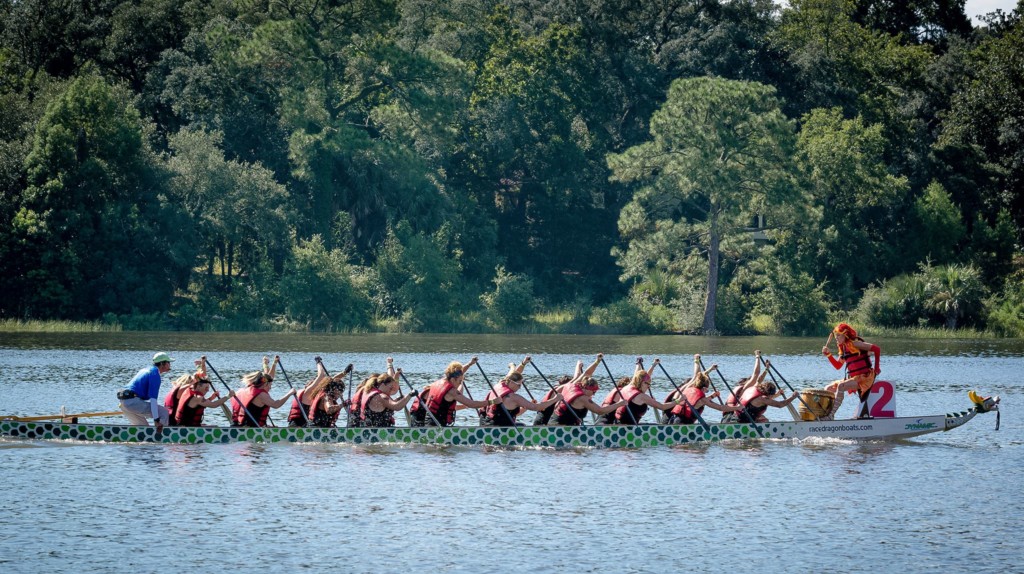 Pete's Dragon, How to Train your Dragon (1, 2 and 3), and even Peter, Paul & Mary's Puff the Magic Dragon — today's movie screens and radio airwaves are filled with our fixation on dragons.
Donkey in "Shrek" was in love with Dragon, maybe an unlikely match, but what's not to love? They are larger than life, magical, take flight … and breathe fire! Oh, and they always save the day.
On Oct. 12, Northeast Pensacola Sertoma is set to host the sixth annual Pensacola Dragon Boat Festival at Bayview Park in Pensacola. The event is free and open to the public.
Dragon. Boat. Festival. Those are three words we love separately … but all together?
Consider our curiosity lit.
For those unfamiliar with the event, dragon boating consists of 20 paddlers, a drummer and a steer-person per boat. The team sport consists of power, speed, synchronization and endurance.
Several dozen teams are expected to compete in this year's races, and Roy Ridgeway, the Pensacola Dragon Boat Festival director, said the event is expected to draw upwards of 5,000 people — including both spectators and participants. Last year's race included 39 dragon boat teams.
The fun starts on Friday, Oct. 11 at 5:30 p.m. with a kickoff party that features a performance by singer Chloe Channell — a shooting star from Pensacola who won hearts in season eight of "America's Got Talent."
The opening ceremony for the race is at 8 a.m. on Oct. 12, and awards will be presented later that day at 5 p.m.
The day consists of dragon boat races, an athlete's village, arts and crafts, food vendors, and family-friendly fun including face painting, free caricatures, balloons and more.
"This is a great team building and community event that benefits Gulf Coast Kid's House and Junior Achievement of Northwest Florida," said Ridgeway.
Founded in 1988, Northeast Pensacola Sertoma is a nonprofit organization made up of business and professional people united around the idea of service for their community.
According to legend, dragon boat racing originated in China more than 2,300 years ago. Today, dragon boating is the fastest-growing international team water sport.
Each year, race festivals are held around the world in Asia, Australia, Canada, Europe and the United States. From experienced racers to newbies, anyone can have a good time.
For more information on participating in the Dragon Boat Festival, follow them on Facebook at PensacolaDragonBoatFestival.