Second Home Provides the Right Kind of Chill
In a beach retreat, couple makes a sound investment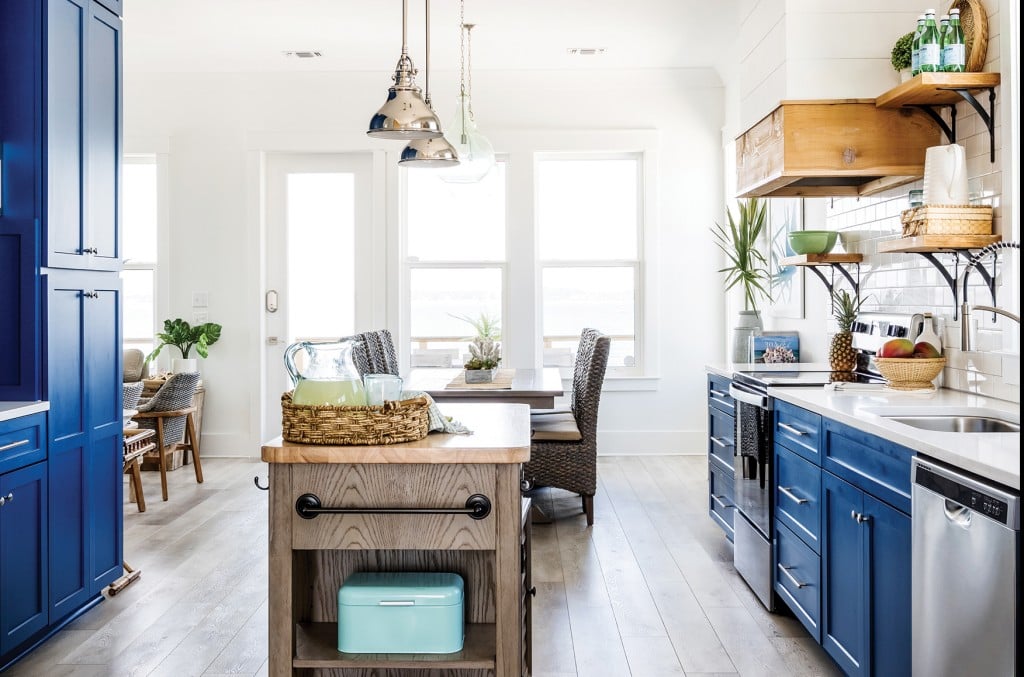 There's a song performed by country artist Jake Owens that Krystal Nite says perfectly captures the ambiance of Navarre.
And it's sunshine, blue eyes,
tan lines, it's low tide
Rolling white sand, cold can koozie
in my hand, just a summertime strollin'
Chillin', breezin', sippin', singin' whoa-oh-oh
Beachin'
That song, Beachin', not only happens to be written by her Grammy award-nominated, songwriter husband, Jon Nite, but it also shares a name with the pair's newest home. The Nashville-based couple had long been searching for a space to build their dream retreat, and upon stumbling across the serene, seaside community of Navarre, they knew they had found just the place to chill, breeze, sip and sing.
"Navarre has that old beach town vibe that we love," said Nite. "It's quiet, nature-centric and it feels like no one knows about it the way they do the Destin and 30A areas. With all the crazy hustle and bustle of Nashville, we needed a place to disconnect and gather our family, friends and neighbors."
Hosting is something Nite, who has been in home design for over 20 years, was mindful of when planning the home. She said it was important to her and Jon that there was no wasted space, and while the three-story, five bedroom/five bath abode's footprint is small, its location on Santa Rosa Sound lends itself to congregating and outdoor living.
"Jon actually found the lot on Google Earth," Nite said. "We bought it without ever really seeing it and began putting together our thoughts and visions for our home. We're remodelers and have previously built a tiny house in Nashville. But, this was my first time designing a structure from the ground up, which was exhilarating. Exhausting, but exhilarating."
Nite, who got her start with Ethan Allen as a manager and designer, has spent the past 15 years as a freelance designer in Nashville and the Emerald Coast with her business, Krystal Nite Interiors. Upon arriving at a blueprint for Beachin', she interviewed local architects, engineers and suppliers to ensure a structurally sound, coastal home that would withstand the elements and artistically reflect them.
Nite said she installed windows everywhere she could, relying on the Gulf to supply pops of color to the home's "earthy, neutral and organic" interiors.
"We took a bit of inspiration from Nantucket and East Coast-style homes and put a cedar shake siding accent wall in the entryway, so you've got a coastal feel as soon as you walk in," Nite said. "We hung a vintage wooden surfboard in the living area and decorated with lots of wicker and texture to complement the views. Some of the accent colors of the room feature the same blues and greens you see outside."
With bright, cobalt blue cabinets, the kitchen, Nite said, may be the most colorful room in the house. It is an extension of the living area and, with a mini-island and kitchenette, features plenty of space to cook and entertain. Larger parties may be seated in the dining room, staged with a long, wooden table that can accommodate up to 12 people.
"My favorite part of the house is the back deck," Nite said. "It's about 1,500 square feet and has another dining table and some Adirondack chairs arranged in a circle for entertaining. It's the perfect place to enjoy some coffee or a cocktail while you watch the sun rise or set."
A close second is the master bedroom, which Nite has accented with Moroccan details and a wall of draperies against a sliding glass door leading to a small, private balcony. The view of the Gulf from the balcony is gorgeous. A hammock is ideal for afternoon naps and light reading.
Nite's 8-year-old son favors the "bunk room." The kids' quarters feature colorful, sea-inspired artwork, four bunk beds and splashes of coral, turquoise and green. There is a window to the backyard, where children love to search for hermit crabs and kayak in the bay.
As for Jon, you can most likely find him in the home's main level music studio.
"Another reason we wanted to build this home is to make a songwriter's retreat," he said. "We made a secret little studio in the main level bedroom's closet and built that room to accommodate multiple artists. They'll meet for the weekend, write several songs a day, and when they need a break, they can go outside for inspiration."
Nite said Jon, who has written No. 1 hits for artists including Tim McGraw, Keith Urban and Luke Bryan, has already written about two albums of songs for major country artists during his time at Beachin'. The Nite family officially moved in around the time the COVID-19 lockdowns began and plans to split time between Navarre and Nashville.
"The house is more than we hoped it would be," said Nite. "We took a lot of care in making this an unpretentious place where people could be comfortable and relax, and guests have told me they feel that right away; they don't feel like they're intruding on our personal space, and as a designer, that's everything I strive for."