Seasonal Events at Grand Boulevard
Coastal Culture Arts & Entertainment has much in store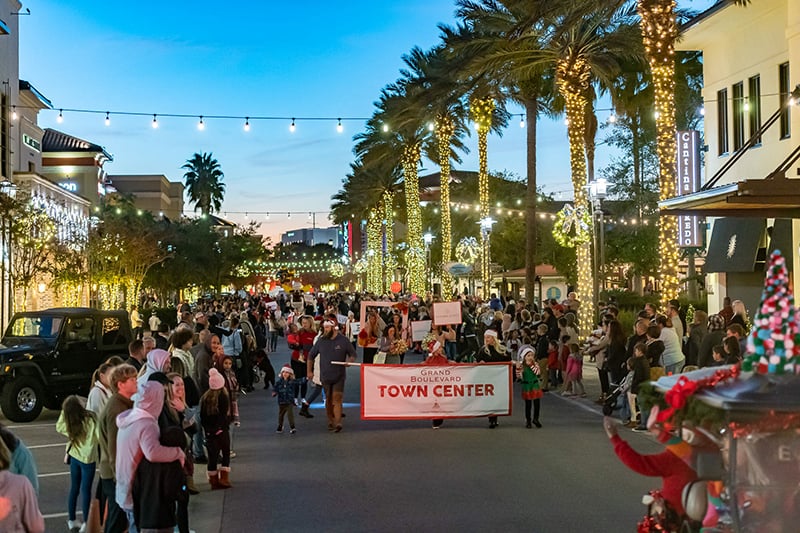 Grand Boulevard's holiday-season calendar is loaded with performances and activities worth saving dates for. Its event-planning arm, Coastal Culture Arts & Entertainment, excels at providing engaging community happenings with charitable components.
"December at Grand Boulevard always has a full calendar to get people into the spirit of the season," said Stacey Brady, Grand Boulevard's director of communication. "All our holiday events are meant to bring the magic and nostalgia of the season."
On Nov. 18, Grand Boulevard became a magical winter wonderland when thousands of lights were turned on, signaling the start of Coastal White Christmas. Throughout the holiday season, thousands of visitors flock to see the light display by shopping, strolling or attending events.
On Fridays and Saturdays between Dec. 2 and 17 and during the entire week of Dec. 19-23, wonderland visitors can enjoy free horse-drawn carriage rides around the Town Center. Hop off the carriage ride and head over to Santa's sleigh to get a professional photo with Santa and tell him what's on your list. End the evening by listening to the Emerald Coast Theatre Company's Dickensian carolers sing classic Christmas carols.
Whether by carriage or on foot, guests can take in the splendor of the Festival of Trees. On Nov. 22, trees were decorated by 12 local nonprofits to be voted on by passersby. While beautiful, each tree also conveys meanings related to the charity's cause.
"This event is heartwarming because one of the criteria is the decorations must represent the mission of the nonprofit," Brady said. "That way, people can learn about the nonprofits, and the organizations have an opportunity to attract new supporters."
As part of its Coastal Culture mission to promote the arts, Grand Boulevard partners in promoting the Emerald Coast Theatre Company. ECTC has two holiday stagings – A Charlie Brown Christmas and The Best Christmas Pageant Ever The Musical.
From Dec. 2–10, Junior Company team players will perform an adaptation of the cartoon classic A Charlie Brown Christmas in a performance that's humorous and heart-warming.
The second performance, The Best Christmas Pageant Ever The Musical, will run from Dec. 8-18. The performance is an adaptation of a children's book that centers around comedy and compassion.
Grand Boulevard's events provide lots of chances to enjoy memorable moments with loved ones while embracing and supporting the communities we cherish.
---
---