Season of Giving
Local generosity at holidays relieves hunger and homelessness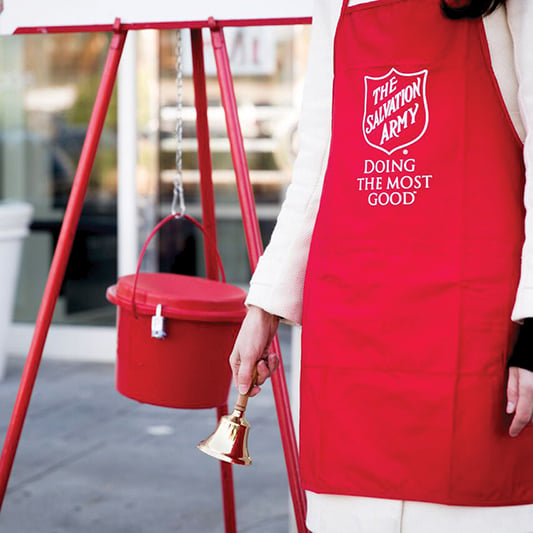 The holidays are in full swing, and some charities along the Emerald Coast need a little extra help fulfilling their missions.
For nonprofits, particularly those with limited budgets, the season is a bit of a mixed blessing — donations increase, but so does demand.
"Thanksgiving and Christmas are some of the busiest times of the year for us," says Matthew Knee, executive director of Catholic Charities of Northwest Florida. "It's always a challenge." In some local counties, a large portion of the population works service-industry jobs, living paycheck to paycheck. "The tourism industry is slowing down for the year, so they need help with food and utilities," says Lt. Monica Rojas of the Salvation Army of Okaloosa and Walton counties. "A lot of people lose their hours."
But with the help of passionate volunteers and generous donors, these groups can stay afloat to feed, clothe and care for the most vulnerable among us. So if you're seeking a way to give back this year — with time, money or both — check out these three charities.
Salvation Army
From its busy offices in Pensacola and Fort Walton Beach, this organization serves poor and needy families and individuals across Escambia, Santa Rosa, Okaloosa and Walton counties. The Salvation Army is most visible during the holidays with its cheerful bell ringers and red kettles — a campaign that serves as the primary fundraiser for the year. "The Red Kettle donations are very important to being able to provide the assistance requested during the holidays and all year long," says Maj. Kenneth A. Fagan, commanding officer of Salvation Army Pensacola. "We encourage the community to volunteer as bell ringers." In 2016, Salvation Army Pensacola raised $200,000 from its kettle drive while Fort Walton Beach raised
$160,000. That money allows the Salvation Army to provide Angel Tree programs at Christmas, food pantries, utilities assistance, tutoring and shelter throughout the year.
Catholic Charities of Northwest Florida
Thousands of people in 18 counties across Northwest Florida — more than 90 percent of them non-Catholic — receive food, rent and utilities assistance, clothing and shelter from Catholic Charities each year. In 2016, the food pantry served more than 30,000 people. At the holidays, that pantry and its mobile Caring Coach, which serves five locations in Okaloosa and Walton counties, is pushed to its limits. Each Catholic Charities office — in Pensacola, Fort Walton Beach, Panama City and Tallahassee — also relies on the public for cash and toy donations to make its annual Christmas Connection program a success. "The Gulf Coast is just a generous community that always steps up," Knee says. "And we are very grateful."
Manna Food Bank
One in four children across Escambia and Santa Rosa counties doesn't have enough food. That statistic is what keeps this Pensacola-based food bank fighting hunger day after challenging day. "The truth is there are thousands of people every day in our community who struggle with being hungry," Executive Director DeDe Flounlacker says. In 2016, Manna served 21,129 people at its Pensacola, Jay and Milton locations. The nonprofit provides families with one bag of food — enough to last five days — for each person in the family. During the holidays, all of that need is magnified. The top three ways to help, Flounlacker says, are donating money, volunteering to sort food, and hosting a food drive. Another option is to contribute to Manna's capital campaign to raise $1 million to renovate a new building for its main Pensacola location. The food bank has operated out of temporary trailers since its facility sustained major damage during the April 2014 floods.  
WANT TO HELP?
Salvation Army 
(850) 432-1501, Pensacola (850) 243-4531, Fort Walton Beach
Catholic Charities of Northwest Florida 
(850) 435-3516, Pensacola
Manna Food Bank
(850) 432-2053, Pensacola