The Seaside School Foundation Opens Registration for the 21st Annual Race Weekend 
Benefiting Public Charter School The Seaside School, Inc.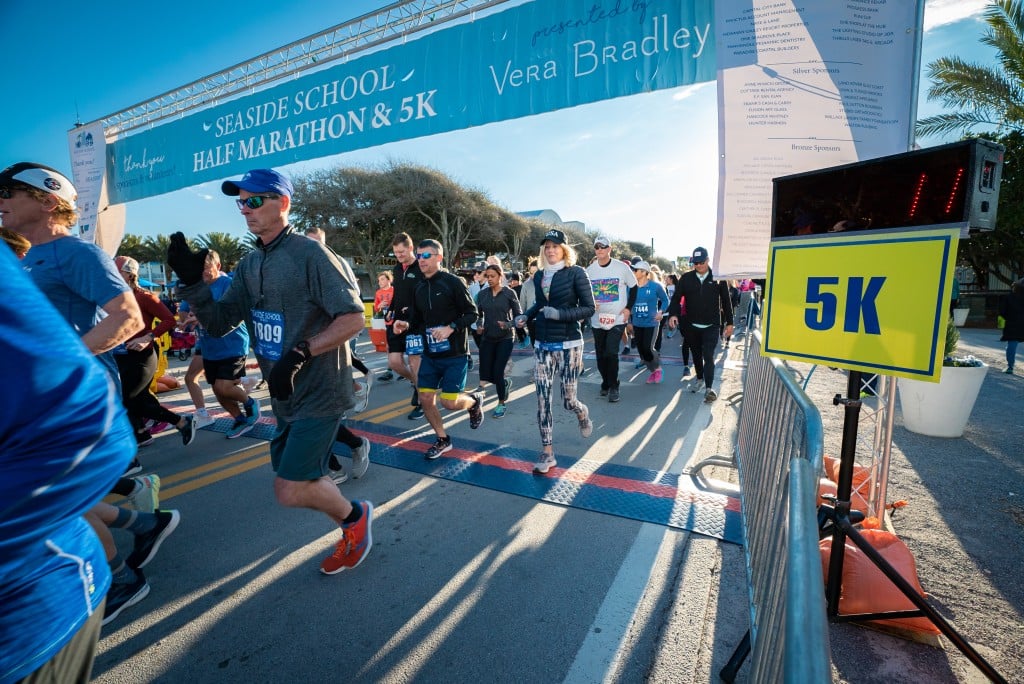 Celebrating its 21st year, The Seaside School Half Marathon & 5K is kicking off registration for the Feb. 17-19, 2023, Race Weekend, cementing its spot as one of longest consecutive running events and top grossing fundraisers in Northwest Florida. The charitable event, which draws participants from all over the country, has helped fund The Seaside School, Inc., one of the first, and now the oldest, operating public charter schools in Florida.
"It's an exciting time for The Seaside School, as we are the top ranked combination charter school in Florida and, in partnership with NWFSC, are working to expand the Seacoast Collegiate High School campus and program offerings," said Teresa Horton, executive director of the Seaside School Foundation. "We are so excited to welcome runners near and far to the Seaside School Half Marathon & 5K in 2023!"
The three-day charity Race Weekend kicks off with the coastal cuisine event, Taste of the Race, on Friday night, then proceeds to a fun-for-all-ages Race Expo on Saturday, and culminates on Sunday morning with the running of the half marathon and 5K along iconic Highway 30A starting and finishing in Seaside.
"The town of Seaside has a longstanding history hosting the Seaside School Half
Marathon & 5K now for 21 years," said vice president and general manager of Seaside Community Development Corporation, Pam Avera. "As an iconic New Urbanism town that celebrates vitality, walkability and a thriving downtown filled with unique merchants, it's only fitting that we have the opportunity to showcase a premier race event which ultimately benefits one of the most beloved members of our community, the Seaside School, Inc. Watching the school successfully expand to a 5th through 12th program and rank as one of the top schools in the state alongside the success of the town of Seaside has been a pleasure, and only adds to our town founders Robert and Daryl Davis' vision for Seaside."
This year's race will feature an overall theme, to be voted on by race registrants and social media followers. The chosen theme will spice up race festivities, particularly for runners wishing to dress out, liven up their run or participate in team entries. Theme choices include "Disco Dash," "Superhero Sprint," and "Rockstar Run." To vote, simply visit the race runseasidefl.com or the event Facebook page. The theme will be announced across all social media platforms on Oct. 1.
All funds raised from the race weekend benefit The Seaside School Foundation, which supports the operating budget for Seaside Neighborhood School and Seacoast Collegiate High School. The Seaside School, Inc. is tuition-free, public charter school serving students across Walton County. Last year, the 2022 race raised proceeds totaling more than $700,000.
"This fundraiser has become a part of our school culture, an opportunity for our students to put 'The Seaside Way' into action," said Kim Mixson, chief academic officer of The Seaside School, Inc., and principal of Seaside Neighborhood School. "Our students, parents and staff look forward to being a part of race weekend every year and we are truly grateful for the impact that it has on our school."
---
REGISTRATION DETAILS
Registration for the race, presented by Visit South Walton, opens Aug. 25. Registration costs are $95 for the 5K and $125 for the half marathon.
A $20 discount is available to military personnel and first responders with proof of active military identification cards, honorable discharge papers or police/firefighter/EMT identification cards. Please email documents before registering to race@runseasidefl.com to receive a discount code. This discount is not redeemable for cash value.
Race registrants will receive the following items with their registration: a Vera Bradley® Grand Tote in Plum Pansies, a virtual goody bag full of surprises, an iconic race shirt designed by Billie Gaffrey and a customized playlist; half marathon finishers will receive our unique finisher medal.
---
WEEKEND EVENT DETAILS
Race Weekend will kick off on Friday, Feb. 17, with an evening under the stars at the official race pre-party, Taste of the Race. Party-goers can attend this delicious Seaside party that features local chefs and restaurateurs competing for the top culinary awards including the coveted Chef's Choice Award, won last year by Wild Bill's Beach Dogs operated by the Dawson Group, and the People's Choice Award, won by The Red Bar.
On Saturday, Feb. 18, runners are invited to pick up their race packets at the Seaside Neighborhood School and enjoy the Expo taking place in the Seaside Lyceum.
The race weekend comes to a pinnacle with the half marathon (13.1 miles) starting at 6:45a.m. and the 5K (3.1 miles) at 7:05 a.m., on Sunday, Feb. 19. Both races — the half marathon and 5K — start in the town of Seaside with an out-and-back run along the coastal dune lakes of Scenic Highway 30A.
"The race is the most significant event in the life of our school, as it provides the necessary financial support for the incredible opportunities that Seacoast students participate in," said Caroline Beer, a Seacoast Collegiate High School student and Student Government Association co-president. "We anticipate this year's race as another chance to come together with the younger students from Seaside Neighborhood School to make an impact in our community and keep our schools thriving for decades to come."
Registration options can be found at http://runseasidefl.com.
---
---