Rose & Co. at Grand Boulevard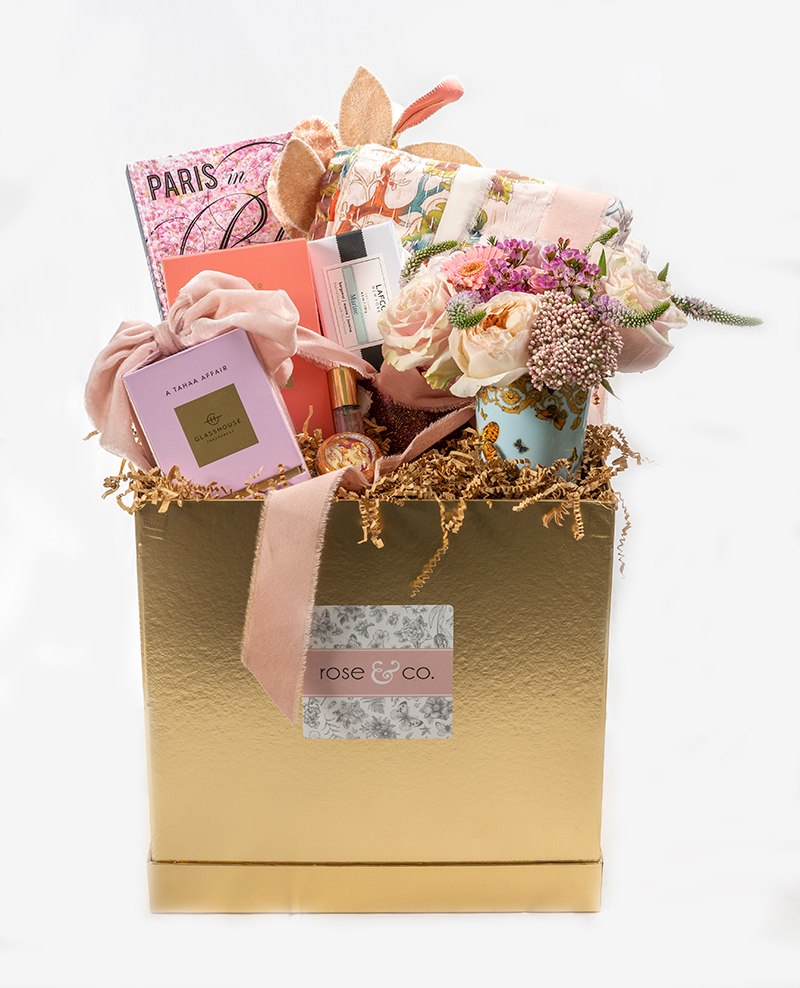 Amidst the shops at Grand Boulevard is a true gem, Rose & Co., a concept that curates beauty and intention. Step inside Rose & Co. to experience a European-inspired flower market and shop brimming with fragrant florals from around the world and gifts, including candles, home goods, body care, décor and more. Customers can have a customized bouquet created, or select a few stems for that special someone. Personalized gift baskets are a popular option, allowing the customer to hand-select products that are best tailored to the person or event. Stop and smell the roses while strolling to fill your basket with life's simple, beautiful treasures.
---
» Versace by Rosenthal china tumbler – Gift them florals in a vessel they will not only keep but use continuously. The Versace by Rosenthal china tumbler, in the Le Jardin Butterfly pattern, features intricate etchings and vibrant hues evoking joy. $175
» Lafco Luxury Bar soap – Create a spa-like experience in your powder room with Lafco Luxury Bar Soap in the Marine scent, which merges fresh rhubarb, vetiver and sea moss. The brand specializes in quality and conscience with palm oil-free, French-milled soaps made from 75% olive oil and 25% argan oil. $12.50
» Glasshouse Fragrance Forever Florence – Step into a Tuscan flower market and submerge yourself in the scents of wild peonies, lily, jasmine and a hint of peach when you light the Glasshouse Fragrance Forever Florence candle. $69
» Paris in Bloom – See the sites of the world's most romantic city from the comforts of your own home through Georgiana Lane's photography book Paris in Bloom. The reader is taken on a tour of the city, providing recommendations to the best flower markets. $24.99
» Floral Throw Blanket – The Pink Exotic floral throw is as versatile as it is beautiful. Made from 100% cotton and artisan hand screen-printed and hand stitched, the throw makes for lovely bedding, a tablecloth, a couch accent or seating for an elevated picnic. $89
» Votive glass – Add a little sparkle and shine to your home design with a votive glass by Glitterville. Pop in your favorite candle and light up any space. $9.50
» Gal Collection peach lip balm – Indulge in lip treats by Kala and Tinte. The product is silky smooth and sweetly scented all while being packaged in a vintage-inspired tin meant to be displayed. $9.95 and $12.50
» Tahaa Affair Devotion Eau de Parfum – Presented in an eye-catching glass bottle designed by iconic French designer Pierre Dinand, the Tahaa Affair Devotion Eau de Parfum deliciously blends scents of sea salt, jasmine sambac, caramel, butterscotch and cedarwood. $159
» Faux Velvet branch – Vintage Velvet leaf branches would make the ideal addition to any tablescape. From a holiday gathering to a Saturday brunch or even as wedding décor, these textured, statement-making pieces won't go unnoticed. $36
---
Rose & Co.
625 Grand Blvd., Ste. 104 , Miramar Beach
Located at Grand Boulevard
(850) 650-0106 | RoseAndCoFlowers.com