Rock Out
Climbing gym in Destin is taking hold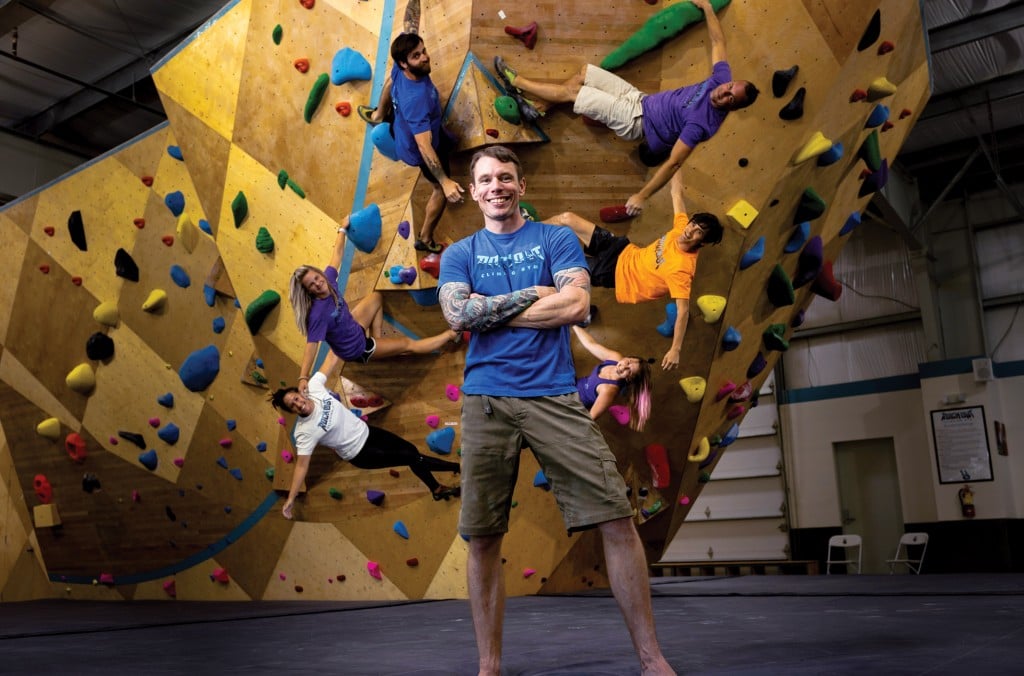 On the Emerald Coast, options for scaling a height had been limited. One might shinny up a palm tree or climb the stairs in a condo tower.
The Rock Out Climbing Gym in Destin provides a third alternative. The indoor facility is the only one of its kind in the region, and since its opening three years ago, it has attracted everyone from beginners to people who could give Spider-Man a run for his money.
As former members of the United States Air Force, owners Ken Sheyka and his wife, Sam, are no strangers to heights and are not the type to be intimidated by a challenge.
Ken, who is now in the Air Force Reserves, has been climbing since 2007. As an Air Force navigator, he logged thousands of instructor hours and over 10 years instructing at formal training units. He started climbing while involved in scouting and is an Eagle Scout. He is a National Outdoor Leadership School certified outdoor educator and Leave No Trace Master Instructor as well as a Climbing Wall Association Climbing Wall Instructor. 
Sam is a full-time nurse at North Okaloosa Medical Center. Ken and Sam met in Udon Thani, Thailand. After a stint in Okinawa, Japan, they moved to Albuquerque, New Mexico, and arrived on the Emerald Coast in May 2014.
They soon realized the area had no rock climbing gyms. New to business ownership, Ken started doing market research and attended a few conferences about starting and maintaining a business.
"We wanted to establish a culture of climbing in this area by bringing that experience here," Ken said. 
The gym offers programs, including youth climbing for ages 7–9 and 10–12. Adults participate in the Rock Out Adult Member Bouldering League at the gym. Teams are formed and compete for six to eight weeks while observing a spirit of camaraderie.
The gym also offers a women's climbing circle that meets on the first Saturday of every month. Daily, weekly and monthly recurring memberships are available, and the gym offers youth, military and family discounts. 
Clearly, Ken has applied his military background to his business operations. He is a taskmaster when it comes to situational awareness, accountability and standards. The staff pays close attention to detailed checklists.
Since her initial visit over two years ago, Ashley Escue and her two children have been weekly regulars. She has joined the women's climbing circle, and one of her sons is on the youth climbing team. 
"There are no age boundaries or cliques there. Everyone climbs together, cheers each other on and respects one another," Escue said.
She and other gym members are grateful to the Sheykas for leading them to reach new heights.
For more information
Meet the members of the Rock Out Climbing Gym staff, and find information about the gym's rates, policies and events at rockoutclimbing.com.