A New Retail Business Boom
Grand Boulevard celebrates the addition of local and national retailers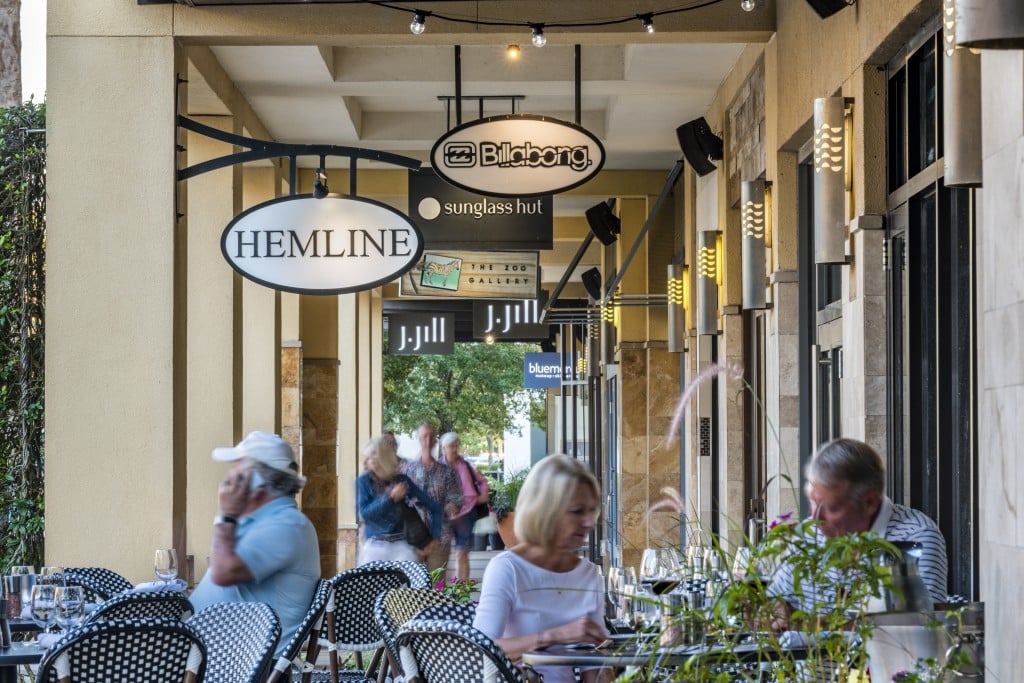 There are countless events in life that we make purchases for; the perfect pair of pants for a new job, a hand-crafted "thinking of you" gift from a local artisan, or the Lululemon leggings that are at the top of your niece's Christmas list. Whether you're looking for a product that's locally loved or a brand that's nationally recognized, with its new retail business boom Grand Boulevard can satiate your shopping needs.
"As a local, who's been here for 25 years, I love that we've got really fun, popular, cutting-edge national brands," said Stacey Brady, director of marketing and communications at Grand Boulevard. "The other part of that curated tenant mix is the locally owned stores. That's one of the things that makes Grand Boulevard so attractive because we've got this great mix of the highly touted national brands and then fantastic locally owned stores and restaurants."
Grand Boulevard is a shop, dine, work, stay destination composed of 40 office tenants, 14 eateries, more than 50 retail stores and three hotels. In each area, they continue to expand, most impressively so in the retail and office sectors. Now, in its 15th year, Grand Boulevard has opened the highest number of new tenants at one time in its history.
Grand Boulevard has introduced more than two dozen first-to-market stores and restaurants. The most recent being The Beaufort Bonnet Company, selecting Grand Boulevard as the location for their first brick-and-mortar flagship store. The company, which originated in Kentucky, is a sought-after Southern-style children's brand that had previously only been available in high-end stores and online.
Stylish kiddos abound at Grand Boulevard with the recent addition of La Luna, a children's boutique opened by a local mother whose emphasis is on organic products and non-toxic dyes. Take delight in beautiful clothing and unique toys. There's even a play area for little ones while the parents shop.
Rose & Co., a European-style flower market and shop, is another locally owned and recently opened addition to Grand Boulevard. The store's concept revolves around fragrant florals from growers around the world. Create a specialized bouquet or stop in for a few stems. You won't be able to leave without pairing your petals with an item from the gift shop including candles, tableware, home goods, body care, accessories and more.
Brady explains that Rose & Co. had been searching for the ideal location for ten years. They envisioned a space that catered to customers who simply wanted to hop out of the car and pick up their bouquet and those who sought a leisurely browse. Their home was found in the ease and accessibility Grand Boulevard provides.
National brands that have opened their doors of late include Arhaus, Lululemon and Pottery Barn. Arhaus and Pottery Barn are two home design stores destined to delight the HGTV fan. Arhaus includes an in-house design department that holds interior design consultations for interested customers.
Lululemon began as a pop-up that enjoyed enough success to become a permanent fixture. The well-known workout wear and athleisure brand offers fashionable clothing for all activities from errands to kickboxing class.
"Wonderful businesses have found Grand Boulevard and want to be part of the Grand Boulevard family," said Brady. "Having opened the largest number of businesses within the shortest time period makes it all the more exciting to see what else is on the horizon — we are having a new retail business boom."