ResortQuest by Wyndham Vacation Rentals to Host First Time 30A Songwriters VIP Wine & Food Event at The Pointe on 30A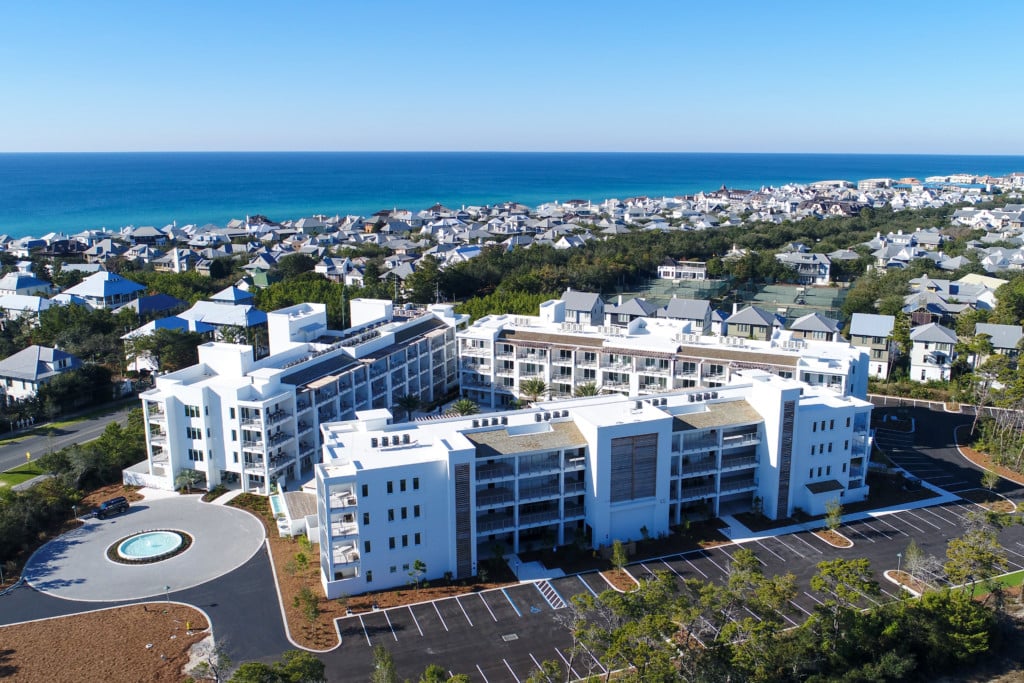 PRESS RELEASE
FORT WALTON BEACH, FL (Dec. 21, 2017) – The Pointe on 30A, a stunning new boutique luxury vacation rental property situated on the east end 30A, will officially kick off the 2018 30A Songwriters Festival, as the host of the VIP wine and food tasting event on Friday, Jan. 12 and Saturday Jan. 13 from 4:30 p.m. to 7:30 p.m.
This will be the first year for the VIP wine and food tasting as part of the 30A Songwriters Festival. Each evening, the event will begin with a oysters and champagne on the Rooftop Sanctuary, which overlooks Rosemary Beach and the Gulf of Mexico. Guests will taste dishes specially prepared to compliment and reflect the wines curated by fine wine import specialist Adam Caperton. On Friday, Adam will take guests on a trip through one of France's most esteemed wine regions, Loire Valley, from crisp and clean sparkling wines to the Sancerre appellation to Loire's food-friendly Pinot Noir and Cabernet Franc-based reds. Saturday will showcase Southern Italy; guests will experience the sun-drenched wines of Calabria and Apulia, the refreshing coastal wines of Sardinia and will finish off the night with world class wines from Sicily.
"We are so honored to host this first-time event," said Heather Smolarek, general manager of The Pointe. "When you combine a beautiful property on Scenic Highway 30A with great food, wine and music — you have the best of everything a coastal lifestyle offers, don't you?"
The 30A Songwriters Festival is a four-day music festival during Martin Luther King weekend, Jan. 12-15, 2018. In venues ranging from intimate listening rooms to spacious outdoor amphitheaters, amid the scenic backdrop of the 30A area, the festival features more than 175 songwriters and over 200 performances. Confirmed headliners include Emmylou Harris, Steve Earle, Ann Wilson of Heart, the Zombies, Patty Griffin, the North Mississippi Allstars and Lee Ann Womack, Emily Saliers of Indigo Girls with her Murmuration Nation Band and Shawn Mullins.
Since opening in March, The Pointe has become one of the hottest new addresses on Highway 30A. Located in Inlet Beach at the east end of 30A, The Pointe is perfectly situated directly across the street from the high-end shops and dining at 30Avenue, and within walking distance to still more dining, shopping and attractions within the beautiful beach towns of Rosemary Beach and Alys Beach.
The 68 upscale one-, two- and three-bedroom accommodations at The Pointe are appointed with stainless steel appliances and contemporary designer furnishings. This boutique gem offers an over-sized resort-style pool at the center of the property, with select units also boasting personal and private splash pools. In addition to fully furnished kitchens, The Pointe also features an on-site restaurant serving breakfast, lunch, and dinner daily, complimentary beach chairs, and complimentary bikes (in season).
For more information on 30A Songwriters, visit www.30asongwritersfestival.com, and for more information about The Pointe, visit www.thepointebywvr.com.
For more information on ResortQuest by Wyndham Vacation Rentals, call (844) 495-9241 and visit wyndhamvacationrentals.com/northwest-florida.
About ResortQuest by Wyndham Vacation Rentals
Headquartered in Fort Walton Beach, Florida, RequestQuest by Wyndham Vacation Rentals has been a local leader in vacation rentals, property management, association management, long-term rentals and real estate sales along the Northwest Florida Gulf Coast since 1977. ResortQuest offers the area's largest selection of professionally-managed beach homes, condominiums and resorts. ResortQuest is part of Wyndham Vacation Rentals – the world's largest professional manager of vacation rental properties – and part of Wyndham Destination Network and the Wyndham Worldwide family of brands (NYSE: WYN). Backed by the world's largest hospitality companies, Wyndham Vacation Rentals provides access to more than 117,000 vacation rental properties in nearly 650 unique destinations worldwide. Wyndham works closely with property owners to ensure all rentals meet its standards for customer service, quality and comfort. For additional information on Wyndham Vacation Rentals, visit www.resortquestbywvr.com. Follow them on Facebook, Twitter, Pinterest, Instagram and Google+.
# # #
MEDIA CONTACT:
Zandra Wolfgram
Regional Director of Marketing & Communication, Gulf Region
Wyndham Vacation Rentals
850-374-2327
zandra.wolfgram@wynvr.com