'Recline in Blue' Unveiled in Alys Beach
The new sculptural installation is turning heads on 30A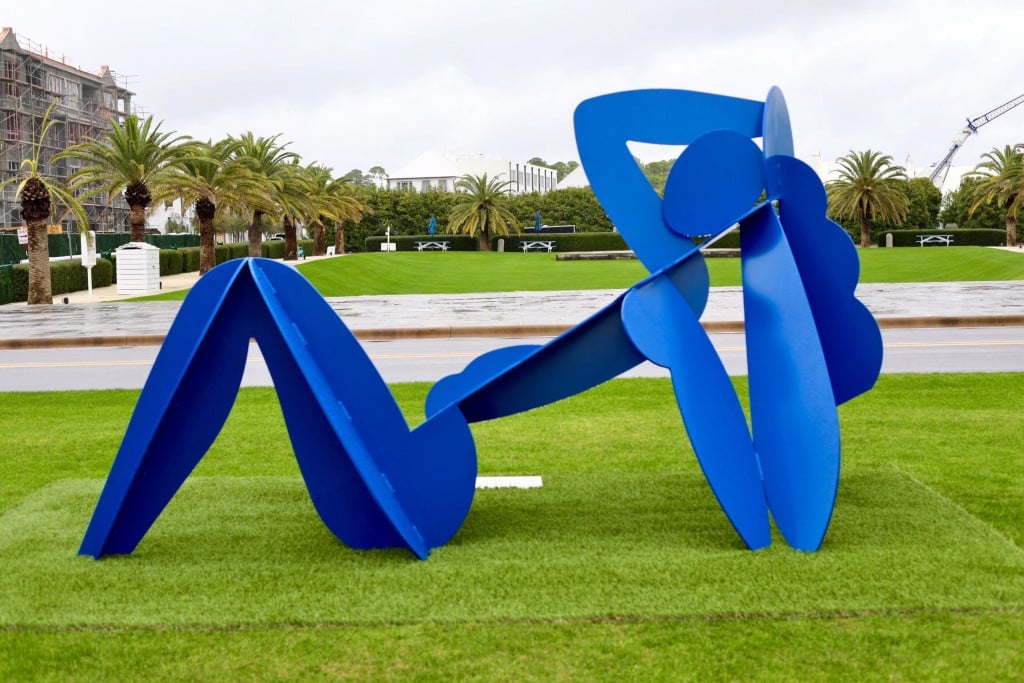 Alys Beach, Florida, an EBSCO Industries New Urbanist development in northwest Florida, has added a new sculptural installation to the landscape. Recline in Blue was unveiled in early February and is currently turning heads on 30A.
Recline in Blue is the work of world-renowned sculptor and Royal Academician, Dhruva Mistry (born in Kanjari, India, 1957). Mistry's works have been exhibited and collected worldwide by such galleries and museums as Tate, Royal Academy of Arts and the Victoria and Albert Museum in London, the Asian Art Museum in Fukuoka, Japan and Jehangir Art Gallery in Mumbai.
Recline in Blue is part of Mistry's Recline sculptural series, which graced the cover of Architectural Digest's The Art Issue, India edition.
The piece explores planes, materials and scale with laser cut steel assemblage and shapes "recall(ing) a musical sensuality," says the artist of his work. In a TED Talk on the topic "Learning from Art and Sculpture," Mistry sites inspiration in "…learning from life…learning from flora and fauna and animals and humans."
Recline in Blue is a striking addition to the Alys Beach collection of outdoor sculpture, with the high visibility of a position within the south median along Scenic Highway 30A, in the heart of Alys Beach's Town Center.
She will lie in repose, on a bed of green grass, beckoning passersby to enjoy an artful Alys Beach moment.
The procurement of Recline in Blue has been an initiative of The Alys Foundation, with fabrication by Vulcan Industries, an EBSCO Industries company.
The Alys Foundation exists to enhance the experiences of the Alys Beach community, and to preserve and enhance the quality of life of community members, through artistic and altruistic contributions.
Visit www.alysbeach.com for more information.