Oh, Be Joyful!
Yesteryear libations heat up the winter holidays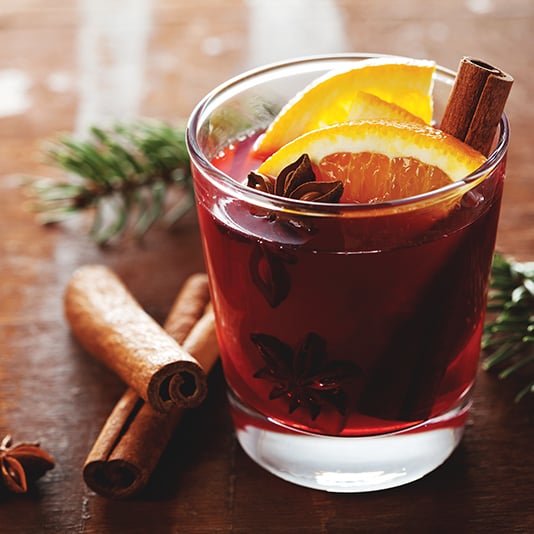 Baby, it's cold outside. So you might want to come back in, stand by the fire and warm your belly with some spicy mulled wine. Or, maybe some bourbon-infused eggnog will refresh your yuletide cheer. Of course, there are many other seasonal libations, but these are particularly traditional and each has an interesting history.
According to Adrian Smith of Vivino.com, mulled wine started with Romans who heated wine to warm themselves in winter. During the Middle Ages, Europeans — ever mindful of illness and plague — added healthful spices to the concoction to ward off sickness. Various recipes abounded; by 1609 the generic name for mulled wine was "glögg."
"The big turning point came in the 1890s, when glögg became associated with Christmas. Every wine merchant across the country had their own unique recipe to share," Smith wrote. "Variations now include everything from red and white wines to sangria blends and vermouth to port — each country's method slightly different from the next."
Eggnog was another cold weather refreshment that arrived on the holiday scene at about the same time as mulled wine. It was made from milk, eggs and a little ale. Famous foodie Alton Brown explains it thusly:
"Most culinary anthropologists believe modern eggnog descended from a thick, boozy, late-medieval concoction called posset that was composed of hot milk and hooch enhanced with whatever spice the lord of the castle had on hand," Brown wrote for Mental Floss. Incidentally, the name was derived from "nog," a strong beer brewed in eastern England, and "noggin," a tavern tankard.
Cozy Mulled Wine
1 (750 ml) bottle red wine (such as cabernet sauvignon, zinfandel or merlot)

1 orange, peeled and sliced

⅔ cup honey

¼ cup brandy

3 cinnamon sticks

8 whole cloves, or more to taste

1 teaspoon grated fresh ginger
Combine red wine, orange slices, honey, brandy, cinnamon sticks, cloves and ginger in a slow cooker. Cook on low until wine is steaming, 20 to 25 minutes.
(Allrecipes.com)
---
Alton Brown's Eggnog
4 egg yolks

⅓ cup sugar, plus 1 tablespoon

1 pint whole milk

1 cup heavy cream

3 ounces bourbon

1 teaspoon freshly grated nutmeg

4 egg whites
In the bowl of a stand mixer, beat the egg yolks until they lighten in color. Gradually add the 1/3 cup sugar and continue to beat until it is dissolved. Add the milk, cream, bourbon and nutmeg and stir to combine. Place the egg whites in the bowl of a stand mixer and beat to soft peaks. With the mixer still running, gradually add the 1 tablespoon of sugar and beat until stiff peaks form. Whisk the egg whites into the mixture. Chill and serve.
(foodnetwork.com/recipes/alton-brown)