No Drama Llamas
Tyndall Spouses Club fosters camaraderie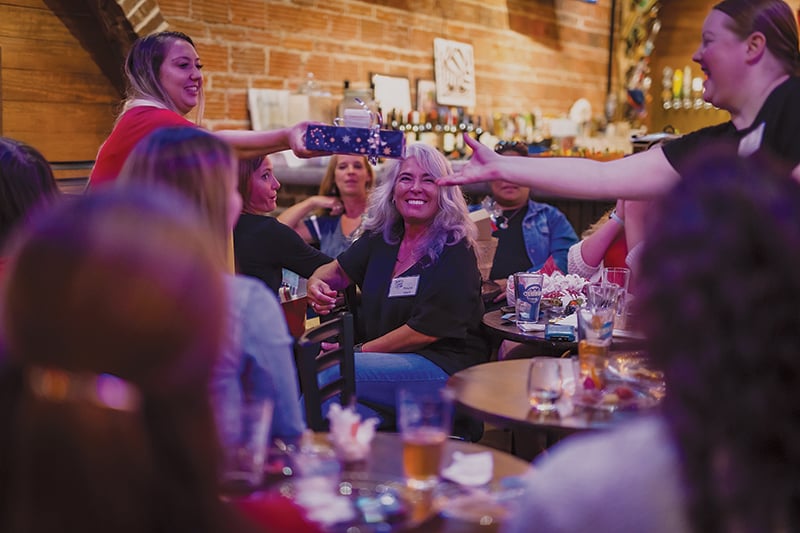 While military spouses clubs serve to provide social connection and opportunities for volunteerism, Aimee Bright has found that they can come with a fair share of melodrama.
The cattiness of Real Housewives-type reality shows may make for good television, but club politics, superiority complexes and gossip only serve to estrange spouses from their new communities. One might as well be a member of a condo association board.
So when Bright's husband was stationed at Tyndall Air Force Base in 2014, and she became president of the Officers' Spouses Club, Bright helped spearhead an effort to unify the group with Tyndall's Enlisted Spouses Club.
The merger brought about the Tyndall Spouses Club (TSC), a fellowship founded on the tenets of service, friendship and fun. The "drama llama" is denied membership.
"We simply don't accept drama because there is no room for it," said Bright, who currently serves on the TSC's publicity board. "We pride ourselves on inclusivity. We won't ask about your active-duty's rank because we don't care about that. So, rather than calling ourselves a combined club, we like to say we're unified because we're unifying our efforts and friendships to make a difference in our community."
Currently 56 members strong, the TSC welcomes spouses of active duty, guard and retired members of all branches of the military, an open-door approach that appealed to the TSC's current president, Danielle Sweeney.
"When I married military in 2015, and we had our first PCS (permanent change of station), it was an anxiety-ridden time as I began to learn about military life and worried about how to fit in," said Sweeney. "At Tyndall, I was lucky to meet some amazing people and experience this familial vibe among the community. I was not a part of the spouses club then, but I always hoped to return to Tyndall to experience that special feeling again."
Fortunately, Sweeney's husband was returned to Panama City in 2021. Sweeney, who holds a master's degree in social work, joined the TSC and said it was ultimately Aimee Bright who convinced her to volunteer for a larger board role the following year.
"Inclusivity is something that is extremely important to me not only as a social worker but as president of the TSC," Sweeney said. "I'm always looking for opportunities to include diversity into our club ideas to make sure the modern military spouse is represented and supported."
Sweeney said the TSC is a casual club. Its "meetings" are centered around events that allow members to get to know one another and the area. Last year, the TSC arranged a photo scavenger hunt around St. Andrews State Park. Random teams were formed based on responses to an icebreaker, and each group learned about the area's history as they pursued clues.
This year, the TSC has planned a classic car show, murder mystery dinner and a "Nerf war" with their children. It's through building friendships that the TSC believes it can help better serve the members of their base and Panama City.
Their biggest initiative, the volunteer-operated Tyndall Thrift Shop, recently relaunched after being destroyed by Hurricane Michael in 2018. The funds raised by the store help the TSC distribute grants to local and national military-centric nonprofits as well as support the club's military-dependent scholarships program.
"I'm one of the few people that was here when we had the old thrift shop and remember when we earned over $100,000 one year," Bright said. "We're good financial stewards, and we've been stretching our savings for as long as we can, but we're very excited to have the new space and grow our charitable outreach again."
The TSC also collects donations for a specific cause during each of their monthly socials, such as items for the Junior League of Panama City's Diaper Bank and nonperishables for homeless veterans. Annually, the club distributes over $40,000 in college scholarships and to organizations devoted to improving the quality of life for military families.
As the holidays roll around, the TSC is especially devoted to supporting causes on base. The TSC helps back the Christmas party put on by Tyndall's Airman and Family Readiness Center's Hearts Apart program, which helps connect the families of deployed airmen and furnish them with a support group.
"December is so busy that sometimes it's best to stay out of the way and support events that are already happening," Bright said. "For our members spending the holidays without their spouse, we try to wrap our arms around them and ask what we can do. That's not always inviting them over for dinner. Sometimes, it's giving them someone to talk to, helping check on their house or care for their pets while they go out of town to visit family."
For airmen living in the base's dorms, the TSC annually devises a "cookie caper." Spouses get together and bake batches of assorted cookies and using paper bags decorated by children attending Tyndall Academy Elementary School. They hang the treats on dorm room doors.
"Most of the airmen are fresh out of tech school and on their first assignment, so we like to give them a little taste of home and let them know their community cares about them," said Bright. "The little messages the children write on the bags are so sweet, and you can tell the airmen really enjoy it."
For Bright, involvement with the TSC's volunteer work has helped her reach a new level of personal and professional growth. She now oversees the Bay County Chamber of Commerce's Government/Military Affairs program, and said she "likely wouldn't be doing this if I haven't had the experience with the club."
She added, "We even have retired members of the TSC who volunteer with us because they still support our mission. You build family here."
---
Want to Join?
The Tyndall Spouses Club is open to all spouses of active duty, guard and retired members of all branches of the military. To join, complete the membership form at TyndallSC.org.
---