Navarre is a Natural
With Scenic Roadways, Playful Parks and Affordable Fun, Navarre is Renewed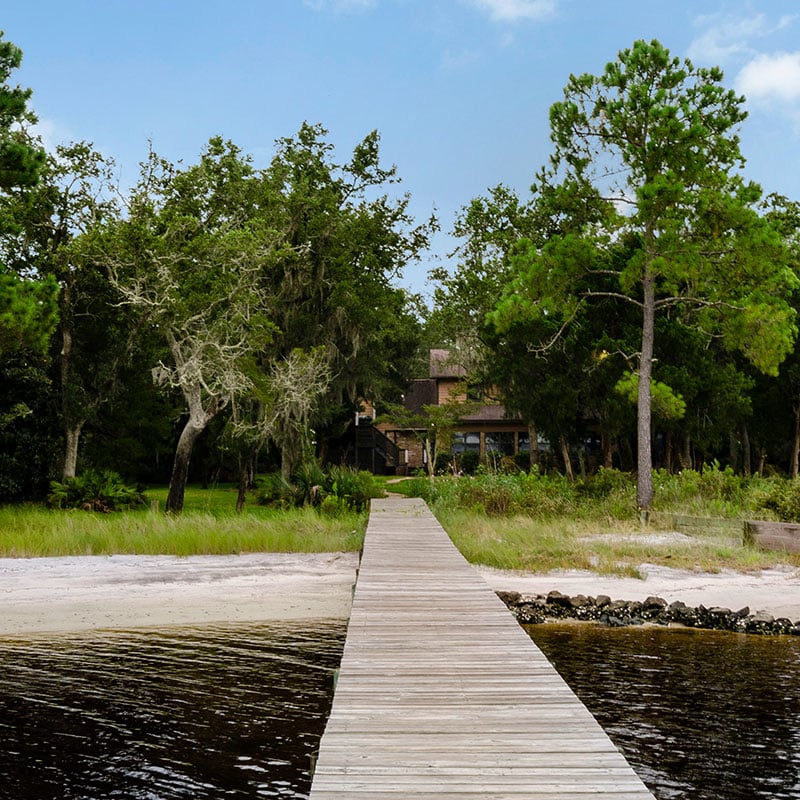 Melt away the summertime blues on the sugar-white shores of nature's last playground — Navarre. With the Santa Rosa Sound to the north, the Gulf of Mexico to the south and the Gulf Islands National Seashore to the east and west, Navarre Beach is a beautiful island oasis for couples and families looking for an authentic coastal lifestyle.
"Navarre is such a jewel," says veteran Remax Coastal Realtor/broker Ed Smith. "It is really a unique gem here on the Emerald Coast." Smith says there are pros and cons to a "less is more" lifestyle. "Navarre offers a laid-back environment. On the one hand, you've got less creative comforts, but then you've got less hustle and bustle, too."
There are plenty of ways to enjoy the natural beauty of Navarre. The 10-mile passage between Navarre and Pensacola Beach (Earl Bowden Way) carries drivers, hikers and bikers along a stunning stretch of white-sand wonderland. Dotted with a dozen shaded pavilions, Navarre Beach Park, nestled between the Gulf and the bay, is perfect for an old-fashioned beach picnic. History buffs can investigate Fort Pickens. Built in 1834, this expansive historic attraction was a prison where Apache warrior Geronimo was once held captive.
One of the most popular natural attractions is the 1,500-foot Navarre Fishing Pier. Navarre is also just minutes from the only zoo on the western end of Northwest Florida. The Gulf Breeze Zoo was recently expanded and upgraded under new ownership and now features a kid-friendly "safari" park train tour.
Ziplining adventures in Milton
Courtesy Santa Rosa County Tourist Development Office
With miles of beautiful beach and so many fun ways to enjoy it, Navarre is the sure cure for those looking for a laid-back coastal lifestyle. Miles of unobstructed pathways are perfect for biking and hiking. If you are feeling lucky, you are likely to tempt the likes of snapper, amberjack, grouper and cobia to your fishing line. Navarre is full of simple pleasures, so go fly a kite, take in an outdoor concert at Navarre Beach or play a round of golf at the Club at Hidden Creek.
The local dining options may not be as extensive as some beach towns on the Emerald Coast, but what is located on Navarre Beach is good. You can toast the sunset at Juana's Pagoda, and enjoy a casual seafood dinner at Sailor's Grill next door. For fresh sushi in a quaint atmosphere, try The Slippery Mermaid. Savor some new spots: California-style Mexican at the Cactus Flower Café, authentic Northern Italian cuisine at Gugliemo's and a bit of everything at Johnny Huston's. Top a day at the beach with a sweet treat from The Twist.
Miles of pristine beach along Gulf Islands National Seashore offers endless outdoor recreational fun for all ages.
Courtesy Santa Rosa County Tourist Development Office
The word is getting out about the Emerald Coast's last beach bastion. Like most markets on the Emerald Coast, the reduction of both inventory and number of days a property is listed on the market indicate it is normalizing. With average sales at $196,819, Navarre is a great value. And with sellers getting as much as 96.2 percent of their list price, homes and property in Navarre are in demand. With 475 active listings (as of December), there is plenty of opportunity for buyers in the market. Traditional sales are driving the market at a median price of $179,250, as foreclosures, bank owned (REO) and short-sale properties get absorbed.
If Navarre is to your liking, this seasoned broker just may have a patch of sand with your name on it.
"I've got a 28-foot Gulf-front lot with a zero lot line for $249,000," Remax's Smith says. "We're talking Gulf front! I don't know where else you can find that — maybe not anywhere else on the Gulf of Mexico."
Smith says if you like Navarre and perhaps are happy about what isn't here, it's a no-brainer "natural" investment.