Mattie Kelly Arts Foundation Festival of the Arts
Program marries tradition with new applications for an exciting 2020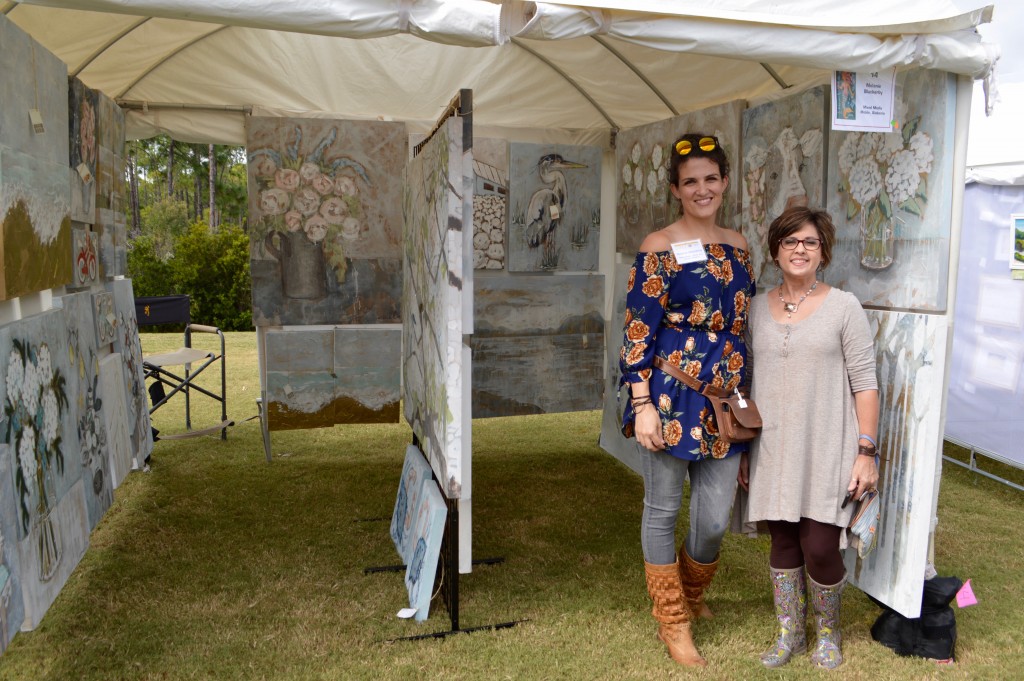 It's arts month along Florida's Emerald Coast. While 2020 has been a tough year and has been anything but normal, the old adage still goes — the show must go on! With that said, the Mattie Kelly Arts Foundation (MKAF) will continue with its tradition and host the 25th annual Festival of the Arts, Oct. 24–25. As Destin's longest-running arts festival, the Festival of the Arts celebrates a diverse mix of artistic forms and supports artists from around the country.
The MKAF Board of Directors and Festival Producer Deb Nissley collaborated to develop a festival that will support the arts community while keeping artists, guests, staff and volunteers safe. To help art lovers plan for this year's Festival of the Arts, here are the elements that will be the same and what will be different for the 2020 festival: 
NEW: This year's festival will be smaller and more intimate to allow for social distancing. Tents will be spaced 10 feet apart, and there will be fewer artist booths. Approximately 65 artists from around the U.S. will feature their original artwork. Artists from as far as New York and Texas will join local artists such as Ricky Steele's watercolor paintings and Jeff Waldorff's photography. These artists will have the opportunity to interact with those who enjoy original art — a special moment for many who have not been able to publicly display and sell their art since the spring. Masks are encouraged and may be required for some booths. Hand sanitizer stations will be conveniently located throughout the festival grounds at entry points and in the beer and wine garden.
THE SAME: The festival will feature a diverse selection of artistic styles — including acrylic, clay, collage, glass, jewelry, metal, mixed media, mosaic, oil, pen and ink, photography, digital art, pastel, pottery, sculpture, fiber, textile, wood and watercolor. More importantly, attendees will be able to meet the artists, discover their inspiration, create connections and add to their own collection.
NEW: This year, there is an online preview of the Festival of the Arts. For art lovers who can't get out, participating artists and their work are featured online. Detailed bios of each featured artist and select works will be available for sale online. Visit MKAF.org/preview-the-artists to get a sneak peek.
THE SAME: The Dugas Pavilion will once again be the location for live music. On Saturday, the festival will open with Social Tofu (9:30–11:30 a.m.), performing an original progressive-pop music mix. Rock, blues and dance continue with Tillman & Taff (Noon–2 p.m.), and the festival will wrap with Casey Kearney (2:30–4:30 p.m.), who brings slow heartfelt ballads, upbeat crowd favorites and playful melodies. On Sunday, Now and Then (10–11 a.m.) will open with acoustic new-grass, improvisation and original tunes, followed by When the Mari Gleason (11:30 a.m.–1:30 p.m.) playing a unique mix of folk and Americana grooves. The Bonhoeffers (2–4 p.m.) close out the festival with a great blend of bluegrass, blues and classic rock. 
NEW: This year, the Festival will include a Children's Book Author Tent. Celebrating the written word and creative illustrations, authors and publishers will be on hand with their recently published works to meet families and share the inspiration behind these beloved new tales. This booth will provide festival-goers with the opportunity to meet the author and purchase a personally autographed book for the child (or kid at heart) in your family. Author Keri Atchley will feature her new book, The Adventures of the Almost 10 Pound Best, the adorable story of a little dog trying to discover her perfect name as travels to a far-away land. Author Casey Kearney and her daughter Annabelle encourage young girls to express their creativity and colorful personalities. Attendees can meet mom and daughter on Saturday as well as the illustrator, Brittany Sanchez, on Sunday and build their library of positive motivational words that will impact young girls for years to come.
THE SAME:  Festival fans will still enjoy dining alfresco with table seating while listening to live music and enjoying the tasty fare of culinary delights served on the green. Crystal Beach-favorite 790 On the Gulf will be serving up gumbo and Cajun cuisine. Stanley's Street Treats will feature a unique original Southern gourmet selection along with sandwiches and fine desserts. Jim 'N Nick's Bar-B-Q will have plenty of chicken, pulled pork, sides as well as the famed cheese biscuits. For those who enjoy sweet treats, Gelato Love will be serving gelato and sorbet Italian treats, and Dan's Old Fashioned Concessions will be serving hand-dipped ice cream and fresh-squeezed lemonade. There is also the beer and wine garden for more potent libations. From wine and craft beer to bottled water and sodas, there are offerings to keep everyone in your group hydrated. 
While the program may be modified, the art, music, food and fun will be the same. Create a virtual experience at home or attend the 25th Annual Festival of the Arts in person and celebrate art, culture and creativity locally and beyond. For more information, visit MKAF.org/art-festival. Adult entrance fee is $5, and the festival is free to members and children under 12. Be sure to stop by the artist raffle tent and support the arts with a chance to win incredible original artwork and designs.